Hi all,
A very slow project for me this year has been the build up of my 2009 Cove Handjob frame that I acquired from Big Dan via the RB for sale section back in January. Family life in general (I have two daughters aged 2 and 3 to keep entertained!) keeps bike building time to a minimum, but I was able to get it to the stage it is now (see pics at the bottom) back in July.
We then moved house in August, meaning that the bike has sat in the garage for the past few months, but I am now determined to get it finished in time for Christmas so my brother can ride with me when he visits from Melbourne over the holidays.
I'll let the pictures tell the story from this point: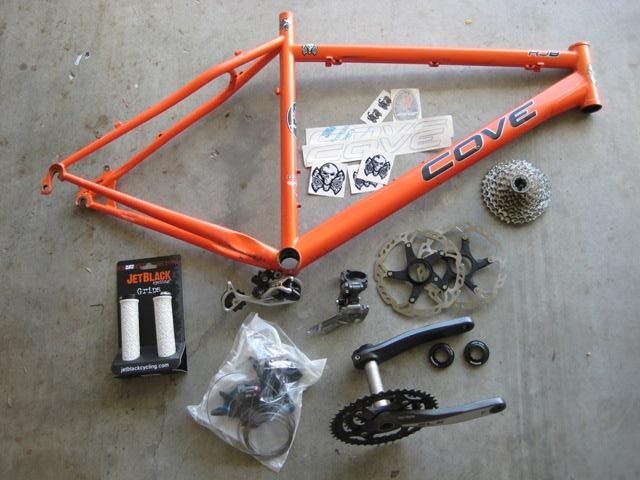 Here is the frame in its original orange colour as purchased from Big Dan, along with some of the parts that I had gathered for the build at that stage. I was fortunate to receive some spare frame stickers that Dan had in his possession. I also ordered a sticker sheet from slikgraphics later on to fill in the gaps, notably the 'Handjob' stickers.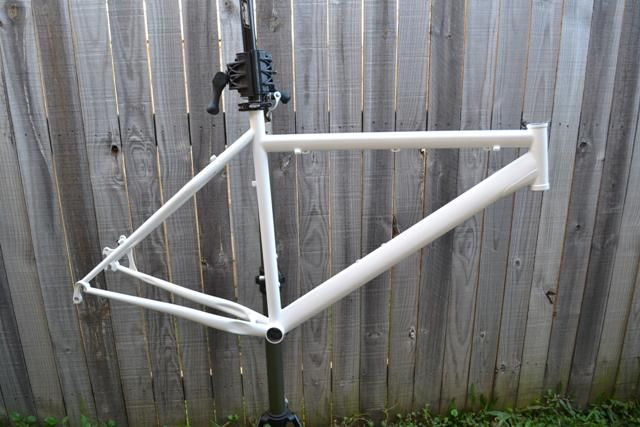 The frame had a few chips in the paint, and I had my heart set on a white colour scheme anyway after being inspired by a white one I saw on the mtbr forums. I sent the frame away to be powdercoated by Roberto's Custom Powder in Morningside and here is the finished result.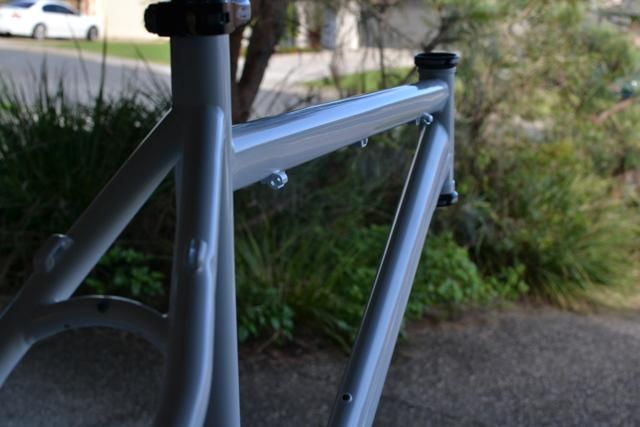 I can't speak highly enough of Roberto's work, the frame came back looking absolutely flawless. I always pictured powdercoated finishes to have something of an orange peel look to them (and was prepared to live with that), but the gloss level he manages to achieve easily rivals that of a spraypainted finish. I have attempted to capture the gloss finish in the photo above to illustrate this.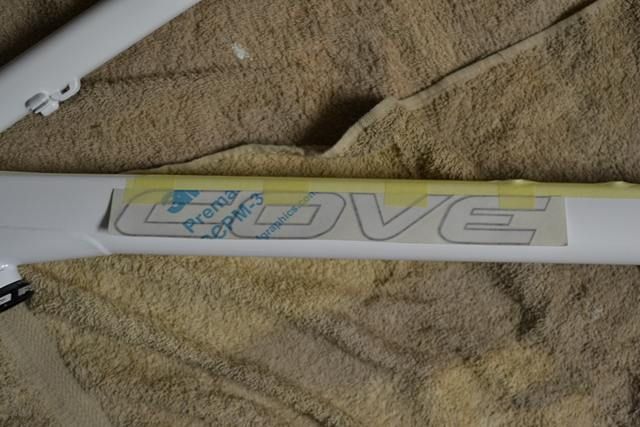 Next step was the frame stickers. As I was terrified of getting things misaligned, this involved a LOT of planning, measuring, checking by eye, and use of masking tape as a guide for lining up the sticker edges.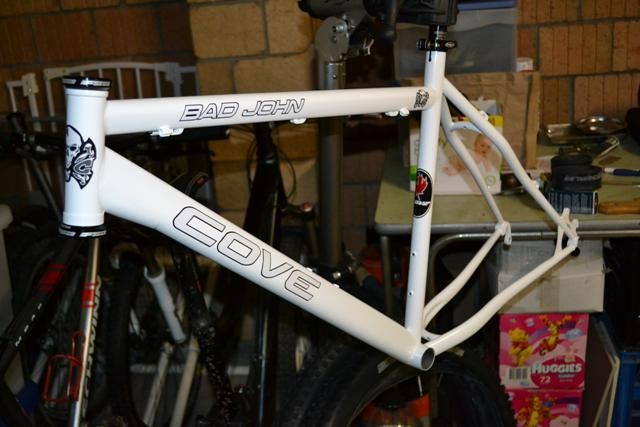 All stickers applied. As I couldn't bear to ride around on a bike with the word 'handjob' on it (and neither could Dan, check the first pic!) I decided to rearrange the letters to form 'Bad John'. I'll admit that this idea was pinched directly from a bike I saw on the mtbr forum, but I thought it was too clever not to use myself. (And besides, Bad John is really the only anagram you can form from those letters!)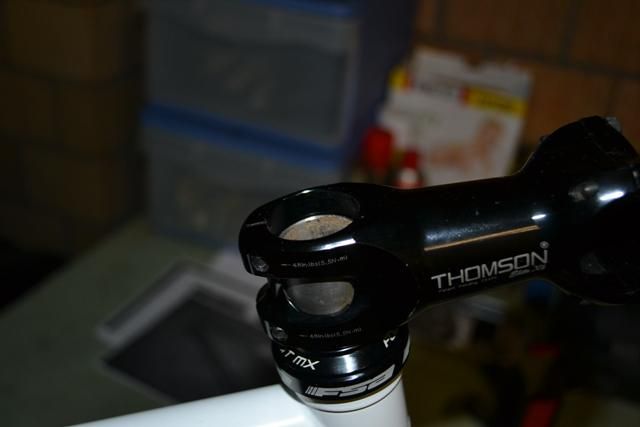 I had purchased an FSA Orbit MX headset for this build, and had the LBS press the cups into the frame. I intended to use the fork from my previous hardtail (Recon Solo Air 100mm), and as the headtube lengths on my old bike and the Cove were pretty much the same, I didn't anticipate any problems.
However I overlooked the fact that the old frame had an integrated headset and the Cove uses an external cup type, which left too little steerer tube (only 31mm) protruding for the stem to clamp on to. :doh: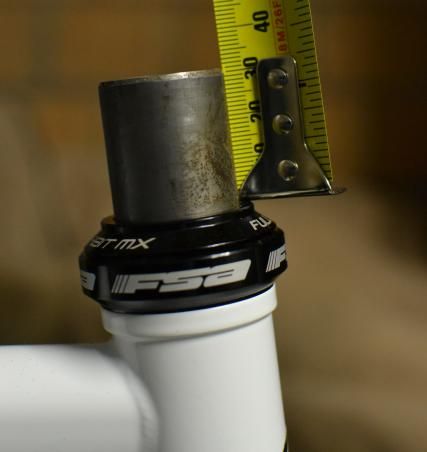 At first I considered getting a Superstar short stack stem as a solution, but decided to investigate lower stack headsets instead. I actually wasn't sure what stem length to go for, and wanted to be able to experiment with some varying length stems (standard 40mm stack height) that I already have.
I was very fortunate to find an FSA Orbit Xtreme headset for sale which has a much lower stack height than the MX, and freed up enough steerer length to allow the use of standard stems (such as the Thomson 90mm one pictured, kindly donated by my brother). I also have 70, 80 and 100mm stems in my parts box that I can experiment with once the bike is up and running. I had a 90mm on my previous hardtail, so am using that as a starting point on this one.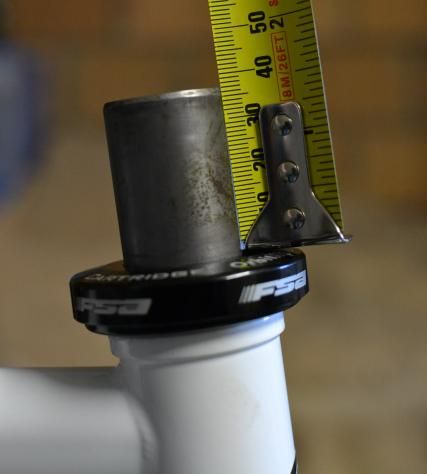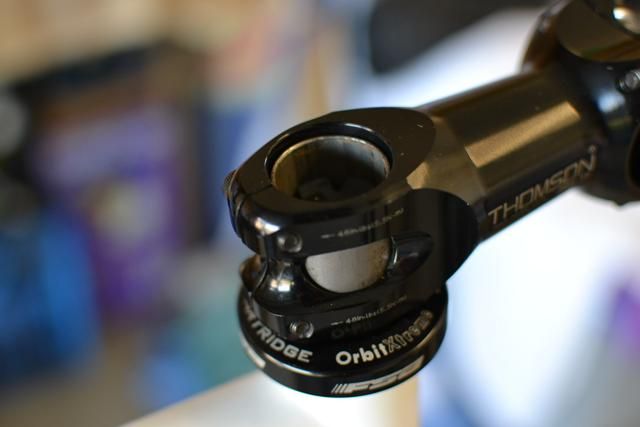 Much better!
This bike is being built on something of a budget (family life will demand this!), so I am building it up with a solid, if not spectacular spec. The forum classifieds and eBay have been my friend here, allowing me to get some decent gear (e.g. SLX, XT) and keep the spending in check.
With the budget in mind, and having white rims in mind for my colour scheme, I settled on a Shimano MT55 wheelset. Even though my current fork is a 9mm QR, I decided to get the 15mm front axle option to 'future-proof' the bike as I would like to upgrade to a 120mm fork one day. The combination of white, 15mm axle and 1 1/8" steerer (with required length) is proving to be pretty rare, but I am hoping to find a Float/Revelation/Sektor/etc that will fit the bill.
I also took the opportunity to run a 9mm thru axle (rather than QR) by purchasing the appropriate adapter from eBay and an axle from Superstar in the UK. While a 15mm fork might be a while away for me yet, this should at least be something of an upgrade in terms of stiffness while I run with the Recon.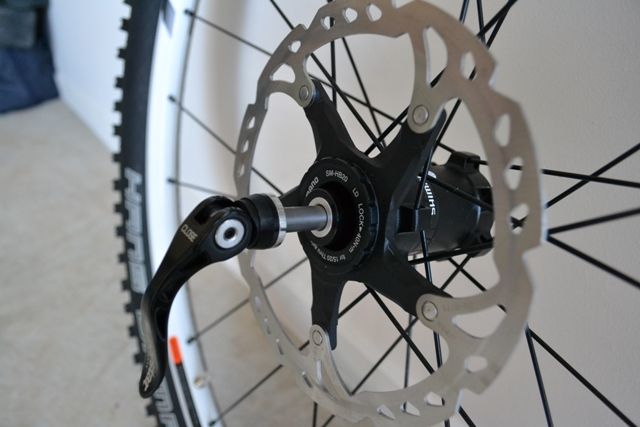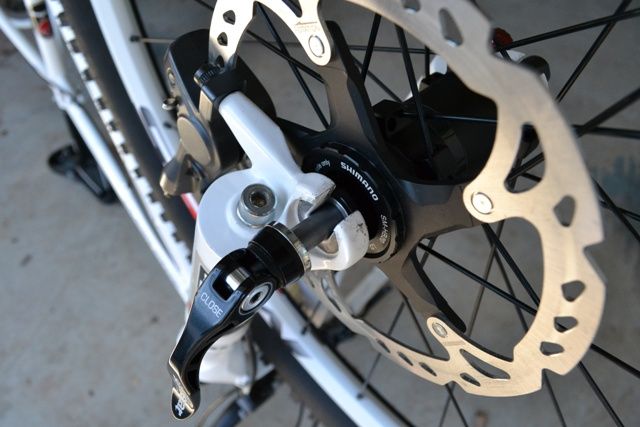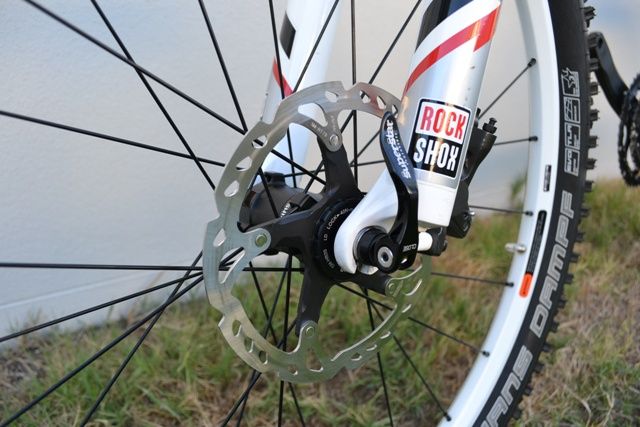 So here are some pics of the bike in its current state: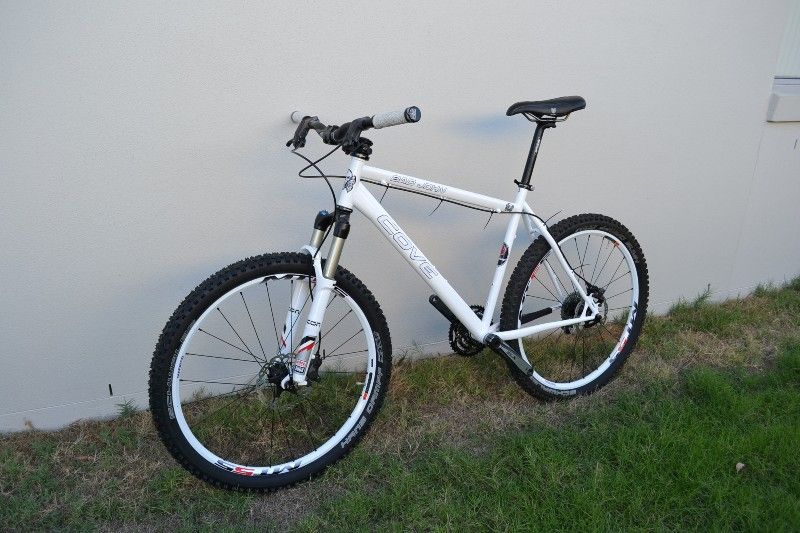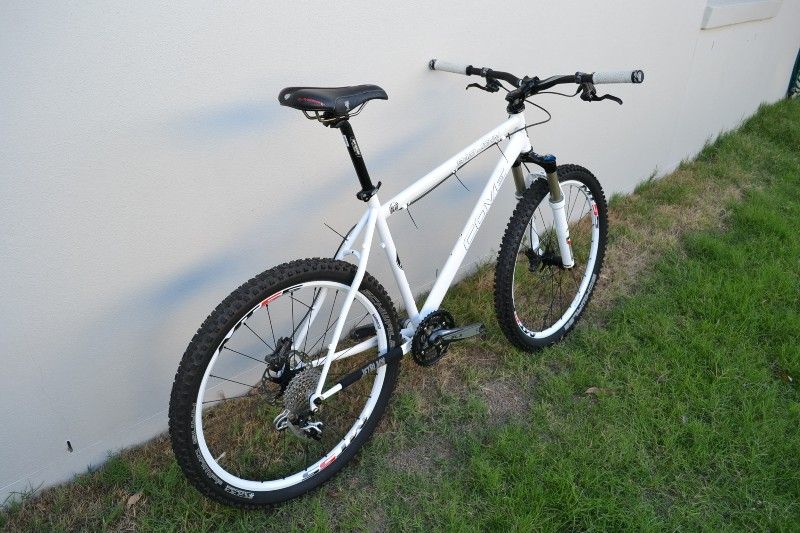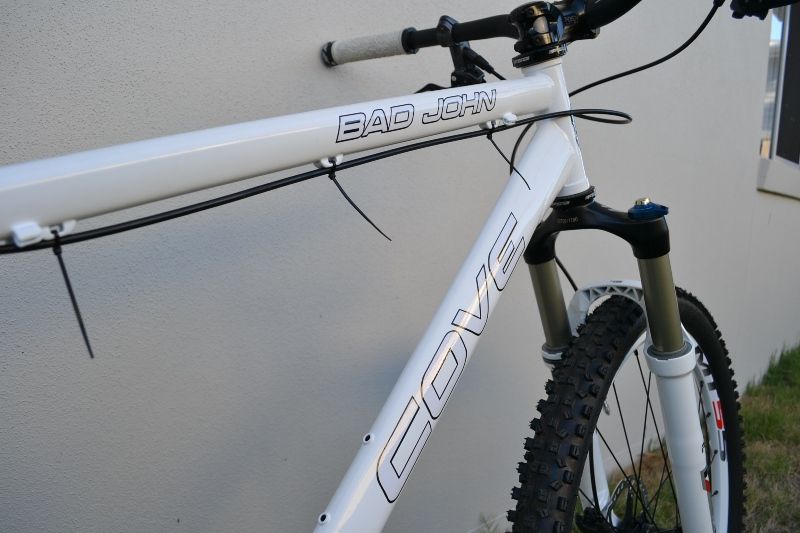 Not far to go now, all that's really left for me to do is:
Frame protection film (started this past weekend)
Front derailleur
Shifters and cables
Pedals
Chain
Trim the zip ties for the rear brake line :biggrin1:
Will post more pics (and a spec list) when it is complete, hopefully very soon! Hope you enjoy.
Matt