On an E-mtb is still hard work !
But totally worth it , even for the old n slow riders like me .
Bike was great , prob should have changed the pads prior as now they are pretty much gone - there are some killer descents and there were quite a few riders going a lot faster than me !
The climbs are easier , but you will eat up the battery - I came home with 4 km range and was in eco for the first climb to Howqua Hut .
20 min recharge at TBJ got me home !
The first part of the trail to Howqua Hut is tight n twisty which I struggled with - due to length of bike ( this is more me than bike as others hammered them ! )
The final descent was fun - except I came off hard .
The last Flow section is fantastic , no brakes needed ( not that I had many ) but kudos to the trail builders it really puts you in the zone and makes you smile
It was a trail I really wanted to ride , and I'll go again - just not next weekend as I'm sore , chest arms and legs certainly get a workout .
Highly reccomended, a lot of the trail is like Blue Derby as a comparison- the views / scenery are special . We had a good day to do it - clear skies and mild weather too .
Now , a big shout out to the crew / bike shops who organised a fantastic day and to the group leaders , it was FUN !
And riding your bike should be FUN !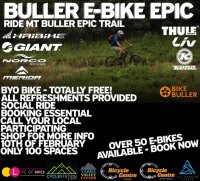 Last edited: