I built a bike!!! Well this is V2 as V1 had a mishap and passed away.
Designed, machined and welded each part of this frame all by me.
This is as I took it off the stand for the first time, still needed a bit of cable work but I could ride it.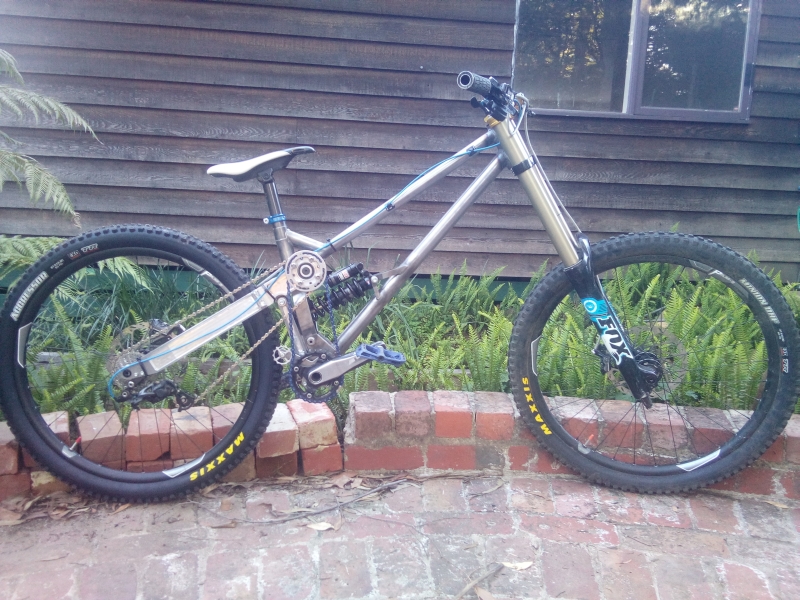 62°HA
1265mm WB
440mm CS
610mm TTL
-5mm BB
Frame
- By me 4130 front, swingarm 6061 Al.
Rear shock
- Rockshox something something.... don't remember which one I used
Front shock/fork
- Fox 40's
Handlebars
- FUN fatboy
Stem
- HOPE
Headset
- yes
Grips
- Streamline cycles
Saddle
- yes, stupid I beam thingy
Seatpost
- as above
Front brake
- HOPE V4
Rear brake
- HOPE V4
Cranks
- SAINT
Chainguide
- Homemade
Chain
- Yes, 2 even
Pedals
- Yes
Rear derailleur
- ZEE
Rear shifter
- ZEE
Cassette
- Yes
Tyres
- Yes 2 of them 27.5"
Tubes
- Hell YES
Total weight
- 20 Kg
How does It ride I hear you ask.
It goes around corners, 62° doesn't feel slow or lazy it just turns in. It stops and it goes forward when peddled too.
It's is very stable over bumps and off jumps, it lands so nice.
At 20Kg I was very happy to find that it wasn't noticeable at all once moving, only when getting it on for shuttles.
We spent 3 weeks at Bright and I rode it every day on everything from Launch to the bottom. Doing a quick calc, I think I did about 500Km of riding in that time for it's first outing.
I did end up with a broken swingarm but have since fixed that and I'm ready to put it back together.
V3 is in the works already as I have a few little things to change but I'm happy with this as it is.