Touch wood, I've never broken a handlebar just riding along. I've discovered cracks in my bars before a ride but thankfully not during. I've not really seen many failures so it's reassuring to know the mainstream brands we have available are pretty reliable. If Loic Bruni can downhill the world and not have a busted handlebar by the end of the day then it's good enough for us right? May I introduce the saucy Joystick 8 Bit LT alloy bars and Joystick Binary stem available from our pals at Mountain Bikes Direct.
Item: Joystick 8 Bit LT alloy handlebars and Joystick Binary stem
Purchased From: Mountain Bikes Direct (bars
here
and stem
here)
Purchase Price: $97.95 for the handlebars, $149.95 for the stem
I'm fussy with handlebars and stem height. I typically go for black bars and a black stem with a 20mm rise on the bars depending on what stack height and stem raise I have. In this case, I have gone for the 31.8mm clamp size and 28mm rise on an 800mm wide bar jus to get that extra height off my 50mm Binary stem. Stock bikes; even in a large or XL size come out of the box with almost flat bars and it's one of the first things I change to get my position right. The mellow sweep of the Joystick 8 Bit's caught my eye initially with 6 degrees up and 9 degrees back meaning your dropping your arms into a comfortable initial position.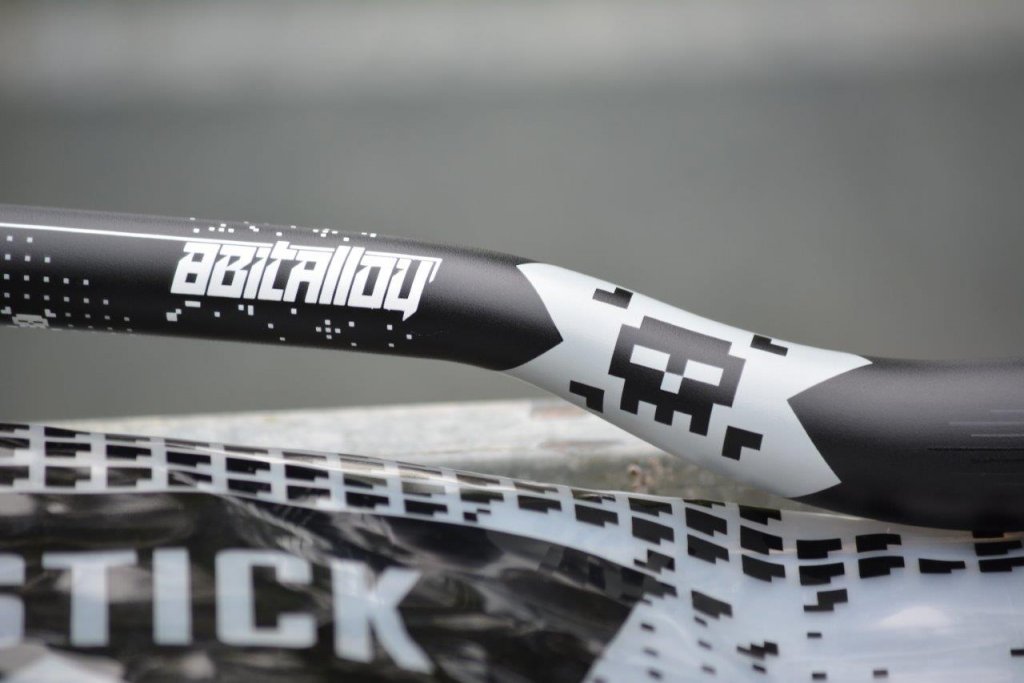 My first impression of the bars was that they felt stiffer than what I was used to and a pal asked "er, you can feel a bar flex usually?" as I was kind of scratching my head at the same time. It took me a while to decipher what made these bars feel so direct and I can only put it down to these being a 31.8mm clamp size instead of the 35mm clamp size that I took off the bike. You can get the 8 Bit LT's and the Binary stem in 35mm but I wanted black and black was only listed in the rise I wanted in 31.8mm clamp. From my understanding, a 35mm handlebar will have thinner material but the outer circumference of the pipe makes it stiff where as the 31.8mm material is thicker but not as large in circumference compared to the 35mm. You feel me? I'd love to chuck the 35mm bars on and do a proper comparison just for research sake.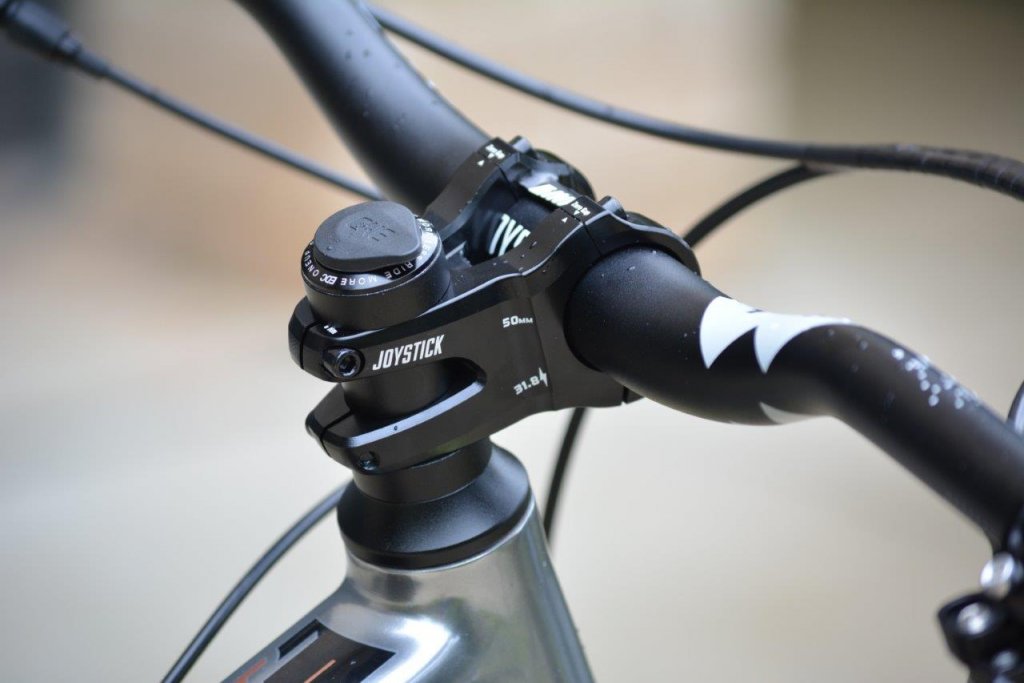 Anyway, I've thrown this setup on my all mountain hardtail. The addition of these parts means I've raised my bar height by 10mm and pulled the bars about 10mm closer via the 50mm stem. That gives me a relaxed position for pedalling up the climbs and on the flat while also keeping my front wheel down on the steeper climbs. When descending, I'm loving the sweep of the bars as it's a natural position to keeping front grip and not having the back end bounce around too much, thats especially important to find that balance on a hardtail that you're riding like a proper enduro bike. Win win!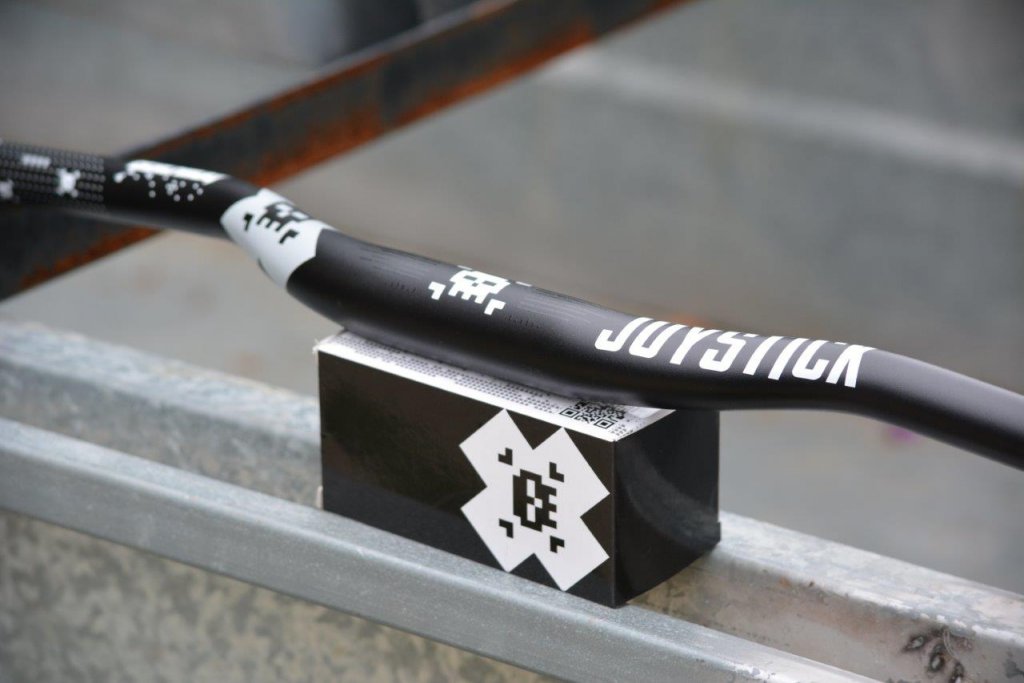 I totally hate picking up some new bars where the graphics on the bars end up under the grips or tucked under the stem. The 8 Bit bars have some great stuff on show and it's all visible once you bolt all your devices on. The Binary stem is open around the faceplate so you can also see the Joystick skull through that but admittedly would be covered by most stems. The stem face is wide, fits very flush face to face and has sweet sharp finishes to the machining of the alloy material. The 40mm stack height gives you opposing threads so you can tighten from each side, I like that feature for a reassuring fit.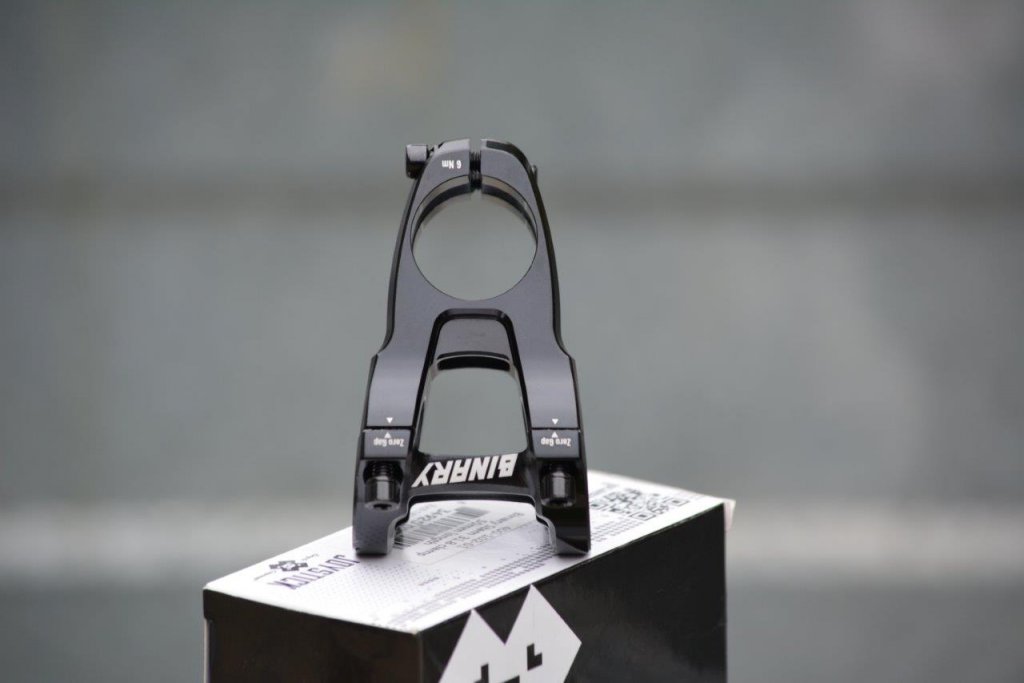 Back to the markings of the bars and stem, the graphics on the bars double nicely as an easy guideline for getting your bars centered and rolled to the right spot. The stem has a handful of marks offering your torque amounts and locating the top plate upright. Look closely at the bars though and you'll see the extra details that set the finish off, the Joystick skull, the 8 Bit Alloy text and the small bit squares look really cool.
Some people cut their barts down from 800mm but I like that width, its comparative to your shoulder width and is a science that not many people think of, some assume a wide bar is less effort, a low bar is better for front end control etc etc but I also heavily consider the width as something relevant to how wide your shoulders are. Remember the days in the early 2000's where dudes were showing up to downhill races with completely flat 820mm wide bars on a downhill bike but they had shoulders like a brown snake? Truly a case of fashion over function yet looked hilarious! I'm glad that faze fizzled out but do miss the heckle you used to give those guys.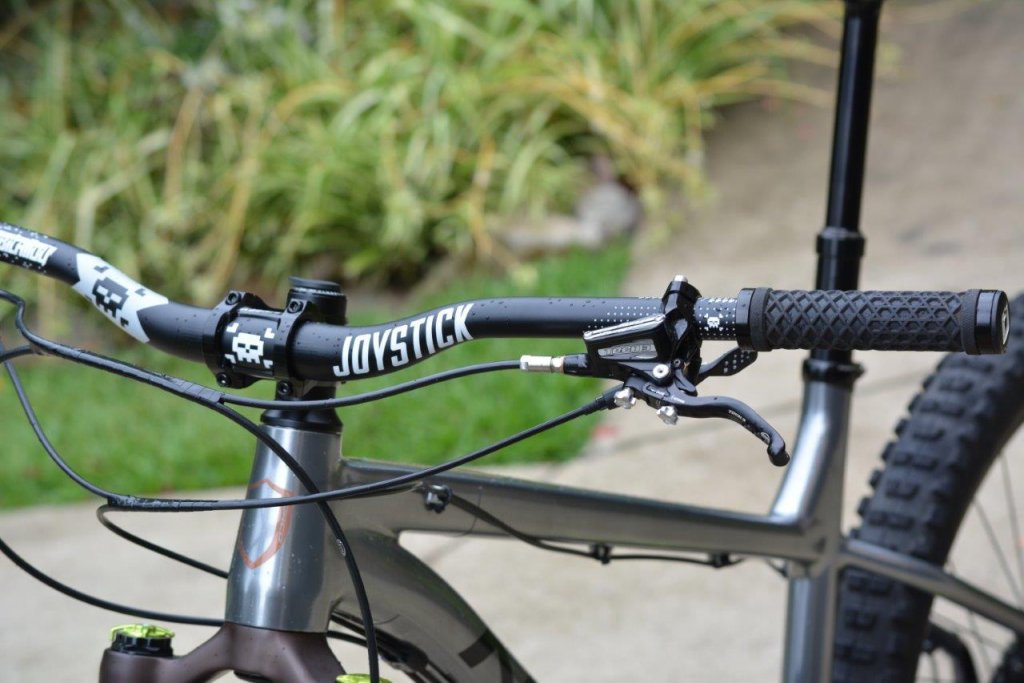 I did consider going for carbon bars on this project but the bike itself is all alloy, not a drip of carbon on it so alloy it is! The initial look was a bland boring bar and now it has a bit of flair at the front with the cool Joystick finish. To sum it up, Joystick have a good range in bar rise and a good few stem lengths without complicating it. If you know what you like in a handlebar position then chuck Joystick on your list of options when getting something new.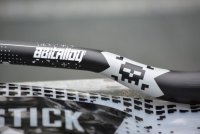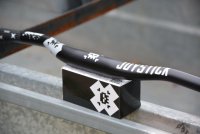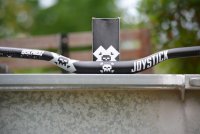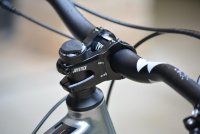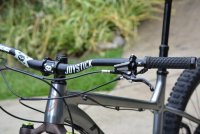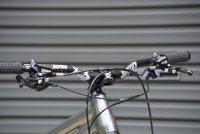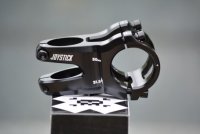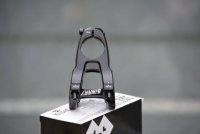 Last edited: