Item:
Marin Alpine Trail 8 - a 29" wheeled trail bike (Size Large)
Spec out of the well packed box is as below:
Frame - Series 4 6061 Aluminum Alloy, 3D Forged Rocker Links and Dropouts, Highly Manipulated Tubing (essentially a link driven single pivot similar to that seen on the current Kona Process and Commencal Meta)
Shock - 150mm rear travel via FOX Float DPX2, Performance, 3 Position Lever, LV EVOL, Trunnion Upper Mount
Fork - 160mm travel via FOX 36 Performance, 110x15mm Boost Kabolt Thru-Axle, 51mm Offset with a 3 position Grip Damper
Handlebar - Deity Blacklabel, 800mm Width, 25mm Rise
Stem - Deity Copperhead Stem, 35mm
Brakes - TRP Slate T4, 4-Piston Hydraulic Disc, 203mm Front / 180mm Rear Rotor
Drivetrain - SRAM NX Eagle, 12-Speed
Crankset - SRAM Descendant 6K Aluminum, Direct Mount 12-Speed, DUB, Boost Spacing, 170mm Length
Cassette - SRAM XG-1275, 12-Speed, 10-50 Tooth (10 tooth GX spec cassette)
Wheels - Generic Marin Aluminum Double Wall, 29mm Inner, Sleeved Joint, Disc Specific, 32 Hole, Tubeless Compatible
Front: Forged Alloy, 110x15mm, 6-Bolt Disc, 32 Hole
Rear: Forged Alloy, 148x12mm, Alloy Axle, Quad Sealed Cartridge Bearings, 6-Bolt Disc, 32 Hole, XD Drive
Tires - Vee Tire Flow Snap, 29"x2.6", Tackee Compound, Single Ply, 72 TPI
Seat - WTB Volt Race
Dropper - KS LEV Integra Dropper Post, Southpaw Lever, Size S: 125mm Travel, All Other Sizes: 150mm Travel
Geometry:
Purchased From:
Bicycles Online in late 2019 -
https://www.bicyclesonline.com.au/marin-alpine-trail-8-dual-suspension-mountain-bike
Purchase Price (approx):
$3899 on sale
Usage:
I've owned the Alpine Trail 8 for 9 months. Its my only bike and I ride it for everything from my 5 minute work commute, 50km trail rides in the hills, enduro race days, local uplift days and a week in the bikepark in Queenstown.
Bike arrived 3 days after ordering and was well packed and put together. I set up the wheels tubeless and swapped out the stock grips for some
ODI dreadlocks
straight away. I swapped out the Vee tires pretty much straight away too and installed my go to 2.35 Schwalbe Magic Mary on the front and a 2.3 DD casing Maxxis Aggressor on the rear. I really didnt get along with the Vee tires at all and found the front had a tendency to let go inconsistently for such a soft aggresive tread pattern and the 2.6" size is ridiculously slow and heavy.
Once the changes were made the bike rode amazing. Coming off a 27.5 Banshee Rune and the VPP link I was a bit concerned that I'd notice the reduced activity and dreaded single pivot brake jack on the Marin but I really can't notice much change in activity or suspension performance (probably due to the DPX2 valving and linkage kinematic). The shortish rear stays keep things snappy while the Marin really retains that point straight and plow behaviour long travel 29ers are known for. The reach on the large is sort of long at 465mm, but not super long by todays standards so probably size up if you've drunk the "long low slack" kool-aid. When set up with 30% sag the bottom bracket is pretty low and really helps out with the confidence in those fast, drifty, locked in and hope type corners. On the flipside the low BB causes an increase in pedal strikes.
I've ridden the Alpine trail pretty hard over the last nine months and have managed to break one of the TRP brake levers and destroy the stock Marin branded rear rim (which was pretty soft to be honest). I broke the TRP lever in Queenstown after a pretty decent off and finding a replacement locally was unlikely . So I took a punt and installed a deore m6000 lever from a Q/town bike shop as a temporary fix (initially). Turns out the deore lever bolts straight on to the TRP hose fitting and after a simple lever bleed the brake feels better than the stock TRP and the change looks like it solves the wandering bite point I was experiencing on long DH runs with the TRP slate 4 pot brakes. Ended up replacing the non broken TRP lever with a deore lever as well and have now run the TRP-imanos without an issue for the last 6 months.
Pros
The Alpine Trail is incredibly well specced for a sub $4k bike. The fox shock and fork are great out of the box and once setup perform amazing.
Its alumimium
The geometry is spot on for a do it all rowdy 29er that you can race, handle the bike parks and ride the local trails with your mates.
The stock Deity cockpit would have been an upgrade for most people
KS dropper post has run faultlessly as they usually do
Water bottle mount in the front triangle
Threaded bottom bracket
Current boost spacing and metric shock lengths so replacement (or upgrade) parts are readily available
The lighter and more useful 10-50 12 speed GX level cassette is a really well thought out drivetrain spec which mostly consisted on NX level bits. I personally would prefer bike companies spec a lighter better cassette than an upgraded shifter or rear mech.
Cons
The stock Vee tires suck and don't match the bikes intent
The TRP brakes initially had a wandering bite point and lacked a bit of braking oomph out of the box but replacing the TRP levers with available shimano servo-wave levers appears to fix the bite point issue and improves brake performance out of sight.
Stock wheels are pretty heavy and slow and the Marin branded rims are a bit soft.
Sram NX rear mechs appear to be made out of alfoil. After folding one in half after a pretty minor knock on a rock I replaced it with a 12 speed XT mech (which works fine with Sram 12 speed shifter).
Its prettttty heavy at 15.4kg for my large (once I took off and set fire to the Vee tires). But a bit of smart upgrading could probably bring it down under 15kg if thats what you're into.
Comments:
All in all Marin have really done a great job with the Alpine Trail. Its a no nonsense big travel 29er that you can buy new for under $4000. This price point seems to be the sweet spot in trail/enduro bikes at the moment. Considering you can spend ALOT more for similar quality parts and geometry in other bike brands with sweet FA performance increase, I'd recommend the Alpine Trail to anyone keen for a bike that you can go for an arvo spin at your local loop, race a bit of enduro or just send it with your mates. Its tough, relatively cheap and takes a hit.
And if that boutique 29er frame you have dreamed about becomes available in the future then you've got a bunch of solid, decent parts to swap over if that time comes. Yew!
Pictures/Videos: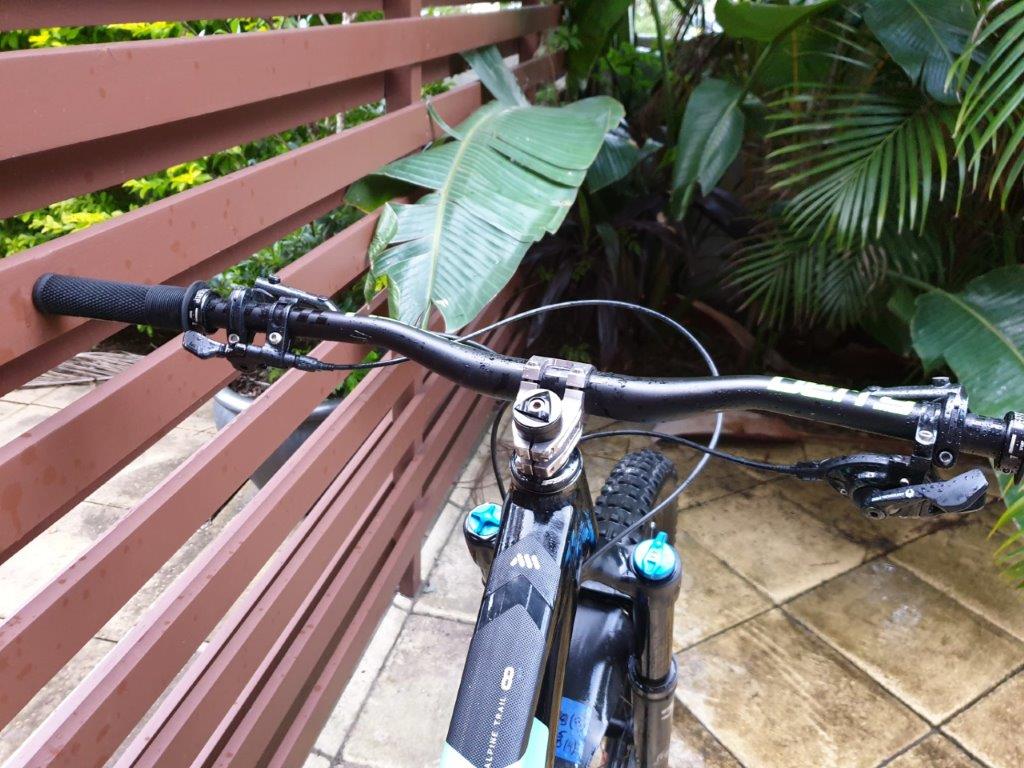 Plus, its the same colour as one of the prettiest F1 cars ever built (the Leyton House CG901B)
Last edited: