I bought recently a TransAM from here that is in need of a new paint job. I wanted to do it myself, from stripping the old paint to polishing dat bish. But I didn't want to start on my "good" frame in case I messed up. Fortunately for myself, a frame came up very cheap in a moving o/s sale. The original owner did not care for the factory paint so he primed it and never got around to painting it another colour. It wasn't nice grey primer either, it was exceedingly ugly yellow/orange/yuck (sorry sam). The paint was in rough shape anyway and not at all worth salvaging.
Right away I had the idea to paint the city skyline on the frame as it's called a "suburban". This was the first mock up of what the cityscape would actually look like. Yes, I know the city is not the suburbs but I can actually see much of this skyline from nearby where I live in the burbs.

We invested in a sand blaster (as the frames are both chromo and it can also do soda) and started to work over the xmas break. There's no photos of the blasting as it's basically a mess. It took a long time but the paint was quite easy. There were several stickers on the frame which did not come off easily. They had been peeled at and soaked in solution and sworn at but the goo remained. Undoubtedly the worst part of the sanding process. The factory paint was very hard, in case anyone ever wondered, and took much effort to remove. The end result was great. After we blasted it, I hand sanded it again down to 1200. It came up amazingly smooth and good looking.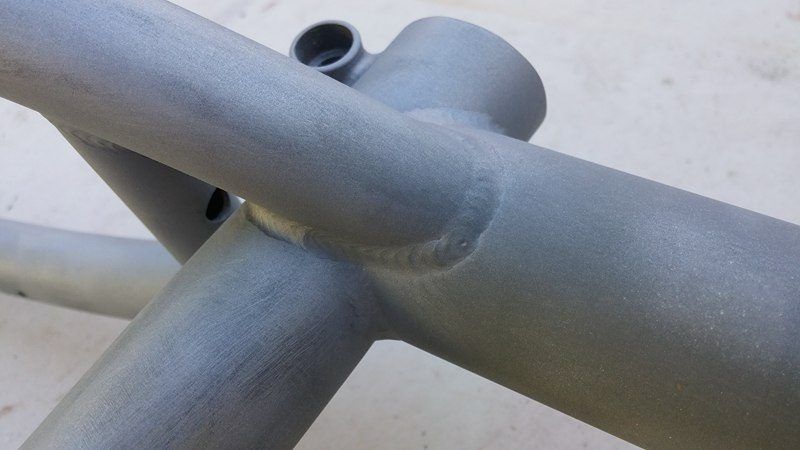 The rawed frame was cleaned with soapy water and then isopropal. With soda blasting, a bit of a film remains on the frame and you can wait up to a week (i've read) before painting so long as you clean the film off. Not sure that happens with sand. So we were very careful to clean it very well. As for priming, we just got a rattle can of metal primer. It's actually really good to use as the can allows you to get into the little fiddly spaces quite well. We did 2-3 coats of primer in all. It was sanded again to 1200 but in future I think up to 2000 would be good. The 1200 felt nice and smooth but it's not that fine. We used an old BB to shield the threads. The primer was allowed a week or so to cure, not sure if it needed it or not, it certainly didn't hurt it.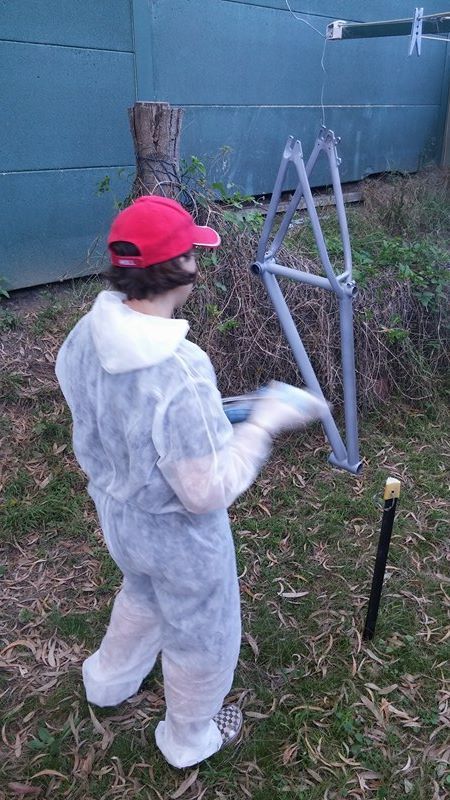 Next stop....paint