"It may not look like much, but I've made a lot of special modifications myself".
It's a long, long way from the fastest or best bike in the galaxy, but it's fast enough for this old man. The thread title was inspired by an unkind riding partner yesterday who quoted a certain sci fi princess in suggesting I was brave to go riding on it.
Bought new in late 1996 as I was finishing high school (not sure how I could afford almost $2k back then), I bought it mainly to for racing downhill, but as my only bike it served double duties for trail riding as well as a bit of dual slalom and XC racing when the mood struck. After three seasons on it I pretty much stopped racing (aside from an I'll fated comeback attempt around 2001) but it has been in use on and off since then.
A few highlights on it from the last ~23 years have been:
Over 25 races in the late 90's, mainly downhill with a few DS and XC thrown in there. Some of the DH tracks I rode it at were Chittering (hosted a Nationals round back in the day), the Goat Farm, Mundaring, Bickley, York and Wellington Dam.
Riding Mundaring to Northam and back (around 130km day in the saddle).
Commuting to uni and accepting a dare to ride it down a 6 storey stairwell. Took the money.
Riding it next to my son on his first MTB ride.
Aside from the frame itself, the only original part remaining now is the seat post. I might do another post on what it was like originally and how it's been changed up over time, but the key changes aside from simply replacing parts have been adding disc brakes with an adaptor, switching to an air shock which was a huge improvement from original, switching to 100mm forks, and having a broken shock mount replaced with a custom machined titanium version. Sadly the frame, not being designed for disc brakes, can only fit a 140mm rotor at the back.
The frame was stripped of paint a few years ago so I could keep an eye out for cracks. The latest build was completed in a rush on Friday night after receiving an invite to ride on Saturday.
Unfortunately I hadn't got around to drilling out the cable holders so the rear brake line is just zip tied on at the moment.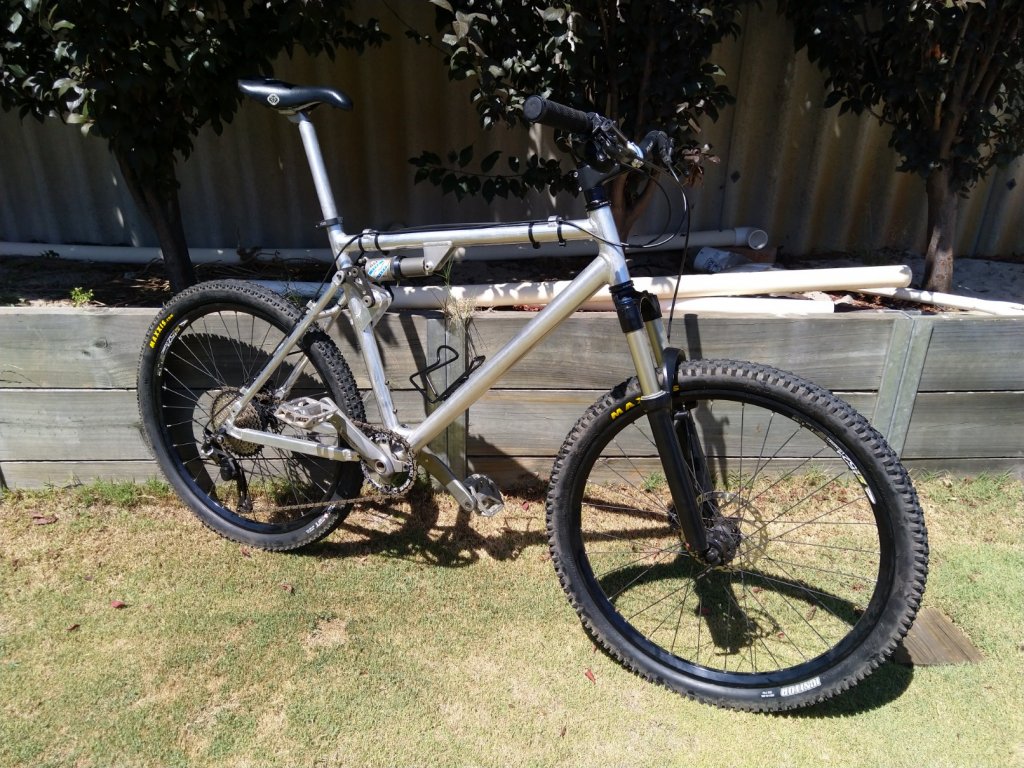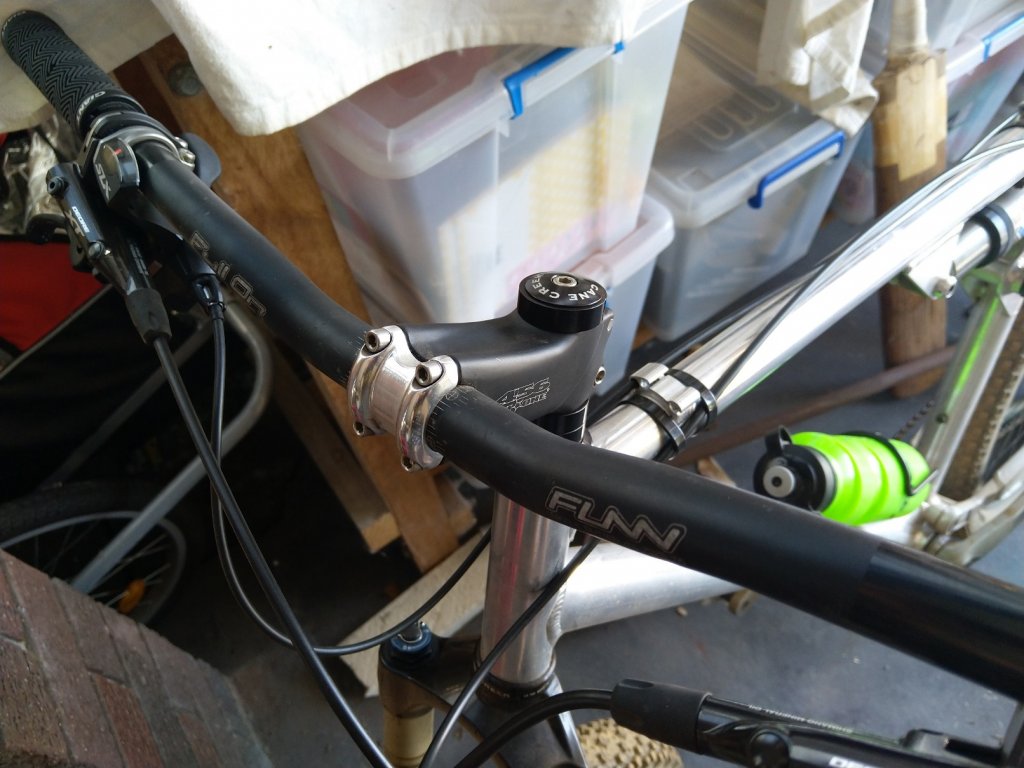 Frame
- 1997 Giant ATX 980 (20")
Rear shock
- Cane Creek AD-5 165x38
Front shock/fork
- 2007 RockShox Recon 100mm
Handlebars
- Funn Full On 710mm
Stem
- On One 456 70mm
Headset
- Cane Creek S8
Grips
- Giant lock on
Saddle
- WTB SST
Seatpost
- original
Front brake
- Shimano XT m8000 160mm Shimano rotor
Rear brake
- Shimano XT m8000 140mm KCNC rotor
Cranks
- 2007 Shimano Deore LX hollowtech
Chain
- KMC X11-93
Pedals
- Shimano M540
Rear derailleur
- Shimano SLX m7000 11sp
Rear shifter
- Shimano SLX m7000 11sp
Cassette
- Shimano SLX m7000 11-42
Front hub
- 2008 Shimano XT 6 bolt
Rear hub
- 2008 Shimano XT 6 bolt
Front rim
- Mavic EN521
Rear rim
- Mavix EN521
Front Tyre
- Maxxis Ignitor 26x2.35
Rear Tyre
- Maxxis Crossmark 26x2.1
Last edited: