Well then, since nobody asked! Here's my description of how the HC97 functions, enjoy.
Essentially all dampers work by controlling the flow of oil through an orifice or orifices. Designers have come up with all kinds of different designs that control how much oil flows through the holes depending on either how fast the fork is moving, or how far into the stroke the fork is, or both.
With that out of the way, let's get onto the HC97 circuits:
Starting with Low Speed Compression damping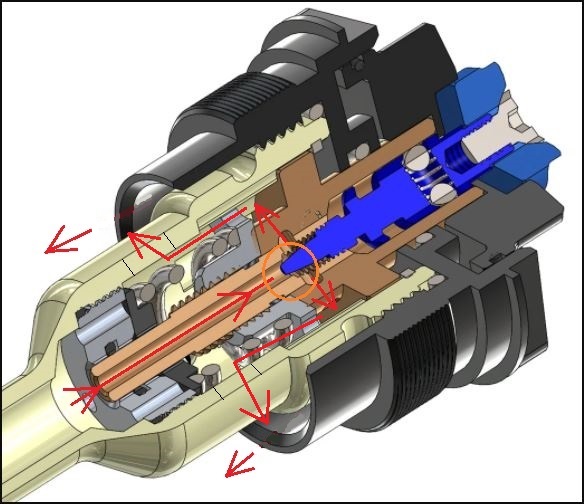 When the fork moves in compression, the piston (which has the rebound valve in it that also functions as a one way valve) pushes oil up the middle and past the orifice that I've circled in orange. The blue needle valve can be adjusted in or out to alter the size of the orifice and voila, you have achieved low speed damping. The oil then just flows out of the assembly through ports in the side (see photos below) where it makes it's way to the other side of the piston. Boom, simples right?
The magical High Speed Compression damping
So the thing with the LSC damping described above is that the size of the orifice is fixed by the position of the blue needle valve and does not change once set which is all good while you're cruising along the trail running over small bumps and what not, but wait, whats that ahead? A big root sticking out from that tree right across the middle of the track! You're too late to bunny hop over it and plow straight into it at full speed! Fully puckered, white knuckle death grip and eye's shut, dead sailor here we come right? With your life flashing before your eyes thinking 'is this it?' HSC damping flies into action to save the day!!!!
When the piston moves so fast that the LSC valve cannot flow enough oil to keep up, the pressure builds up and pushes the high speed compression valve (dark grey disc) open against the spring. This allows additional oil to flow through the damper during high speed impacts resulting in the fork absorbing the impact of that tree root, phew. The white knuckle terror is over and you open your eyes again wondering what miracle of magical divine intervention just saved you from certain death. The extra oil flow through the HSC valve joins up with the flow from the LSC valve and heads off to report for rebound duties. The operation of the HSC valve is changed by adjusting the pre-load on the spring. This is achieved by turning the large (outer) adjuster knob which rotates the whole LSC valve assembly inside the fork, winding the pre-load nut down onto the spring.
Here you can see the port in the side of the valve body that isn't shown on the CAD section views.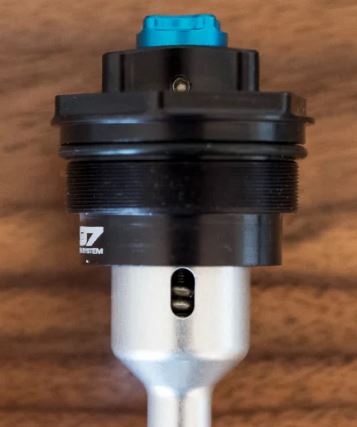 Any questions? No? Okies.