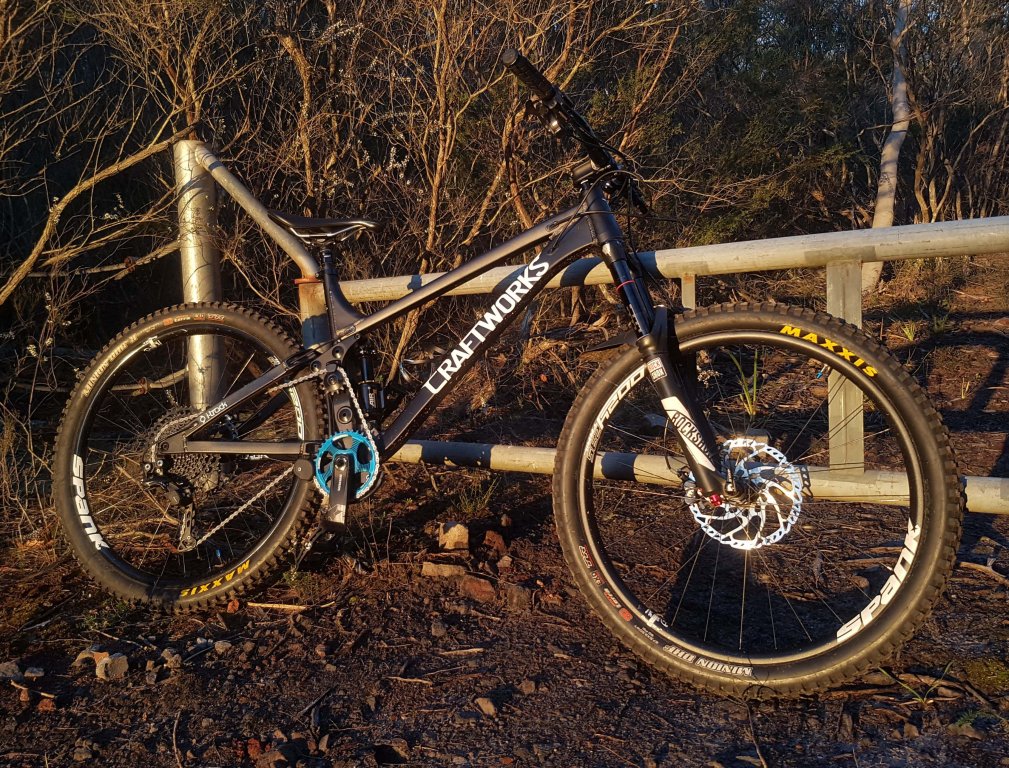 Frame
- Craftworks ENR Large
Rear shock
- CCDB IL Air
Front shock/fork
- Pike 160mm
Handlebars
- Spank Spoon 40mm rise
Stem
-Spank
Headset
- FSA
Grips
- Jetblack
Saddle
- Fabric
Seatpost
- Reverb 125mm
Front brake
- Magura Trail Sport 4 pot
Rear brake
- Magura Trail Sport 2 pot
Cranks
- Sram NX
Chainguide
- MRP
Chain
- Sram
Pedals
- Nukeproof Horizon composite
Rear derailleur
- XT M8000
Rear shifter
- XT
Cassette
- 11-50 11 speed Sram. Soon to be Sunrace
Front hub
- Spank
Rear hub
- Spank
Front rim
- Spank Oozy 295 Trail
Rear rim
- Spank Oozy 295 Trail
Tyres
- Maxxis DHF/DHR 2.5/2.4
Tubes
- Tubeless with K-flex
Total weight
-14.something kg
So after getting into this sport a few years ago and riding old Giants for a while I saved up and bought a Kona Process 153 2016. I loved it, such a fun bike but the pedal bob on the climbs made me seasick.
So I then upgraded to the 2018 153 29er. No more seasick, this thing pedaled and climbed faster than it awt to. It plowed through everything but I started to miss how playful the old Process was. After a few months I decided to go back to 27.5 and was thinking of shorter travel trail bikes. After looking around for a bit this ENR came up on Gumtree. The ENR had me interested for a while but I couldn't afford new and they don't come up second hand too often so it wasn't on the shortlist. After reading a few reviews (thanks Dozer and others) I decided to give it a go.
It is a V1 2016 but the owner was in Adelaide and knew Hugh from Craftworks . He gave me a good deal with the new V1.1 front triangle. Hugh himself verified the owner for my piece of mind which was awesome.
Anyway the bike is incredible. It's lighter and more fun than the first Kona and pedals better than the second. Feels fast everywhere. I noticed at first I had to think more about keeping the rear wheel in line as it felt light and easy to flick around, even if I didn't mean to. I guess that's a product of coming from a longer, heavier 29er. There is a bit of extra noise from the pulley to get used to and I also noticed more noise from sticks and rocks hitting the frame as the tyre clearance is minimal on the rear wheel. After a couple of rides I don't notice it anymore. Again comparing to the Process which is pretty quiet.
So far I have changed the brakes and gears over to suit my tastes and will probably convert the shock to coil when it needs a service. The Reverb is working but I prefer my trusty old Brand x but it won't fit. Might slowly put a few blue bits on for a bit of colour.
I am 183 cm and the large feels perfect for me.
The I track suspension doesn't feel weird or anything until you hit a square edge and it disappears. I don't need the climb switch anymore either.
All in all I think its a great bike. Perfect for the way I like to ride. It just works. Well done to Hugh McLeay and Craftworks. Do yourselves a favor and get one today.