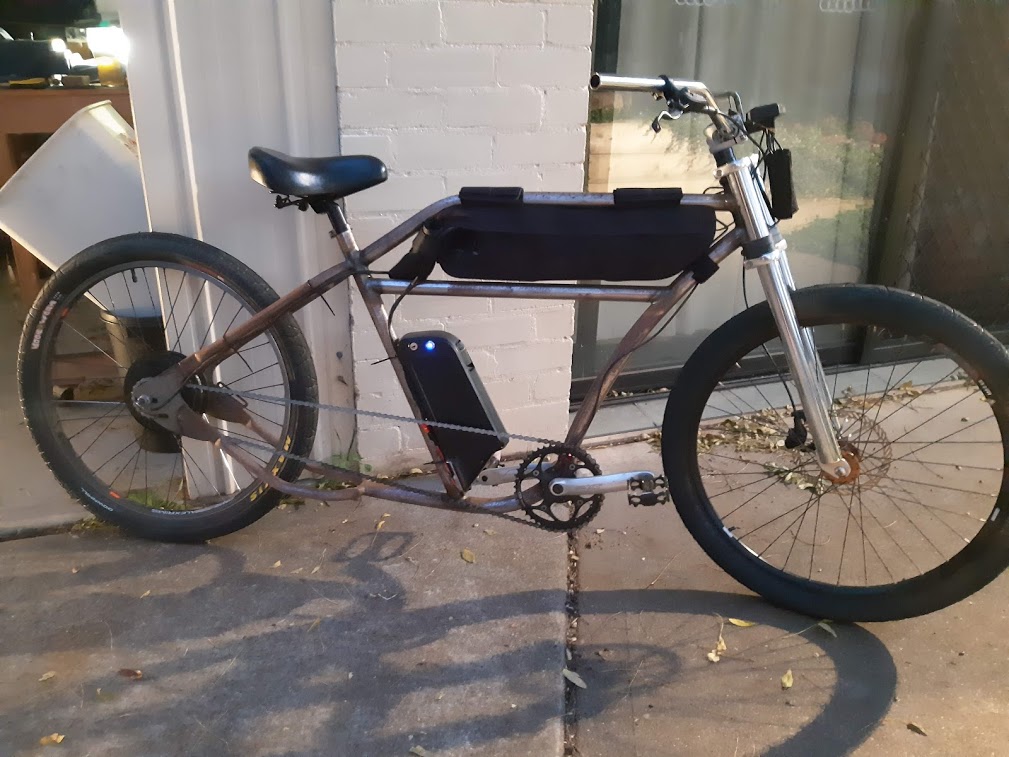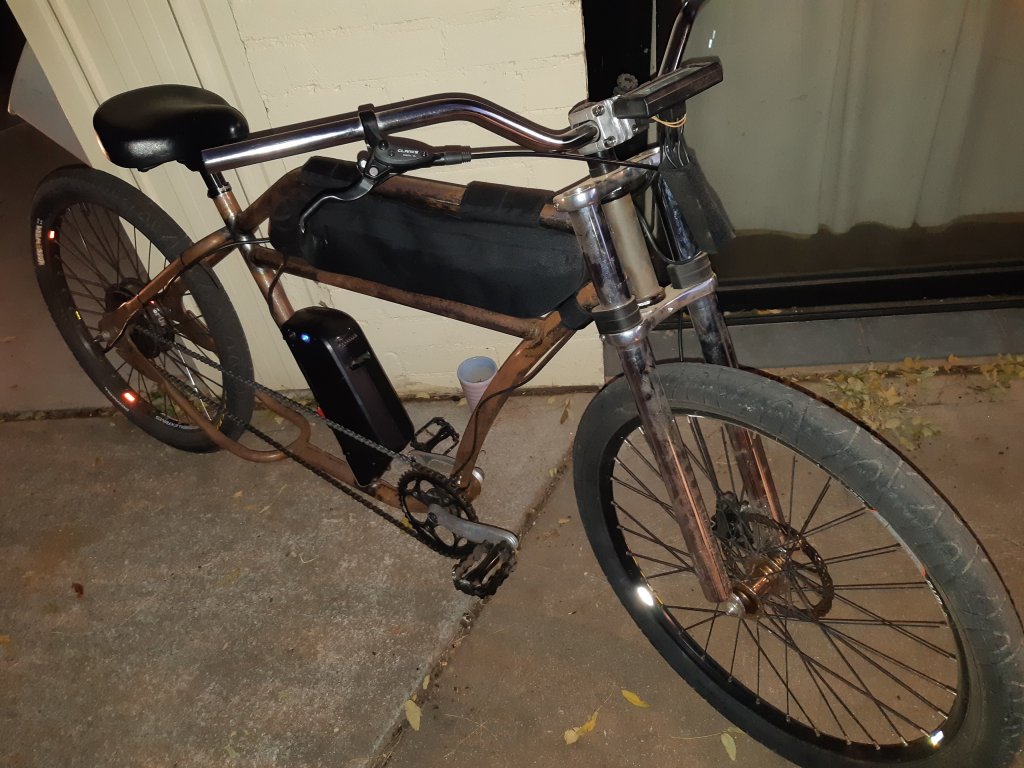 Frame
- Ruff Cycles Porucho V4
Rear shock
- Spring saddle
Front shock/fork
- Ruff Cycles Double Down
Handlebars
- Third Gear Euro Style (motorcycle bars with shim)
Stem
- Ruff Cycles Shorty
Headset
- FSA
Grips
- Grin slimline twist throttle
Saddle
-
Electra cruiser
Brooks B67
Seatpost
- Ruff alloy w Ruff clamp
Front brake
- Clarks M2
Rear brake
- Clarks Clout
Cranks
-
XT ~2003
Ruff 1pc 152mm
Chainguide
-
Paul Components
not required
Chain(s)
- 2 x KMX Z1 black SS
Chainring
- Shun Compact Disc
Pedals
-
Mini alloy
MKS BM-7
Cassette
- Deconstructed 9sp & 7sp using 19t cog from road cassette
Front hub
- DT Swiss
Rear hub
- 8FUN 350w hub ~33km/h top speed
Front rim
-
WTB
Dice e.f.d.
Rear rim
- Alex
Rear hub
- 350w Bafang CST
Spokes
- Sapim
Nipples
- Sapim
Tyres
- Maxxis Hookworm
Total weight
- Approx 25kg (will weigh)
This is my custom e-board tracker I've been working up for quite a while. I had the e-kit on my old Mongoose hardtail as a commuter kit but it just wasn't that great to commute on, I always felt like I had to be giving it stick on the MTB and make fast commutes.
So I've been cobbling the new one together out of a new frame and bits I could find and bits my mate had ordered from Ruff Cycles when he built one a few years back. His is so much fun to ride and I felt like this would be a much more fun way to get to work or the shops or just cruising. The kit was about $1300 years ago (it's done a couple thousand k's by now) and the bike has cost about $600 to build so far, I expect to keep it under a grand.
I got it up and running with the electrics last weekend, was great after about a year gathering the bike bits. The temporary parts will be changed, they're just to get it up and running until I have budget to upgrade them. It should be properly rideable this weekend.
Near future plans are:
Leather Royal Enfield springer seat I have and the clamp doesn't work. Needs a bit engineered to fit modern seatpost. Or might just get a Brooks because comfort.
67mm double wall rear rim, 57mm single wall front polished alloy to rebuild the wheels. The Hookworms can go on 80mm rims (they look like racing bike tryes but stay on) so I want to fatten them out a bit but not to 80mm.
The cranks will be replaced with 152mm one piece Ruff cranks this weekend, hopefully my Compact Disc chainring arrives by then. The XT's are dangerous for front wheel and ground clearance. I can play around with gearing because the rear is a bunch of cassette spacers and a single cog with slidng dropouts.
No idea what fiinish I will put on the frame, the natural rusty rat look is fine for now.
Last edited: