Item:
Hunt Trail Wide 29" boost wheels
Purchased From:
Direct from Hunt
Purchase Price (approx):
about $690 delivered but their prices seems to change with conversion rate
Usage:
All Mountain (some general trail and some jumps etc)
Pros -
Good weight, nice finish, 30mm internal rim, easy tubeless, low drag freehub, good price
Cons -
Freehub not as 'rock solid' with its engagement as really top end, potentially undergunned for heavier or more aggressive riders
Comments:
When I moved from a 26" frame a couple of months ago to a 29er I had to update a number of things including forks and wheels (would have looked pretty funny otherwise). I was on a budget but also pretty picky as the wheels i had on the 26" bike were my perfect 'goldilocks' set - good balance of strength, weight, width and all on high quality hubs.
I took a false step down the Zelvy path and ended up trying the Hunt Trail wheels. They get great reviews, are a very good weight (just over 1800gm for the set in 29" boost), the right width for me (30mm internal) and the freehub has just 3 degree lag. At the time they were advertised as $609 AUD. Perfect!
I soon realised that GST gets added on top and my bank charged me an international transfer fee so they ended up about $690... Still good value.
They took a little longer to arrive than expected as they had a rush on orders and ended up out of stock. Once they were dispatched, they arrived in just 3 days.
They are nicely packed, pre-taped for tubeless and fitted with tubeless valves. They claim to be hand built and come with a quality control card initialed by the builder and ticked to verify they are true, round etc. It's a nice touch.
I mounted a 2.5 Minion DHF to the front and a 2.3 Minion SS to the rear. The tyre actually sat just a little loose in the rim bed and would not inflate with my floor pump. I spent 5 mins and used my thumb and forefinger to 'pull' the tyre out towards the edge of the rim a bit. I worked my way around the whole rim and then did the same on the other side. Once I did that, it blew up no trouble and has amazed me at how well it has kept air. I've not really had to touch them with the pump in months (using Effetto Cafelatex for those interested).
I was riding a set of spank 395 650b rims with 2.6 tyres on the frame for a couple of weeks before moving to the Hunt wheels with slightly narrower tyres. I can't imagine there is much difference between a 2.6 minion and a 2.5 but the rim shape and width of the Hunt wheels compared the the Spank wheels combined with a small increase in width of the tyre actually makes a big different.
I'm sure its a personal thing but I prefer the slightly narrower tyre on the 30mm rim. It just has a better connection to the trail.
The Wheels are 28 spokes up front and 32 spokes out back and carry a really good feel over roots rocks etc. They are on par with the feel of my Stans Flow wheels i was running on the 26" bike.
The free hub is low drag which is great. Combined with good bearings, the wheels spin for days. It's hard to seperate the wheels from the frame, suspension, geometry etc but these wheels on my Transition carry a lot more speed and momentum than the Bontrager Line Comp 30 wheels on the Trek Fuel Ex 7 I rode recently in QLD.
It was a really strange feeling to get on the Trek and feel like there was something pulling it back - like riding in deep grass or something. Could have been the tyres. They were 2.6 but the tread pattern was not aggressive and should have carried speed.
The flip side to 'low drag' freehub is that occasionally, when you are flowing through corners and go to put the power down, the free hub
just
misses engaging with one set of teeth and slips just slightly to the next set. It doesn't happen often and it's not a big problem (the next set of teeth are not far away) but I never experienced this slip with my Project 321 hub and it had the same 3 degree lag.
I think that the pawls in the Project 321 were more firmly sprung which created more drag but also achieved a Swiss watch precision that is just lacking for the Hunt wheels.
Now that it's been almost 2 months, I grabbed the spoke tension metre and gave both wheels a good once over. The front came up fine. I only had to tweak 2 spokes and it is running smooth, straight and round.
The back wheel however was disappointingly inconsistent with it's tension. I had to spend quite a bit of time getting the tension even and then truing one section. There is also a small flat spot that I cant get out.
I've definitely hit a few jumps but nothing crazy big. I only weigh 72kg kitted up and am not the most aggressive rider. I've ridden Eatons Cutting and around Red Hill a few times on these wheels but otherwise its been pretty mundane around Lysterfield etc. With that in mind, I reckon I'm riding within the intended purpose of the wheels so its disappointing to have them lose tension and pick up a flat spot.
I've contacted Hunt as they have a 60 day trial period and I am about 1 day within that (it was only by chance that I had time to check over the wheels today). I was honest with them re hitting some jumps so will be interesting to see what they say. I've just asked them if I have an option to change to their enduro wheels which I assume as a bit stronger. Even if it was just the rear. We'll see.
I've attached some photos below but its hard to see the finish. They are a really nice and subtle matt black. I've managed to pick up one scratch but no dinted that I can see.
Not sure if that review actually sounds a bit negative but the truth is I'm quite impressed with the wheels. If I can sort a stronger rear rim then I reckon they'll be golden.
Pictures/Videos: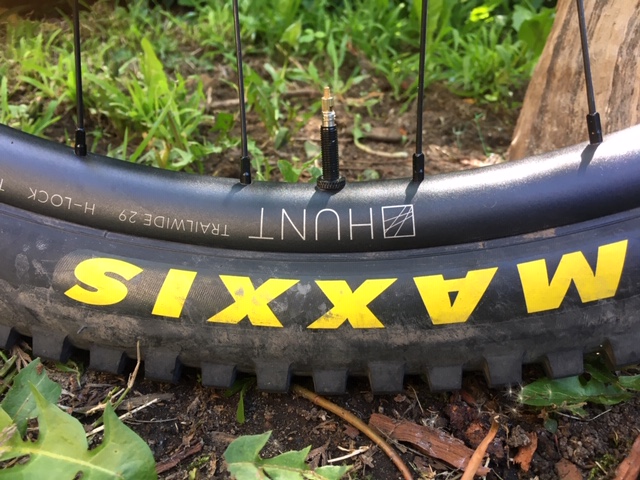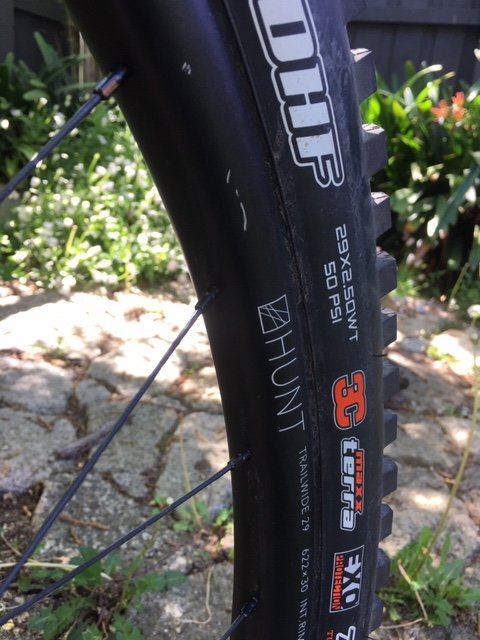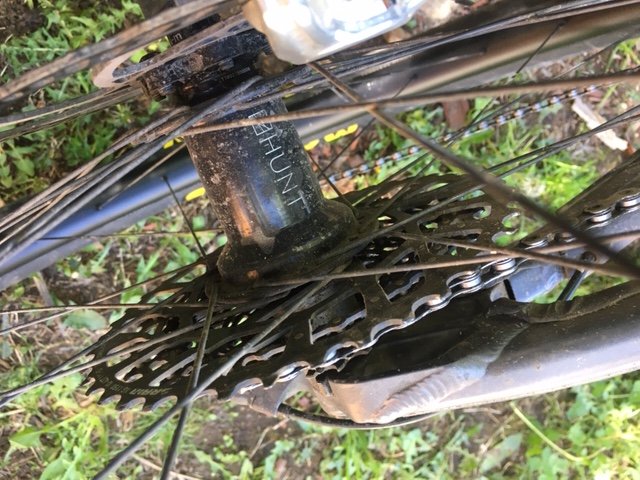 Last edited: