Item:
'13 Manitou Dorado Pro RRT - Rulezman Raced Tuned
Location:
Albury NSW
Item Condition:
Excellent. Minor cable rub on anodising
Reason for selling:
Dorado 37
Price and price conditions:
$1800
- Rulezman Race Tuned
- Incredibly sensitive and supportive with TPC+ Damper.
- Currently set at 203mm travel. Can run on 26/27.5 at 203mm. I was running at 180mmm on a 29" as fork is internally adjustable.
- Fork runs a 110x20 non-boost hub and 49mm offset
- With flat crown will fit up to a 140mm head tube with a slamset headset.
- Full service completed by last month by NSR Racing with a new compression rod assembly ($450) Blows modern forks out of the water. Best fork I have ever ridden by along way. When Dave says 'no more sore hands' it is no lie.
- Comes with Gold Ti bolts, fork bumpers and 200mm brake mount
- See Rulezman Suspension's info below:
Dorado Specialist & RRT upgrade
If you have a dorado and you look for the highest experienced guru, you are @ the right place.
Rulezman is the man of the dorado!
let's go trought some basic concept of UpSideDown forks and why USD forks are the best compared to standard forks :
The reason for reengineering the conventional fork is two-fold. First, arguments have been made that it lowers the amount of unsprung weight on the bike, which typically leads to better handling. This has been hotly debated, and any savings here are likely pretty miniscule. The larger benefit is said to be increased stiffness from the front end. To understand why, let's study engineering for a minute with your favorite redneck professor.
Stiffness — or resistance to deflection — of a tube (in this case, the outer telescoping section of the fork) increases greatly with respect to its diameter. Because the outer tube is, by definition, larger than the inner telescoping section, it should be stronger and stiffer.
If you think about the front end of a bike, it works just like a lever. The headstock of the frame (or the nearly parallel triple trees) acts as a fulcrum, so the greatest forces of deflection (or "bending," as non-engineering types might commonly say) are imparted upon whatever piece of tube is nearest to it. Since we know that larger-diameter tube is stronger, one can surmise that an inverted fork will deflect less, because the stronger part of the fork is installed in a way that allows it to cope with the strongest forces of deflection.
The stiffness leads to better feedback and feel, and greater responsiveness, due to the reduced stiction between the upper and lower sections of fork.
With more than an intense decade tuning and caring thousands of dorados we are the right center for treating your dorado in the best and experienced way.
From factory the dorado PRO is a workpiece, but we managed to go beyond that original perfection.
Dorado RRT (Rulezman-Race-Tune) is the result of many work/race seasons.
Dorado RRT is a blend of tecnical modifications, structure improvements, weight savings and some special recipe secret-ingredients we cannot divulge to public.
Some of all these important details improved with the RRT upgrade from the beloved DORADO PRO are:
improved bumps absorbing
increased travel from 203 to 210mm
overall frictions reduced by 140%
"high stay" in travel on slow speed impacts and reduced brake dive
custom brakehose guide
air bleeding relief valves for consistent feedback run after run
all RRT fork will get the compulsory Rulezman KYB re-anodizing bronze color, but please don't call this kashima !!!
Pictures: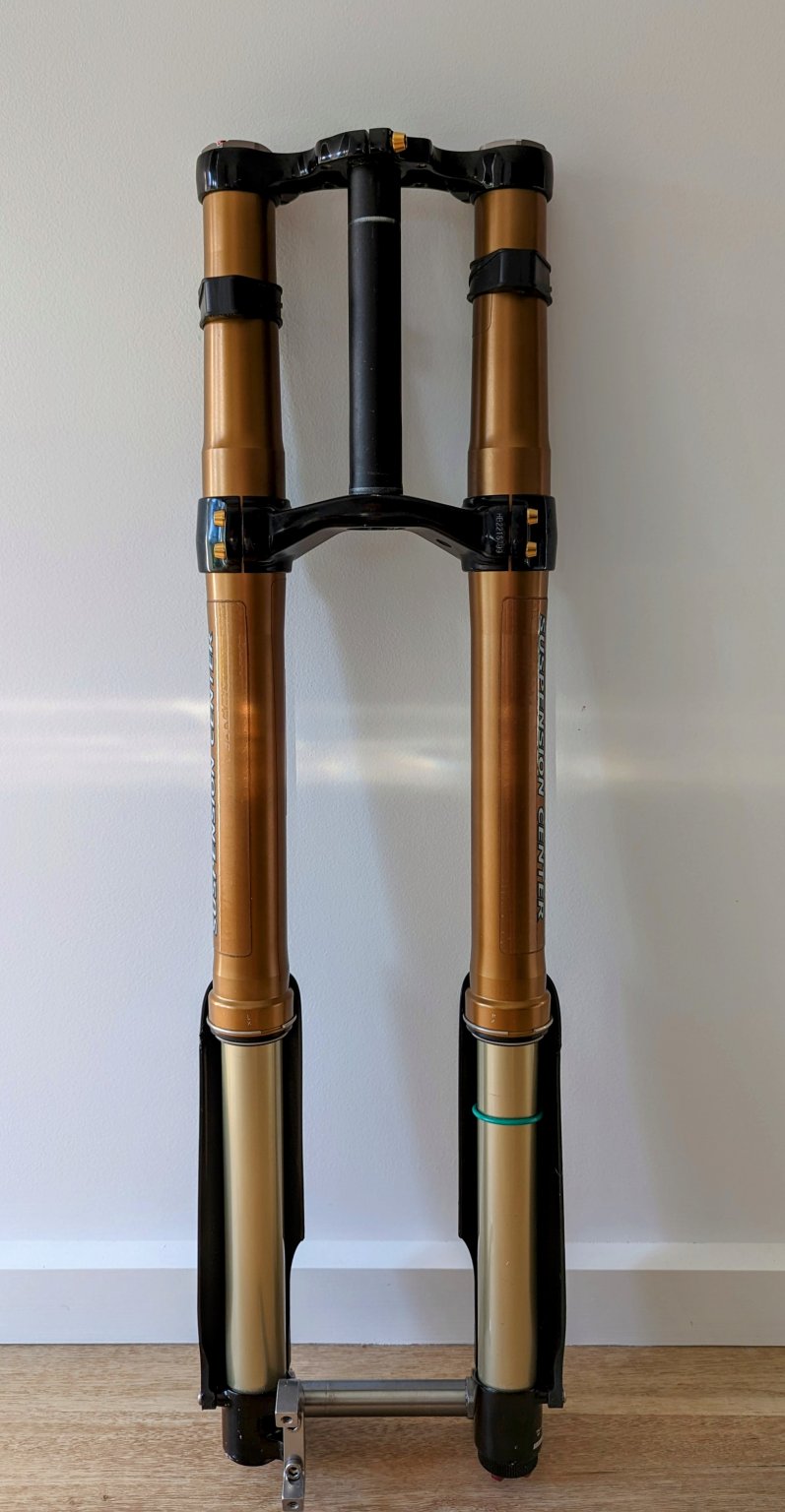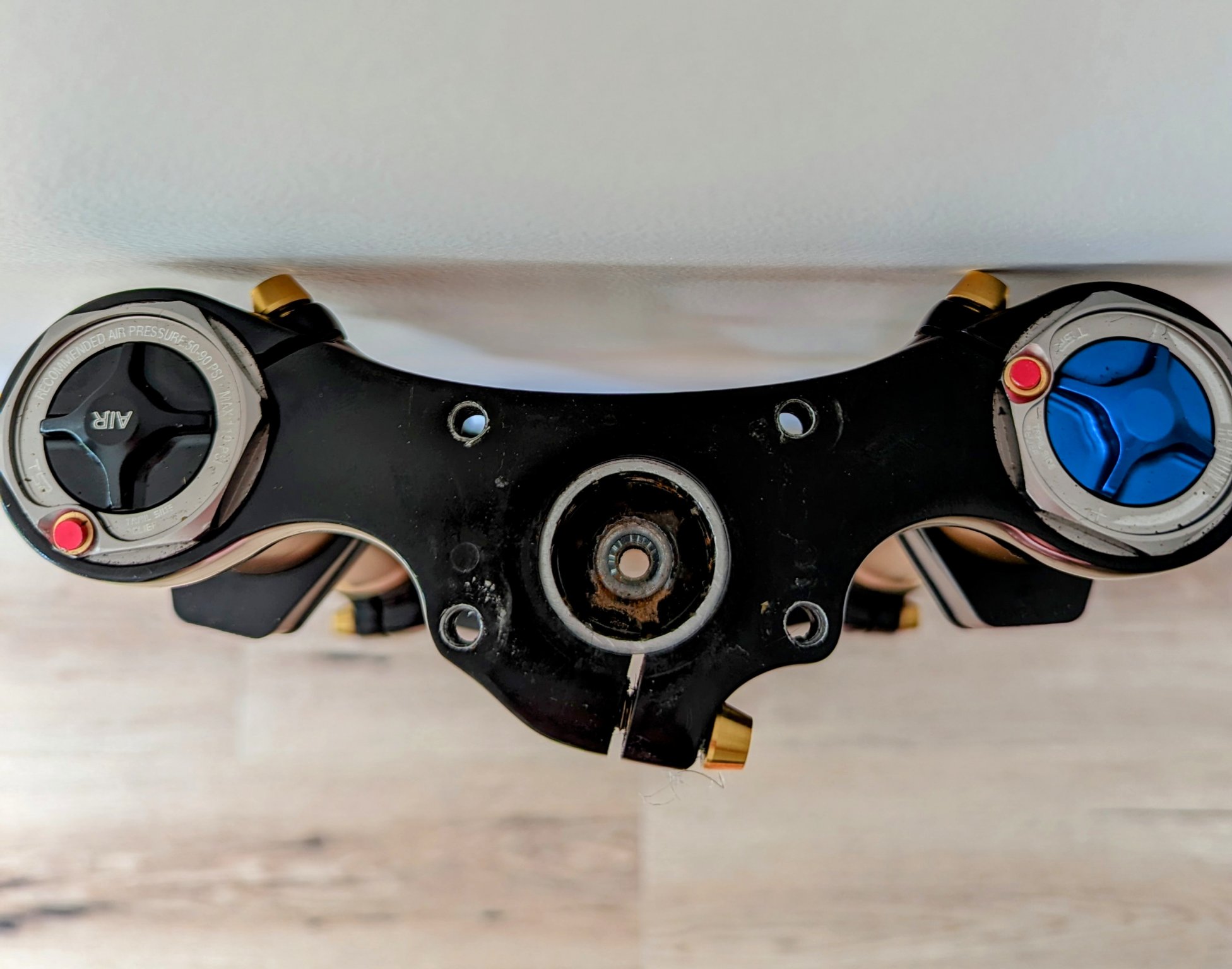 Last edited: