So here it it, ticking every endur-bro marketing hype box this side of tan wall tyres - high pivot, coil front and rear, mullet, copper chain, orange shit everywhere, unnecessary carbon rims: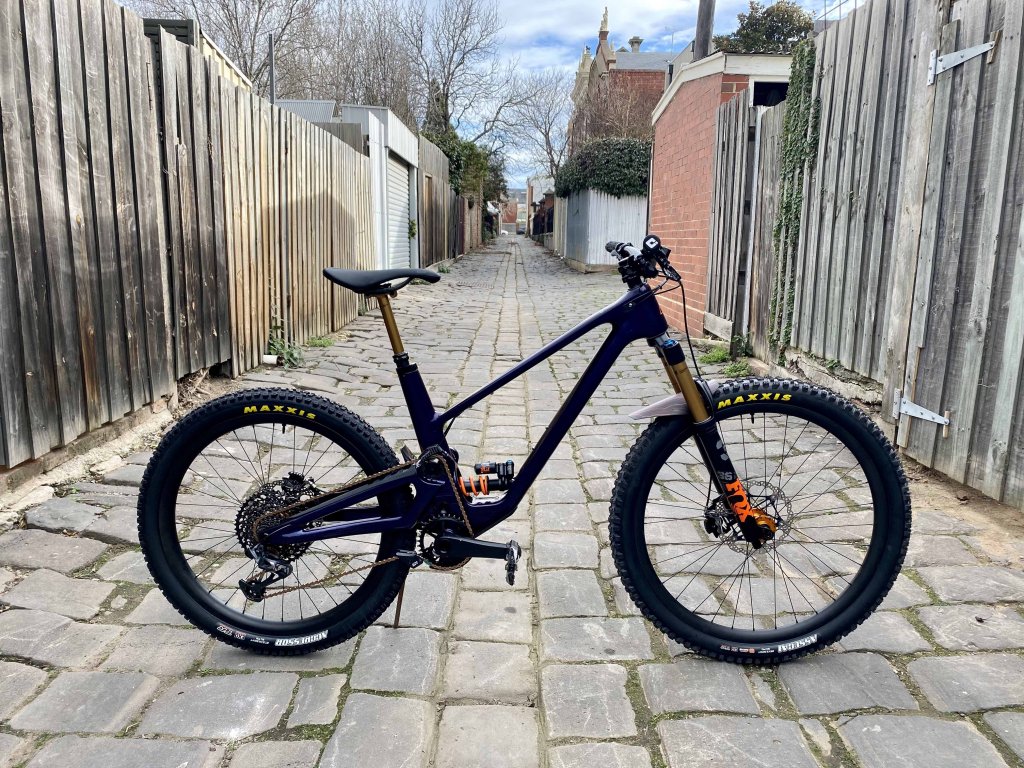 It's been a long time coming, but it's finally in one piece instead of scattered in boxes down the hallway.
My two previous bikes were an Evil Insurgent and an Evil Following. I loved both of them for what they were. The Insurgent punched well above its travel, was wickedly fast when pointed downhill and even with coil front and back was a playful and lively ride. The Following has to be up there for the most fun bike I've thrown a leg over. Reasonably light, accelerated and climbed well, and loved a side hit. The Following was a pandemic purchase when I was living on the coast and could ride the Anglesea single track every day, but hasn't been getting a lot of love since I've been back at the office and Melbourne based. The Insurgent was starting to get a little older and decided it was time for the newest and shiniest thing.
A couple of hours on the spreadsheet later, and theoretically could sell the Following complete, sell the Insurgent frame and a few parts, and still come out relatively even monetarily (bull shit - I knew it, my wife knew it, and the dog new it) with a new bike somewhere in the middle of those two. I made an idle enquiry about availability, and unfortunately there was a frame available almost immediately.
I've been lusting after the Druid for some time, I liked the idea of a shorter travel frame that I could hammer out longer midweek rides with my cross-country (roady really) mates, but still session the You Yangs on the weekends.
Frame was new from Cyclinic in Fitzroy. With a few changes, most of the parts from the Insurgent transferred across. First impressions of the frame were super positive. Nice clean internal routing, bolt on cable exit points, it looks like a quality piece of engineering. The paint job is epic - although the camera can never seem to capture it.
Parts
Most of the parts came straight of the Insurgent, and what hasn't I've managed to sell. The forks needed new 29er lowers, and have dropped the travel 10mm to 150mm which is squarely what Forbidden recommends. I really liked the Light Bicycle carbon rims on the Following, so this was my one real parts upgrade. Hopefully with EXO casing tyres and the carbon rims they should be pretty zippy, and retain the acceleration of the following. Was always going to run the mullet. Riding similar style bikes in the Following and Insurgent back to back both wheel sizes have their benefits. I'm hoping that this combo will capture the ability of the Following to carry speed, and the playful whippiness of the Insurgent. I'm excited to try the Ass-Guy/Agressor combo. I always liked Magic Mary/Hans Dampf combo, but just couldn't stomach the weight of them, the cost and the limited wear life - so I'm hoping this combo will give similar vibes.
Thankfully still had a few spare links of chain left over from the Insurgent, so only had to buy one new chain to get the full 130 links. Also elected to trim the bars a little and go 10mm longer stem. I had 32mm on the Insurgent which was just too twitchy and short. At 800mm, I felt like I lost a lot of power through the bars, particularly pulling back.
I also have a Cascade Components Linkage sitting at home which I'll install at some stage. I'll ride it as god intended first, but will experiment with the linkage and maybe bumping the fork back up to 160mm. There's some stealth Slik Graphics decals which are somewhere between Sweden and here for the fork and and to get rid of the embarrassing upside down logo on the shock, but otherwise I can't see my self making any changes to the spec.
Frame
: Forbidden Druid (Large) in Cosmic Eggplant with Ziggy Link, Invisiframe.
Shock:
Fox DHX2 210x55 with 450lb SLS spring, Enduro needle bearings
Fork
: Fox 36 FIT4 Factory, 150mm travel, 44mm offset with Vorsprung Smashpot coil conversion, SKF low friction seals, OneUp axle.
Handlebars
: Renthal Fatbar Carbon 35mm Stealth Ltd Ed. 20mm rise, cut to 780mm.
Stem
: Thomson Elite X4 35mm clamp, 40mm length.
Headset
: Hope ZS44/56
Grips
:ODI Rogue Lockon.
Saddle
: Fabric Scoop Pro Radius
Seatpost
: Fox Transfer Factory 31.6, 175mm drop.
Dropper Lever
: Wolftooth Remote.
Front brake
: Hope V4 with Uberbike Race Matrix finned pads, Tech 3 Lever with SRAM shifter adaptor, Hope 200mm floating rotor.
Rear brake
: Hope E4 with Uberbike Race Matrix finned pads, Tech 3 Lever with Wolftooth adaptor, Hope 200mm floating rotor
Cranks
: eThirteen TRS Race 170mm with custom Slik Graphics stealth decals.
Bottom Bracket
: Hope 30mm Bottom Bracket.
Chainguide
: eThirteen Custom for Druid
Chain
: SRAM XX1 Copper (1.03x chains)
Pedals
: Crank Brothers Mallet E.
Derailleur
: SRAM X01 Eagle.
Shifter
: SRAM GX Eagle.
Cassette
: SRAM GX Eagle 10-50t
Front Hub
: Hope Pro 4 Boost Orange, 32h.
Rear hub
: Hope Pro 4 Boost Orange, 32h, XD driver.
Front rim
: Light Bicycle Recon AM933 32h, Matte UD.
Rear rim
: Light Bicycle Recon EN733 32h, Matte UD.
Spokes
: Pillar Triple Butted.
Nipples
: Pillar Brass.
Front Tyre
: Maxxis Assegai 29x2.5 3C MaxxTerra Exo WT.
Rear Tyre
: Maxxis Agressor 27.5x2.5 Dual Compound Exo WT with Huck Norris Medium.
Other
: Lezyne Flow cage loaded, Wolftooth B-Rad frame mounted strap.
Total weight
: 15.9 kg
First Impressions
It certainly came out a little heavier than I had hoped. I was hoping to keep it under 15kg, even with the coil front and rear. Hopefully, with the pretty lightweight wheels it won't feel quite that heavy.
At this stage I've only had a little roll around the streets on it. Fit and size wise, it's bang on. Probably only a few minor tweaks to get it perfect. It feels pretty nimble, and accelerates well. Fair bit of bob under power with the climb switch off, but at the moment running compression wide open, so that will probably get dialled down a bit.
I test rode a 29/29 version which belonged to a Mech at Cyclinic. I was a little hesitant because of how overly planted it felt. It was reluctant to get on the back wheel and required a lot of effort to bunny hop or manual. Thankfully, first impression is that the mullet sorts this out. .