Deleted member FN2187
Guest
Preface: This article is not meant to be a counterpoint, but to expand on Dozers review from late last year. I will try to limit any crossover between the two articles. This review is of my personal bike and experience. I have no affiliation with Polygon or bicycles online. I have recycled some excerpts from my other posts relating to the bike.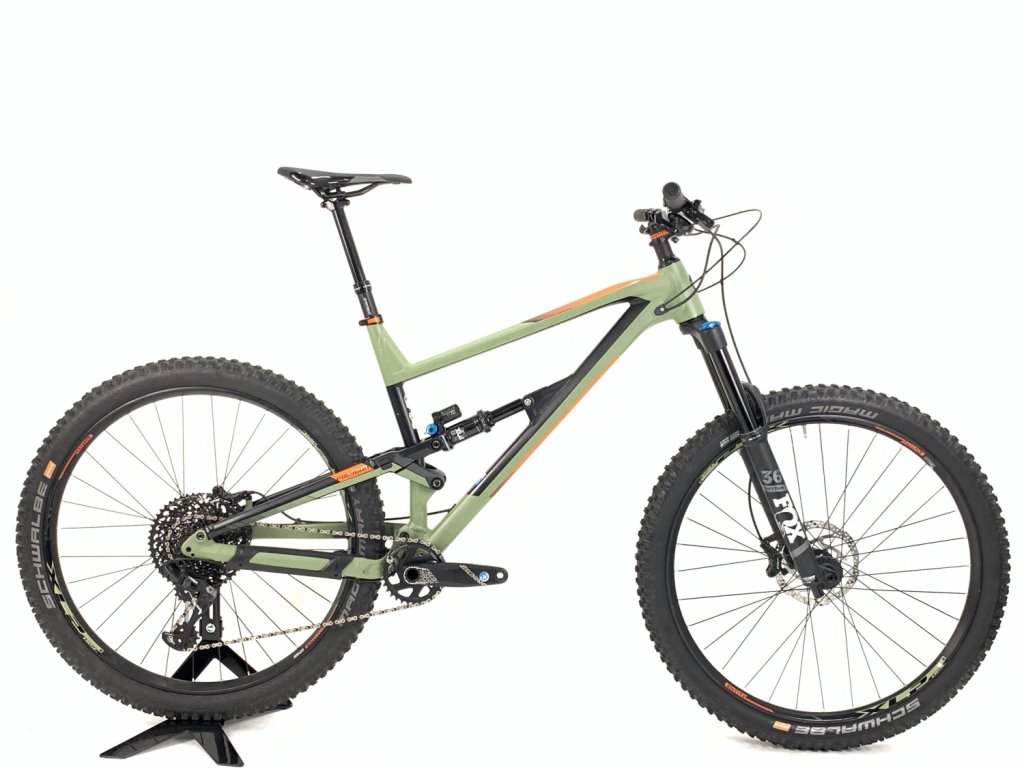 The Giant killer, killer?
It's no secret that mountain biking is expensive. Compounding the cost of cycling is our geographical location 'downundah'. Literally the other side of the world to the head offices and manufacturing facilities of the major cycling brands. It is common knowledge that buying a bike direct from an online seller is going to save you money. We have seen the rise in popularity of direct sales brands like Canyon and YT. Even Commencal have reverted to selling bikes direct all in an effort to offer the most competitive package possible within a particular budget. If we look at the offerings from these brands they happily occupy the premium space, where top tier componentry is offered on cutting edge frames at a percentage of what you'd expect to pay from traditional brick and mortar brands. That is nice and all but most of the base models start at a price many wouldn't consider affordable.
If you are looking for a new long travel 29" mountain bike and the limit of your budget barely stretches past $3k you are bum out of luck. Granted there are 27.5" and shorter travel options available. But if you believe the hype around long travel 29ers and nothing else will do, not one of the aforementioned brands, nor Giant, Trek or Specialized have you covered. If your budget is under $3k, you generally are resorting to either hardtails or dual suspension bikes with 'agricultural' levels of componentry.
As many of you are aware by now, Polygon bikes offer incredible value for money. This is in part due to polygon being based in Indonesia rather than Europe or north America. And unlike many brands they own the factory where their frames are built. Their conventional Siskiu range starts at $1599.00 for the Siskiu D7 and tops out at the Siskiu N9 with a jaw dropping/spouse satisfying price tag of $3499.00. What makes this price so remarkable is the level of componentry on offer, such as a Fox 36 Rhythm fork, Fox Float DPx2 shock, TRP Slate T4 brakes, Schwalbe Magic Mary Addix Soft 2.3" tyres and a SRAM GX Eagle 12 speed drivetrain. While this spec list is not top of the line, it is only missing a few adjusters on the suspension and a slight weight penalty in the drivetrain. That said 99% of the population does not need any more than what this bike can give.
One big red rebound dial.
I won't prattle on too much more as it already starting to sound like an ad. So, what's it like to ride. Well, suspension adjustments are limited as you'd expect on lower spec units. Only 1 rebound and 1 compression adjuster at each end. Because the suspension is a single pivot design with a linkage driven shock, the axle path travels on a vertical arc. What this translates to on the trail is a very playful if unrefined rear end. The bike loves to get airborne and will swallow up the big hits. However, the rear wheel tends to hang up on faster choppy sections of trail and can get a bit wild. This can be mitigated by tinkering with the adjusters. Slowing the rebound and opening up the compression on the shock will stop it from pinging around too much, but it will never be as reactive or sensitive as a multi link design. Tighter sections of trail are made easy by the bikes willingness to change direction. The geometry lends itself more to agility rather than outright speed. It can feel quite nervous when you start pushing it. But that's the compromise. Winching yourself back to the top was a pleasant surprise on such a long travel bike. 29 inch wheels combined with a high(ish) BB height and shorter reach make clearing technical sections a breeze.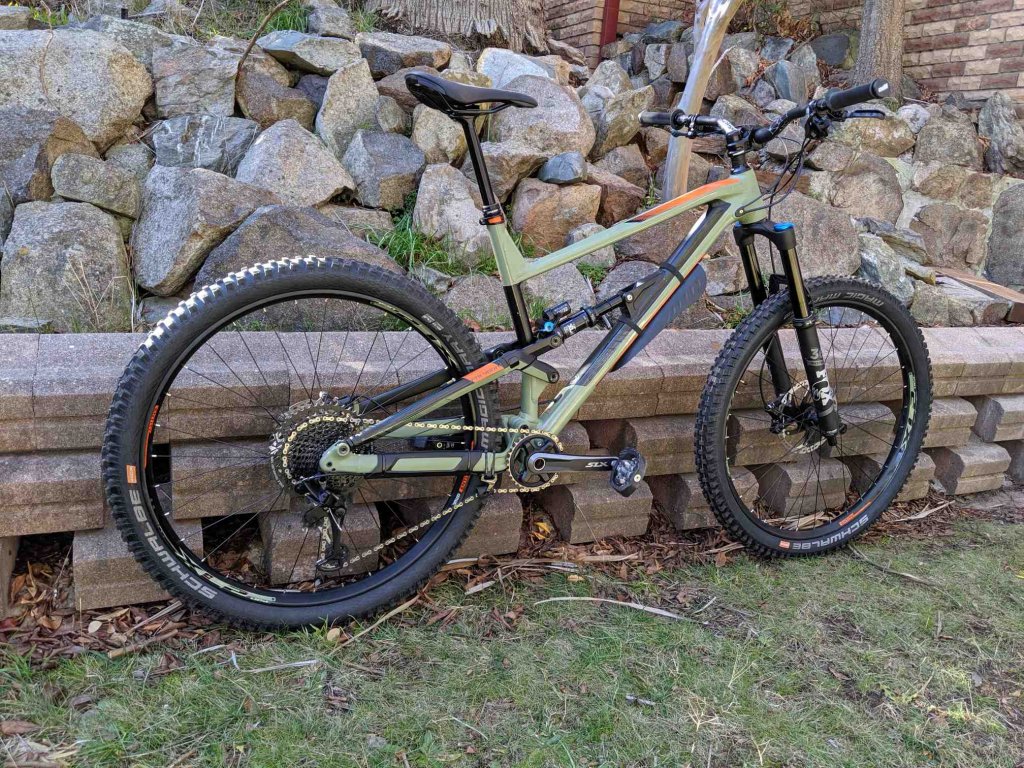 Average geometry, above average looks.
The bike has a very neutral and comfortable riding position. If you are interested in one, upsize the frame. The Siskiu models have conservative reach numbers compared to many modern designs, 485mm on the XL and 465mm on the large. By all research available to me online, Polygon seem to have a pretty good reputation for build quality. My XL frame is built very well. The welds, headset and BB machining, linkages and pivot points are all top notch. No discernable play anywhere. One negative is that the paint on the frame is very easily chipped. Which is a shame because I am a big fan of the paint job and overall lack of branding anywhere. It's very cool to see an intricate paint design without the bike shouting who you bought it from. Paint protection is a must.
Paint protection in all the vulnerable spots.
The Fox 36 Rhythm fork is excellent. As stiff and burly as you'd expect from such a meaty chassis. One good thing about having limited adjustments is there is less to confuse you on set up. Bike is diving into the corners? Bump up the compression. Getting a bit wild into the braking bumps? Slow the rebound. Set your sag and go play around without worrying about messing something up. The TRP Slate 4 piston Brakes seem to have all the power and modulation of Shimano's venerable XT 2 piston units. This is no bad thing as they are the industry standard in many people's eyes. TRP uses standard Shimano brake pads, so installing sintered Saint pads will be a quick upgrade if more power is necessary. It's not a flaw as such and while I like the shape of the lever, it is unnecessarily long. Splitting hairs I guess.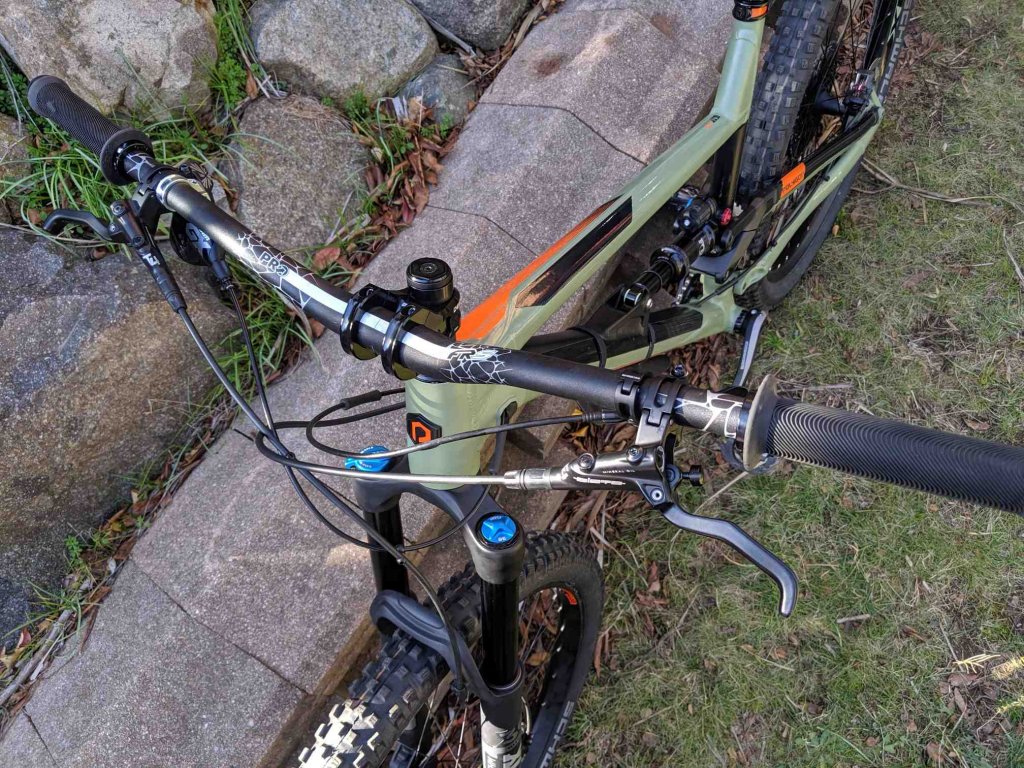 Moto levers? And a simple fork.
The XL2 Wheelset from polygons own brand Entity was a surprise. While the hubs are simple generic units, the 29mm internal width rims with offset spoke beds are something you'd expect to see on a more premium wheel brand. Top marks. wrapping those rims are Schwalbe's Magic Mary tyres. It's not normal to see a soft compound tyre at this price point, so the Addix Soft compound is a very welcome addition. They may be slow rolling but are grippy, stable and predictable.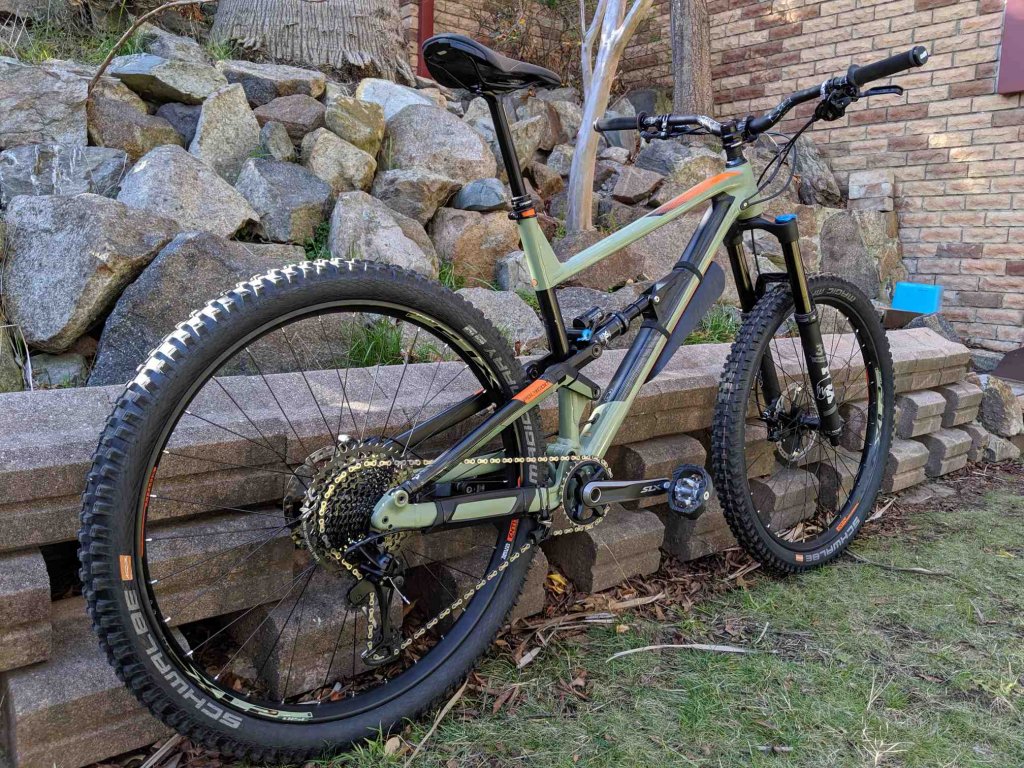 Quality wheels and tyres, disappointing shifting.
I don't like letting bias or prejudices influence a review, but I have to say my piece regarding the SRAM GX eagle drivetrain. I've not ever had a good experience with SRAM's lower tier drivetrains. When they're new they can't be faulted, but shifting performance quickly deteriorates. This groupset has been no exception. Barely 3 rides in and I started to notice slow and clunky shifts. This is due to poor manufacturing tolerances at the interface between the hanger bolt and the mech itself. I will be upgrading to Shimano before too long.
I get the impression this bike will suit the average punter down to the ground. Value for money it cannot be beat. The frame is exceptional quality and the component spec won't leave you wanting whatsoever. It's super fun and forgiving, rewarding to ride and allows you to get away with murder. I've rolled out of a few, let's say 'interesting' line choices. It loves to get airborne and is very stable when landing. If you are a faster rider and are expecting a mini DH bike or a flatout enduro race machine you'll be disappointed. But if you want a super fun, efficient and capable long travel trail bike. Look no further.
Last edited by a moderator: