Despite happily shitposting on here for many a year now I've never actually contributed a PYR thread. Long story short - I had an On One 456 (bought off here actually). Loved it. Sold it due to having other commitments. Missed it. Then another 456 in my size popped up on here at a bargain price and some impulse decision making may have occurred. Rode it for a bit but the forks were a bit noodly and the bike just felt a bit... unenthusiastic compared to my old one. Missing a bit of that spark and accelerative punch hardtails usually have. After a while I decided this was enough reason to get a bit of a bike project happening.
What follows is a salutary lesson in how to totally destroy an initially very modest build budget and end up with what is objectively a completely obsolete 26" hardtail. But I don't care, it's a shitload of fun to ride despite the rear end becoming
extremely
active at speed over choppy terrain (hence the thread title). 456s are on the stiffer rather than springy steel spectrum so fatigue does set in a bit faster, but again don't care. This bike makes me a better rider.
It's also fallen down the anodized rabbit hole as I channelled my inner bower bird and smothered the f***er in blue tinsel because dickhead. Not a normal move from me, but I think it looks pretty sharp without being OTT. The forks were NOS stock that were well over allocated budget (don't drink and ebay) but don't ruin the handling at 160mm (I rarely use the TALAS feature) and track very nicely. 20mm axle probably helps there.
The rims sort of came courtesy of a mate who cracked the rear one and replaced both - gifting me a perfectly usable front rim. I initially paired this with a Mavic something alloy rear but a thieving pos decided he needed it more (coincidentally Mr Methy didn't steal the front wheel because he couldn't work out how to unbolt it from the front forks). Insurance came to the rescue so I decided to replace it with a matching rear. Interestingly, compliance and ride quality is waaay higher with this compared to the alloy rear on it previously and the Stans Arches on my old 456. Cannot recommend Nexties enough if you fancy carbon but want to keep your kidneys. The finish and quality is very impressive.
Anyway, less talk. More photo: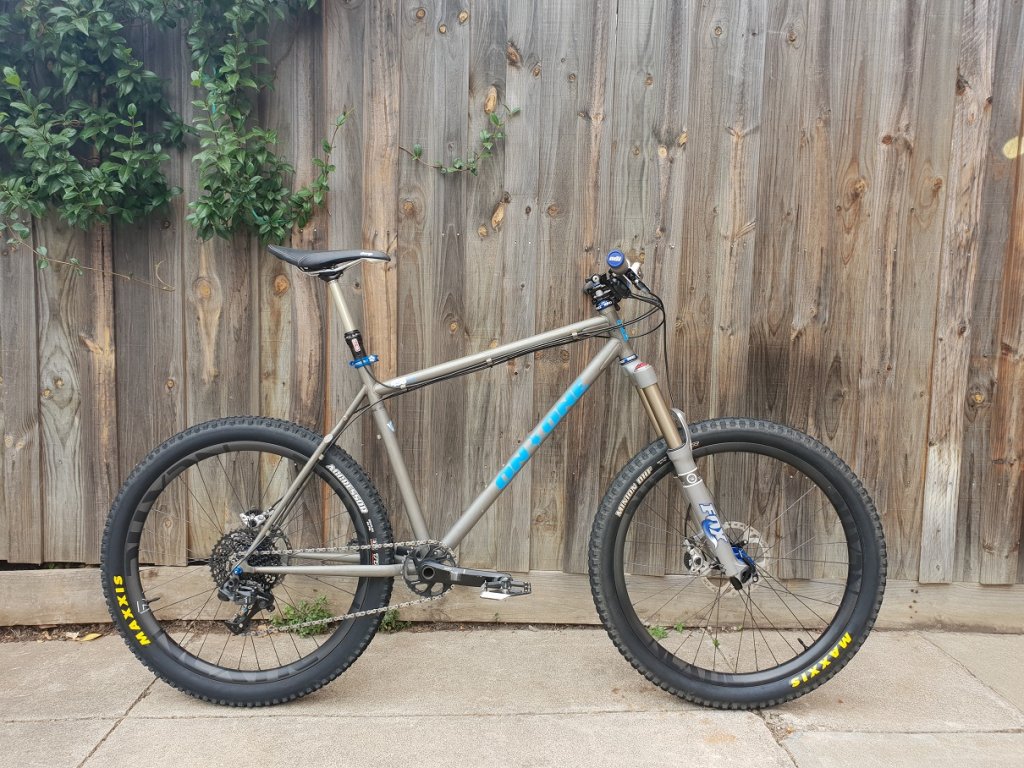 Frame
- On One 456, 20" largey size
Rear shock
- knees
Front shock/fork
- 2008 Fox 36 TALAS 20mm axle
Handlebars
- Easton Haven carbon 740mm
Stem
- Thomson 50mm
Headset
- Chris King
Grips
- mouldy Bontrager foamies with some clashing $2 ODI end caps
Saddle
- Charge something
Seatpost
- KS Lev 125mm
Front brake
- Shimano XT M785 180mm rotor
Rear brake
- as above
Cranks
- Sram X1
Chain
- Sram GX
Pedals
- Spank Spikes
Rear derailleur
- Sram X1
Rear shifter
- Sram X1
Cassette
- Sram GX
Front hub
- Hope Pro 4 20mm
Rear hub
- Hope Pro 4 135mm
Front rim
- Nextie 35mm
Rear rim
- same
Tyres
- Maxxis DHF 2.3 (front) Maxxis Aggressor 2.3 (rear)
Total weight
- many