Deleted member FN2187
Guest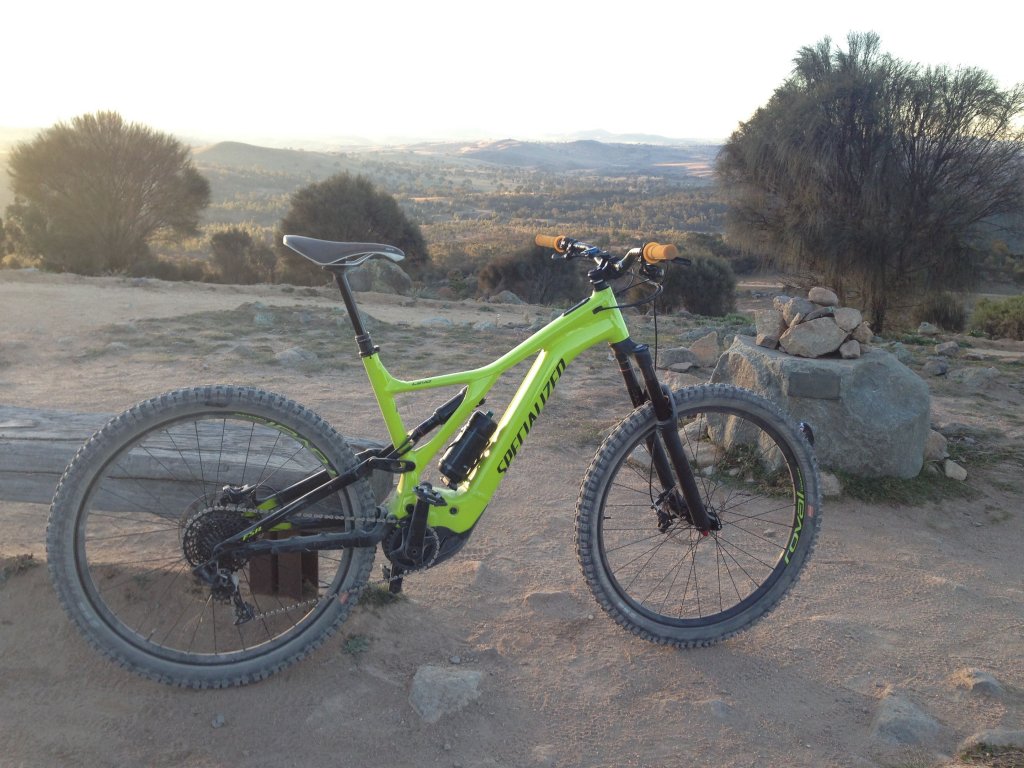 I have also posted this in reviews. Mods feel free to delete this if necessary.
Foreword
:
Guess who's back? Back again! Yogi's back..... Sorry, I'll leave that there.
But no, really. I'm back after being lost to the world of racing enduro (dirt bikes) for the last few years. As a result the mountain bikes had really taken a back seat. Anyone who owns a dirt bike will know that everything takes 10 times longer. If you live anywhere urban, Just physically getting to and from riding areas takes half a day. Then there is the cleaning, maintenance etc..... After my most recent injury and the ubiquitous mid 30's weight gain I really needed to get back on the pushy. I still have my trail bike and my roadie, but I was dreading the thought riding purely for the fitness. Turning something fun into work is a surefire way for me to lose interest. I had a predicament, How can I ride regularly enough to earn fitness points without detracting from the fun of mountain biking. So I got the idea in my head that an e-bike was the answer. Yeah, yeah I know. You don't need to tell me. An e-bike is cheating. You can't get fit on an E bike. But before you cast your aspersions I will retort by saying, any activity is better than no activity at all.
The Decision:
And so here we are, and with the wife's blessing I was off with a fist full of dollars. But which bike? It doesn't matter which way you slice it E bikes are fucking expensive. If I'm spending that kind of cash it had better be the right bike. And given the rapid development in the area, the bike had better be bang up to date. It also has to look and ride like an analogue bike with normal geometry. The only 2 bikes that tick my boxes were the Rocky mountain powerplay and the Specialized Levo. As much as the powerplay gave me a raging bike boner, the thought of owning a boutique bike with a proprietary motor scared me off with long term serviceability. Fortunately there were no XL bikes in the country. So my decision was made easy for me and I landed on the Levo.
The Bike:
Let's not beat around the bush, although I am ultimately happy with my decision, I have a bone to pick with the product manager at Specialized. $7000 hard earned Australian Dineros is what it costs to land a
base
model Levo in your shed. For $7k the parts list leaves a lot to be desired, but the investment is in owning one of the lightest E bikes available as well as the most stylistically correct in my opinion. A few quick upgrades to suit your riding style and the bike is easily one of the best available. For context the spec list is as follows.
| | |
| --- | --- |
| CHAIN | KMC X11ET, 11-speed w/ Missing Link™ |
| CRANKSET | Praxis, 2D cold-forged alloy, custom offset, 165mm |
| SHIFT LEVERS | SRAM S700, single-click lever |
| CASSETTE | SRAM PG-1130, 11-speed, 11-42t |
| CHAINRINGS | 32T, custom steel |
| REAR DERAILLEUR | SRAM NX, 11-speed |
SUSPENSION
| | |
| --- | --- |
| REAR SHOCK | RockShox Deluxe RT w/ custom air valve, 150mm of travel |
WHEELS
| | |
| --- | --- |
| FRONT HUB | Specialized, sealed cartridge bearings, 15x110mm thru-axle, 28h |
| REAR HUB | Specialized, sealed cartridge bearings, 12x148mm thru-axle, 28h |
| INNER TUBES | Standard, Presta valve |
| SPOKES | DT Swiss Industry |
| RIMS | Roval Traverse 29, hookless alloy, 30mm inner width, tubeless ready |
| FRONT TIRE | Butcher, GRID casing, GRIPTON® compound, 2Bliss Ready, 29x2.6" |
| REAR TIRE | Butcher, GRID casing, GRIPTON® compound, 2Bliss Ready, 29x2.6" |
COCKPIT
| | |
| --- | --- |
| SADDLE | Body Geometry Henge Comp, hollow Cr-Mo rails, 143mm |
| SEATPOST | Specialized 2-bolt head, forged alloy, 5mm offset, micro-adjust, 34.9mm |
| STEM | Specialized Trail, 3D-forged alloy, 4-bolt, 6-degree rise |
| HANDLEBARS | Specialized Trail, 6061 alloy, 8-degree backsweep, 6-degree upsweep, 27mm rise, 780mm, 31.8mm clamp |
| GRIPS | Specialized Sip grip, half-waffle, S/M: regular thickness, L/XL: XL thickness |
BRAKES
| | |
| --- | --- |
| FRONT BRAKE | SRAM Level T, hydraulic disc, 4-Piston Caliper, 200mm |
| REAR BRAKE | SRAM Level T hydraulic disc, 2-Piston Caliper, 200mm |
ACCESSORIES
FRAMESET
| | |
| --- | --- |
| SEAT BINDER | Specialized bolt-type, alloy, 38.6mm |
| FORK | RockShox Sektor RL, 29" Boost™, 150mm of travel |
| FRAME | Specialized M5 Premium Aluminum, 29 Trail Geometry, integrated down tube battery, enclosed internal cable, Command Post routing, 148mm spacing, fully sealed cartridge bearings, 150mm of travel |
What on earth were Specialized thinking speccing a 150mm Sektor and SRAM Level T brakes, albeit a 4 piston on the front, on a 21kg bike. Moreover, why does a $7000 bike NOT come specced with a dropper post. Needless to say the first 2 purchases on my shopping list were a 160mm Rockshox Yari and an X fusion Manic dropper post. Anyone who knows me will know that I am on the lumberjack end of the human spectrum, so I replaced the contact points like saddle, bars, stem, grips and pedals. Personal preference rather than necessity. I have also replaced the tyres with Schwalbe Eddy current E bike specific tyres. The super stiff sidewalls really help keep everything under control. Otherwise, the Specialized branded components and Roval wheels are all excellent quality. The wheels are not the stiffest and are confusingly only 28 spoke units but strong enough to get the job done. I can understand Specialized building the bike to a budget and a weight limit, but I would take the weight penalty if it means durability. As they say Light, strong and cheap, you can only pick 2.
The motor/climbing:
Now for the fun stuff.
Life changing, mind blowing etc etc.... Now all of the hyperbole is out of the way, here's my honest opinion. No matter your preconceived notions and all prejudices aside, an e-bike is simply a mountain bike amplified..... Sorry. But really the Levo feels and rides just like any normal mountain bike, albeit with a weight penalty off the bike. The motor has 3 modes. Eco, trail and turbo, all of which have customisable assistance levels through the Specialized mission control app. I have left these at the factory set 30, 60 and 100% assistance levels. 90% of my time on the bike has been left in Eco mode. Eco really is all anyone NEEDS to have a good time on the bike. It gives a glimpse into what a professional cyclist must feel when ascending at Pace. One term I heard that encapsulates that feeling is 'Uphill flow'. It feels very natural and doesn't give so much assistance as to make you feel like the bike is doing all the work. Trail mode is a useful tool to help clear technical sections you would otherwise not be able to clear under your normal abilities. It really is a hoot to smash a climb that has been out of reach on an analogue bike. Both trail and turbo modes can be too much on normal single track. Having to brake uphill into corners is not necessary. I have used turbo mode exclusively for self shuttling fire roads. It gets pretty hairy on the trail as the front wheel tends to lift and float as the climbs get more technical.
Chassis/Descending:
Now Specialized has done something pretty special here. They've been able to package everything in a way that doesn't adversely affect the handling. The geometry is up to date, it is long, low and slack. But being Specialized the numbers are a little more conservative than some more boutique brands. This is no bad thing as the bike feels like any other 150mm trail bike pointed down hill. Actually because the majority of the weight is down low in the middle of the bike it stays far more stable through rocks, braking bumps and chunder. Since upgrading the forks and tyres I have never felt the bike to be outgunned on any trail. However, due to the added weight I have had to set the bike up a bit differently. I am running 25% sag in the fork and 30% sag in the rear. My tyres are set up tubeless with 28psi in the front and 32psi in the rear.
Battery/Charging/Maintenance
The battery life will always depend on several factors like rider weight, tyres, terrain and temperatures. The 500 watt hour battery life on the trail has been good in my experience. For context I am 6'3", heavier than I'm willing to admit, riding an XL frame with heavier than stock parts and tyres, mostly riding Canberra's excellent trail networks. So immediately I'm at a disadvantage when it comes to battery conservation. That being said I've not ever run the battery below 20%. Most of my rides are between 20km and 30km's long with 500m-700m of climbing. As I said, I am mostly running the motor in Eco mode and I do notice a sharp increase in battery consumption in turbo mode. Charging is a done with what looks like an old laptop charging brick and a proprietary magnetic connector plugged into the interface between the battery and motor. The cable is plenty long enough as the battery is not the easiest to remove and charge remotely. So far I have not had to do any maintenance to the battery or motor. The battery can be slid out of the down tube by unscrewing one big Allen bolt. The motor is sealed in its own waterproof housing inside a hard plastic protective cover that bolts into the frame with the motor. I've not pulled it out yet, but it looks to be a simple job with 2 long bolts through the lower portion of the frame.
Conclusion:
There is a lot of stigma surrounding cheater bikes that I think can be wiped away simply by swinging a leg over one. I have my own reasons for hopping on the bandwagon and I hope more people who simply just want to ride more get to enjoy one like I have. To put it plainly, I now ride way more than I ever have. And that is no bad thing.
Last edited by a moderator: