2019 Ibis Ripmo
(XL)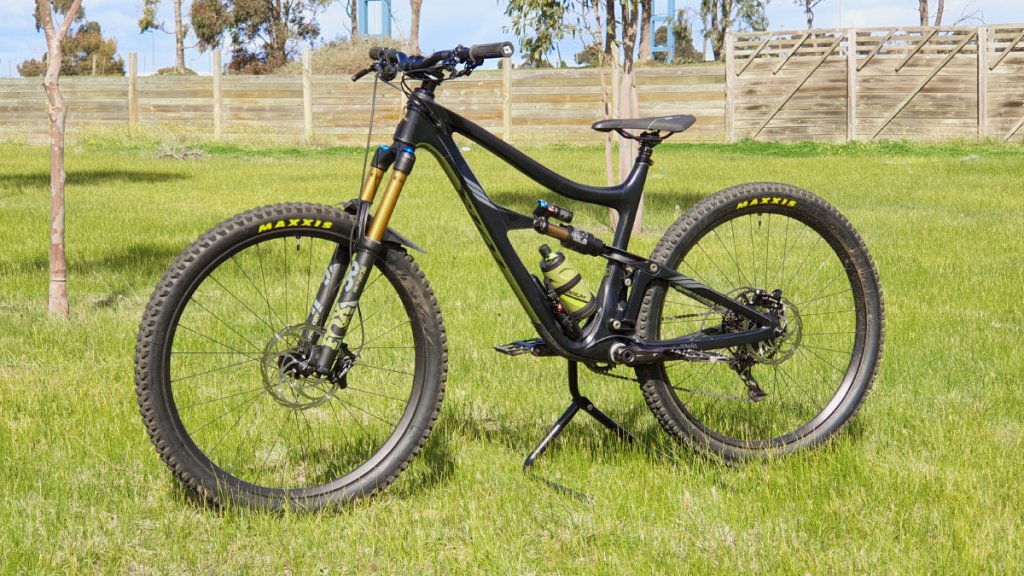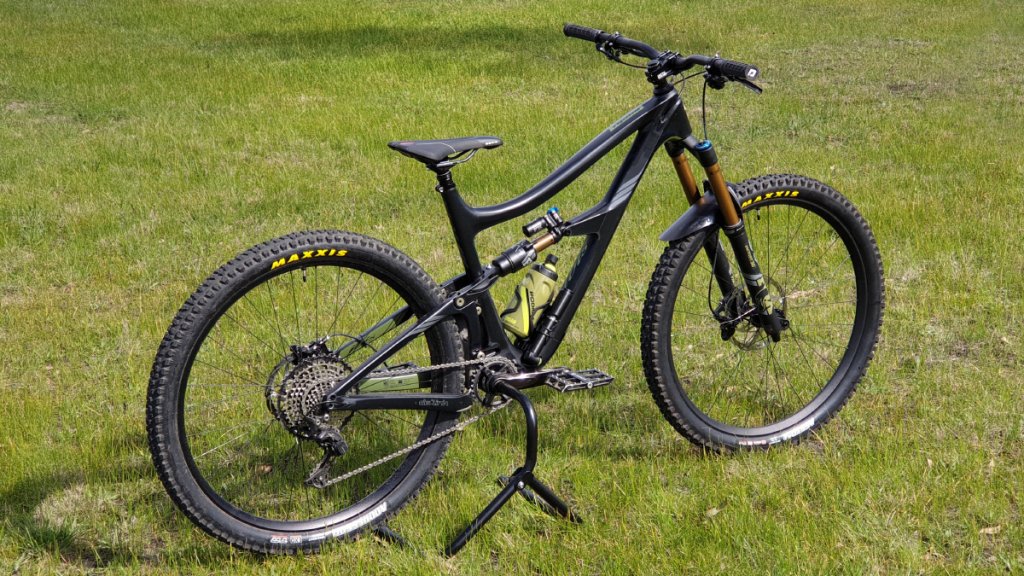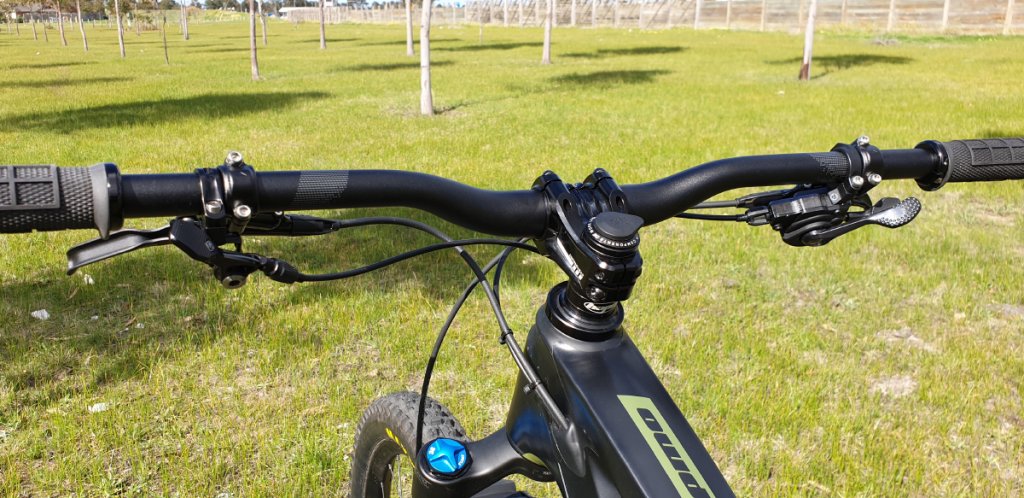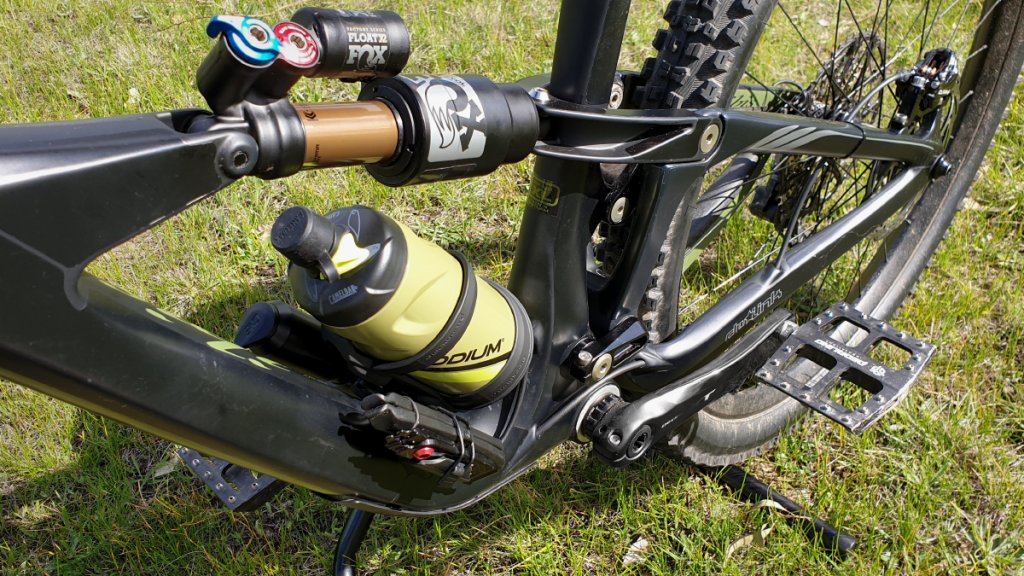 Frame
- 2019 Ibis Ripmo Black/Olive XL
Front shock/fork
- 2019 Fox Factory 36 (160mm travel, 44mm offset, Grip 2, 15x110)
Rear shock
- 2019 Fox X2 (210x55mm, 145mm wheel travel)
Handlebars
- Spank Oozy Trail Vibracore 780 (25mm rise)
Stem
- Diety Copperhead 50mm
Headset
- Works Components -1 degree angle headset
Grips
- ODI Elite Pro
Saddle
- Selle Royal (model unknown)
Seatpost
- Vecnum Nivo 212mm
Front brake
- Formula Cura 4 (203mm rotor, sintered pads)
Rear brake
- Formula Cura 4 (180mm rotor, sintered pads)
Cranks
- Shimano XT M8000 170mm (non boost for better chainline, but I should machining approx 1mm off the chainring lugs for a touch more clearance - it is very tight at the moment!)
Chainring
- Shimano XT M8000 30t
Chain
- Shimano HG-701
Pedals
- Pedalling Innovations Catalyst
Rear shifter
- Shimano XT
Rear derailleur
- Shimano XT (GS "mid" cage) with Wolftooth WolfCage
Cassette
- Garbaruk 11-50t
Front hub
- Hope Pro 4 Boost 28h
Rear hub
- Hope Pro 4 Boost 32h
Front rim
- DT Swiss XM 481 28h
Rear rim
- DT Swiss XM 481 32h
Spokes
- DT Swiss Comp (with black brass nipples)
Tyres
- Maxxis Assegai 2.5" Exo+ (Front), Maxxis Aggressor 2.5" Exo (Rear)
Tubes
- Stans Tubeless Sealant
Well after a little under a year, I'm back on a Ripmo (Previous build here -
https://www.rotorburn.com/forums/index.php?threads/ibis-ripmo.312825/
).
It'll be a long shpiel - but I'll explain why below:
Safe to say I didn't get along with the first (2018 spec) one. I came off a way smaller bike, had been off the bike for probably a month or two so fitness was cactus, and just never found a cockpit or suspension setup on the bike that felt good. One thing that really compounded the lack of love I felt for it was that the Ripmo was the current "it" bike at the time - they'd just been released, were nearly impossible to get a hold of (hence the couple of months not riding after the delivery dates blew out), had rave reviews all over the internet, and I had the "loud" blue and orange paint scheme. It felt like everyone on the trail wanted to ask me about it and I was just not feeling it and wanted it gone so I could just go back to being anonymous on the trails.
Most of you on here are probably aware that I went back to a Santa Cruz 5010 (also size XL, but a lot smaller in reality). Loved it, super lively bike. But that was its strength and its weakness (or my weakness when trying to ride it). You really had to be "on" to get a good ride out of it. Eventually on a day I
wasn't
"on" I stacked it on a smallish jump and broke my collarbone.
Cue another few months off the bike recovering, then began the gradual return to riding. Well, didn't I realise how twitchy and aggressively I had tuned it then! With the setup how it was, it was a real handful with a recovering shoulder, and the seated climbing position of the slackened seat-tube (I had put a longer fork on) was really getting to me.
So the hunt began for something a little more modern and appropriate for my 6'2" height began. I wanted something with a little more travel than the 130mm Santa Cruz, but didn't want a big wallowy pig to have to pedal around either.
Pretty standard for most of us I spent months thinking about what to buy, hours and hours and hours researching options online (I'm lucky I have good bosses at work who understand our work is patchy depending on when customers call, so fortunately got most of this done at work - Winner winner!). I knew I wanted a low cut and steep seat tube that would allow enough insertion for the lastest mega-drop dropper posts, more reach, and ideally press-in headset cups so I could play with angle headsets and a threaded BB for easy assembly/maintenance if needed.
I looked a dozens of bikes, but the repeated dealbreaker for me was slack seat tube angles or limited seat post insertion depths. The one that ticked all the boxes on paper - but I just could imagine owning again was the Ibis Ripmo. I mean obviously I wasn't going to buy another one of those!
As it turned out fate stepped in and I bumped into a bloke that was riding a 2019 spec Ripmo at You Yangs one day, and we had a bit of a chat about it and he was cool enough to let me take his for a quick spin, and something about it just felt different. It felt how I always wished my old one could. I mulled it over for a couple of weeks, bit the bullet and put in an order.
So here we are again back on a Ripmo. You might be wondering what's changed from the prior year...
Well the main one is the 2019 X2 shock significantly changes the feel of the bike. It just feels like it's a hoverboard until it needs to absorb an obstacle and then it just gets out of the way and doesn't hang up.
The previous 2018 X2 spec was a new size at the time and internet chat suggests it was basically cobbled together by Fox for the Ripmo. Apparently it was a bit of a spare-parts bin raid development, and unfortunately wasn't actually a great match to the frame. IMO at that time the DPX2 would've been a better option - but was/is only offered with frames/complete builds in the basic 'Performance' (no LSC adjuster spec), which didn't appeal to me, and is pretty disappointing to only get the basic spec on such an expensive bike regardless. Luckily the 2019 X2 has updated internals, can take more volume reducers, has a higher max aircan pressure, a bigger internal bumpstop and just generally feels a bucketload better when riding.
Other minor changes have been to run a little more stem length to get my weight a bit better balanced on the bike. While this is definitely not a radical geometry groundbreaker like a Nicolai or Pole, it definitely still benefits from "progressive" geometry, which seems to need a very precise setup to feel 'just right', so these little changes can have big effects on how the bike feels. I've also noticed the extra drop gained from changing to the Vecnum 212mm dropper (over my previous BikeYoke 185mm) makes it possible for me to comfortably stand just clear of the seat with both feet on the ground when stopped. This surprisingly has a big psychological effect making the bike feel a lot smaller and more manageable, and gives me more confidence to try techy climby stuff because I know I can actually dab a foot down if needed without squashing the man candy! I also installed a -1 degree angle headset to help reduce the occasionally nervous feeling through rock gardens I sometimes struck with the stock headangle.
I've also made an effort on this build to get more storage happening on the bike, so it's got a OneUp EDC tool kit in the headstem, and the latest changes have been to add a tyre pump holder, tyre lever holder and a drink bottle holder to the frame to get a bit closer to my goal of being able to ride pack-free. I've only taken it for a quick blast around a local park so far but it doesn't really feel any heavier so we'll see how it goes once I get it out on the trails for real. One point of note was that using two stacked OneUp pump holder under the drink bottle mount meant the bottle would actually foul on the seat tube with the cage in the standard position. I had to modify a WolfTooth 'B-rad' offset 2-hole bottle mount to move the bottle cage forward, which fortunately still
just
leaves enough clearance for the shock air-can with a 600ml bottle.
The only things I might change in future are to get a carbon (thinking Ibis S28 rim) and possibly a lighter hub for the back to reduce the rotational/unsprung mass, and maybe also change to Shimano 12-speed once the hub licences open-up. Other than that I'm pretty happy with how it's turned out and rides. I guess sometimes it's worth giving things a second-chance!
Last edited: