SLB-01, SLB for...
Stuffed Lower Back (as a mate suggested...)
Slow Lazy Bastard (the rider!)
Any other combination you can think of!
Frame: Custom Marino hardtail, translucent candy green.
Fork: X-Fusion Vengeance, 170mm.
Headset - Marino, tapered.
Stem - Ragley Stubbing, 40mm.
Handlebars - Kore OCD, 800mm, 35mm rise, 5 deg up / 7 deg back.
Grips - DMR Brendog Death grip, thick (31.3) soft, snow camo.
Cranks - SLX M7000, 175mm
Bottom Bracket - Shimano XT.
Chainring - 36t Blackspire, narrow wide.
Pedals - Funn Black Magic.
Brakes - Shimano SLX & XT levers on Slx M7120 calipers (eventually, when they turn up).
Rotors - Uberbike Radiator, 8 inch.
Wheels - WTB i25 on Novatec (front, XD641SB / rear, D462SB-SL).
Tyres - 2.6 Maxxis DHR2
Shifter - Shimano XT, 11 speed. Ispec 2.
Derailleur - Shimano XT, 11 speed.
Cassette - Shimano XT, 42-1.
Seat Post Clamp - Marino.
Seat Post - Giant Contact Switch, 150mm.
Seat - Funn / Velo.
This is my custom hardtail made by Marino. I based the geometry on what I did and didn't like on my previous hardtails.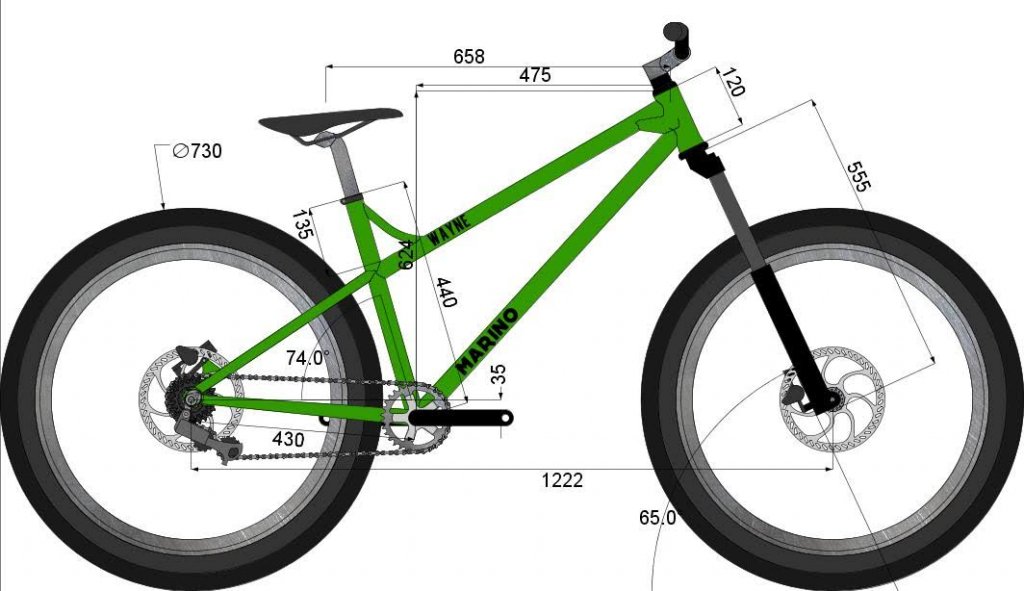 The brief was 27.5 wheels with 2.6 tyres, but will take up to 2.8. 160mm travel, but currently running 170, 50mm stem in mind, but currently running 40mm.
The full cost ended up being around $580 shipped. That included a Marino headset, seat post clamp and a top chain guide was also thrown in. That price did include a little discount because they missed out on the top gusset type that I originally wanted.
The communication was excellent, even with the noticeable language barrier. Most correspondence was over email, but there were also times where messages were passed back on forward on Messenger. All communication was prompt and I can't remember waiting more than 24 hours for a reply.
The frame itself weighs around 2.9 kg, which was lighter than what I was thinking it would be.
I'm no welder, but the quality of the welds looks fairly good.
All the threads were 100% with no re tapping or attention needed at all. The headtube was clean and smooth and paintwork was better that what I've seen from some of the major manufacturers previously.
The only slight issue that I did have during the build was fitting the derailleur hanger in the frame. The excess paint the the dropout site meant that I couldn't install it by hand. I had to install the wheel and axle and use that to press it in. Since then it was screwed in and haven't had an issue.
I'm running it with a142mm rear wheel. It was designed with 145mm dropouts to accommodate either 142mm or boost. Seems to work well so far and shouldn't be an issue at all getting a boost wheel in there.
The ride itself is certainly more compliant than the aluminium frames I've recently run. Even with the 2.25 treat tyre I started running it with, there was no excessive harshness.
Ideally the rims would be wider than the 25mm internal. Is not an issue so far on the rear, I'm running a home made insert (55mm wide, 20mm thick) in it at the moment and haven't quite got the ideal pressure, but so far so good. The grip levels of the 2.6 are great.
The entire process from finalising the specs and paying the deposit, to delivery was about 8 weeks.
It was fairly well boxed and protected. There was a little box rub on the headtube, but very minor marks only.
All in all I'm super happy with the end result and will be riding this for a long time to come!
Pics are / will be below....
Just added a few full build photos and more detailed frame shots below to show some of the detail.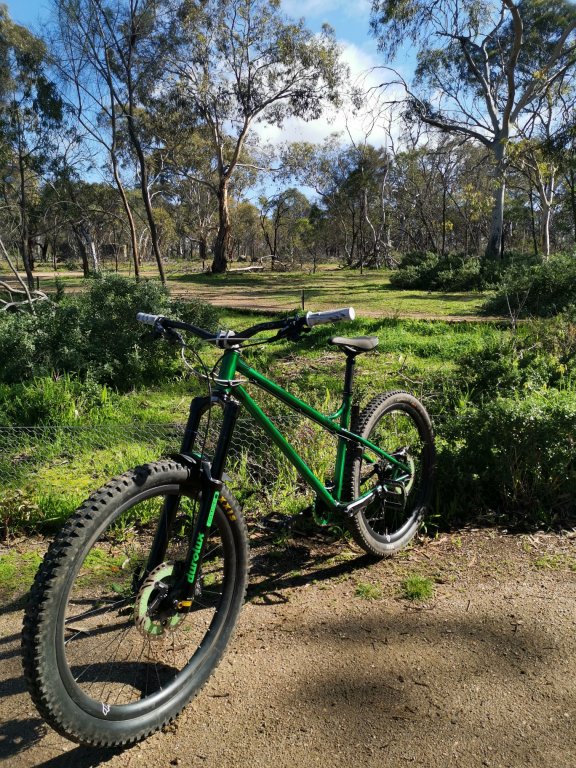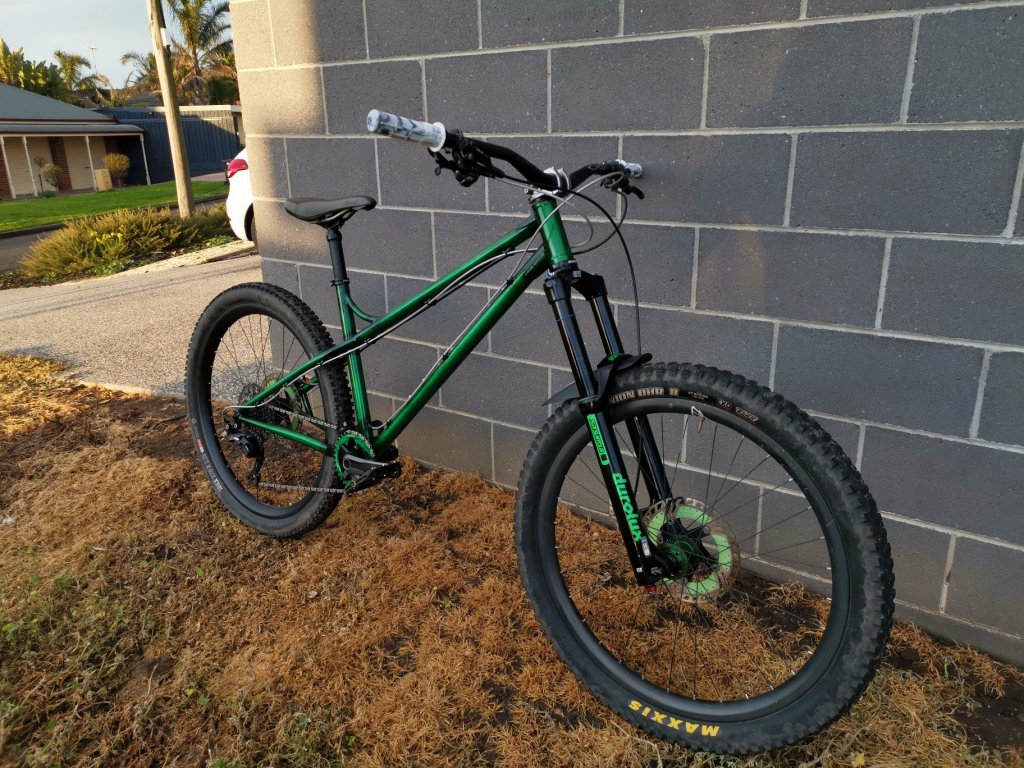 Last edited: