It was rumoured and talked about, it then appeared in bike park testing but hidden by camouflaged decals, it was buzzed about when it appeared on the World Cup circuit under the Polygon United Racing Team and now it's available from Bicycles Online for us lucky punters to throw a leg over. Ladies and Gentleman, the Polygon Xquarone DH9 downhill bike is here and the hype is real!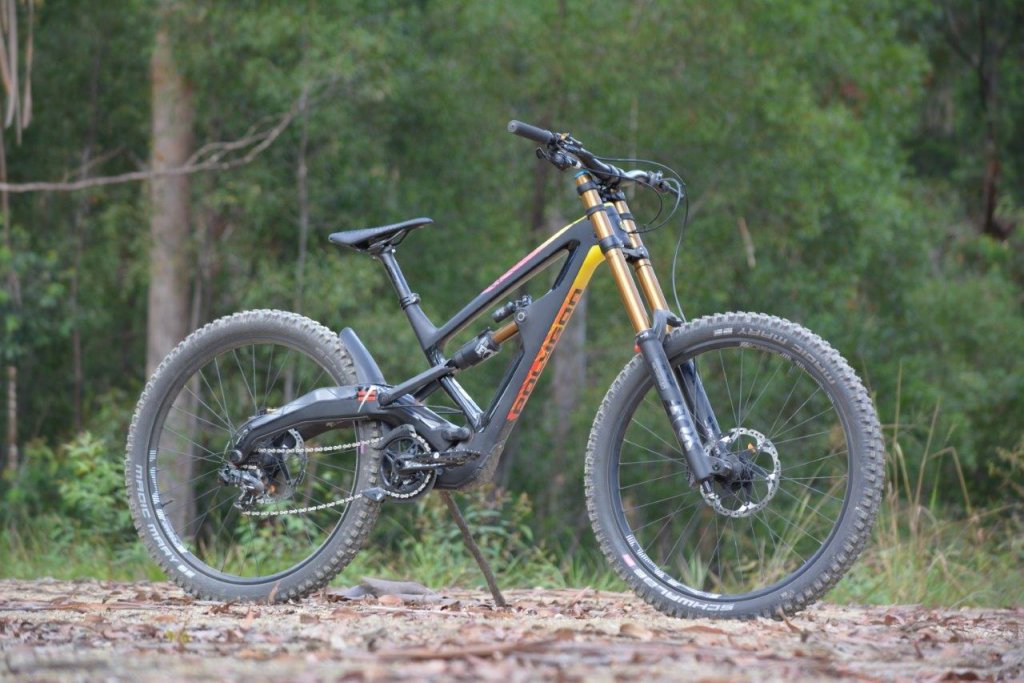 Item: Polygon XQuareone DH9 downhill bike
Purchased From: Bicycles Online (click
here
)
Purchase Price (approx): $6,699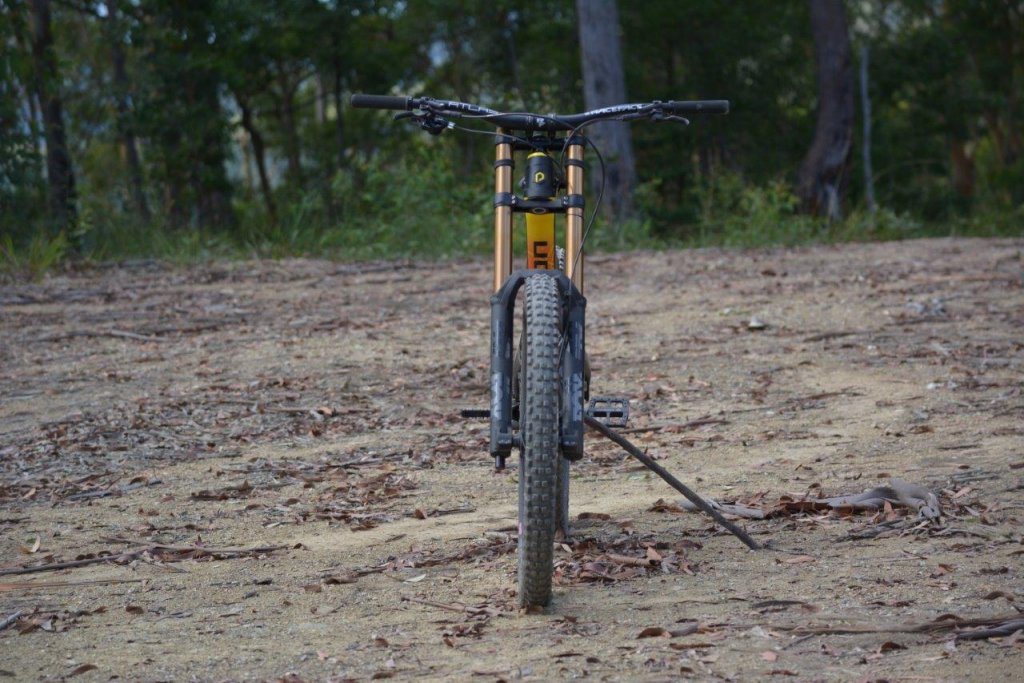 Let's get to the chase and cover the first three things that people say when they see this thing in the flesh. First up; No, it isn't an E Bike. That lower pivot area houses something far more interesting than a pedal assist motor. Second thing; the frame design is certainly something pretty wild but boy is it a nice surprise for people who can push a bike to the limit! And the third thing? Nope, not a 29 inch wheeled downhill bike. No need for that when you pack this much grip.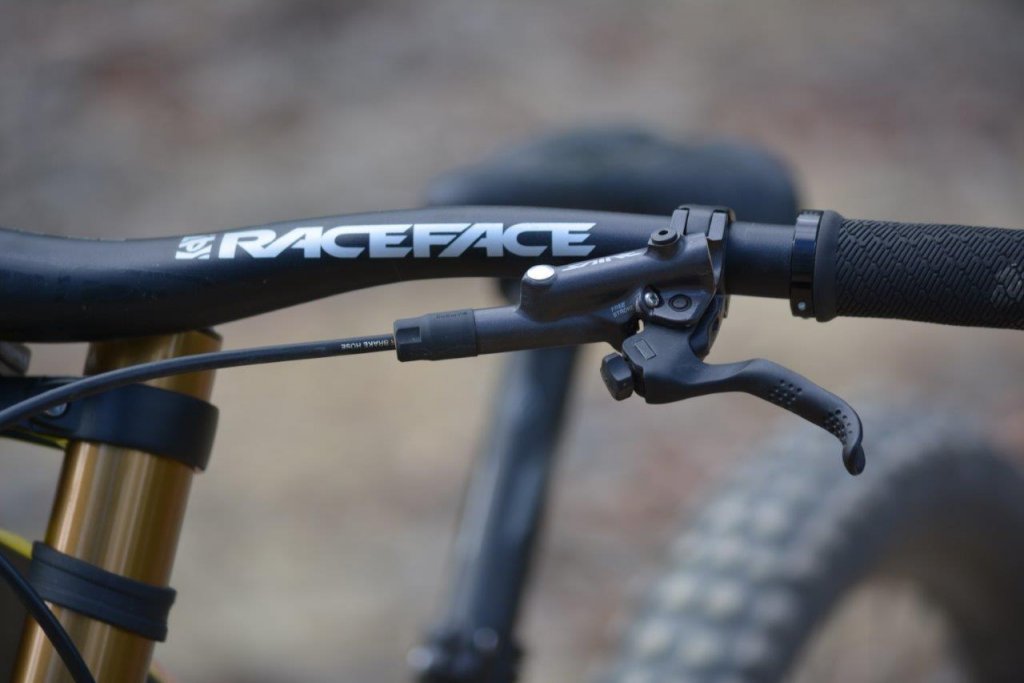 Make no mistake; this is a top end sled. The frame is full carbon with a couple of alloy linkages attaching the carbon swing arm. She's a rampaging 218mm rear travel chariot with a 157mm Super Boost rear axle swinging via a Fox Factory Float X2 rear air shock. You're treated to the amazingly tuneable Fox Factory 40 Float air forks with 200mm of plush travel rolling on an E13 LG1 650B wheelset. All cables are internally routed making for a smooth finish on the well presented frame. There's some nice frame protection going on in the usual spots of contact of stuff flicking up off the trail and the finish on the decals is second to none.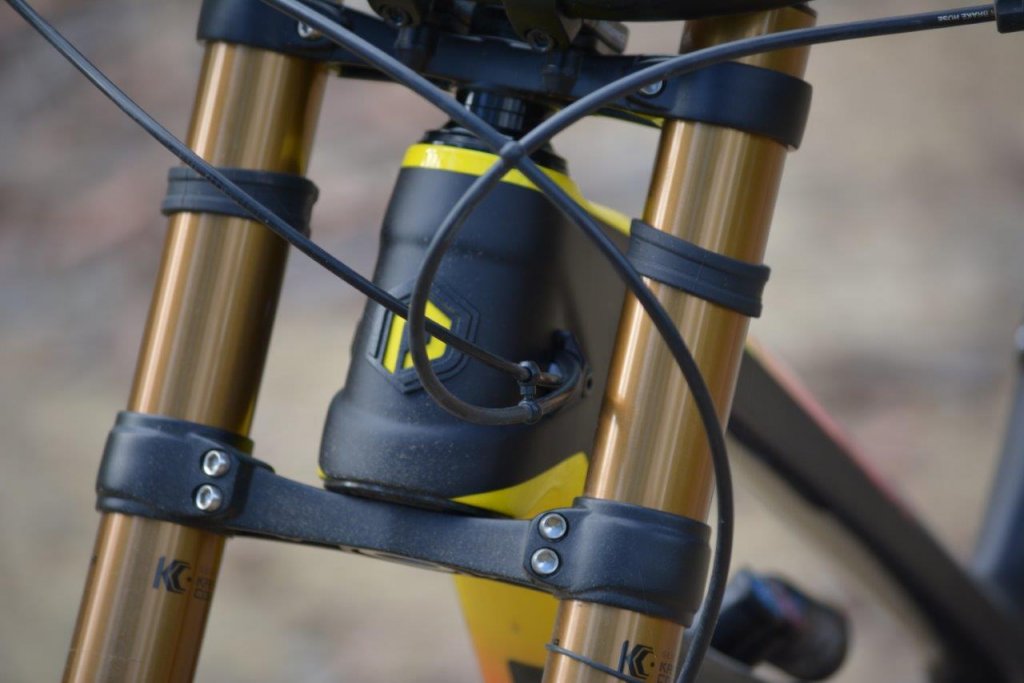 The cockpit is all class with Raceface Atlas 800mm 35mm bars clamped to a direct mount Raceface Atlas stem. The saddle and seatpost are the ever reliable Entity brand. I've run the large size frame for this review and can safely say it suited me and anyone else that had a bounce on it standing near enough to six feet, give or take a few inches. The frame comes in four sizes; small, medium, large and extra large and although an XL would probably suit my six foot stature, the large felt so comfortable as I prefer a good fit in the cockpit.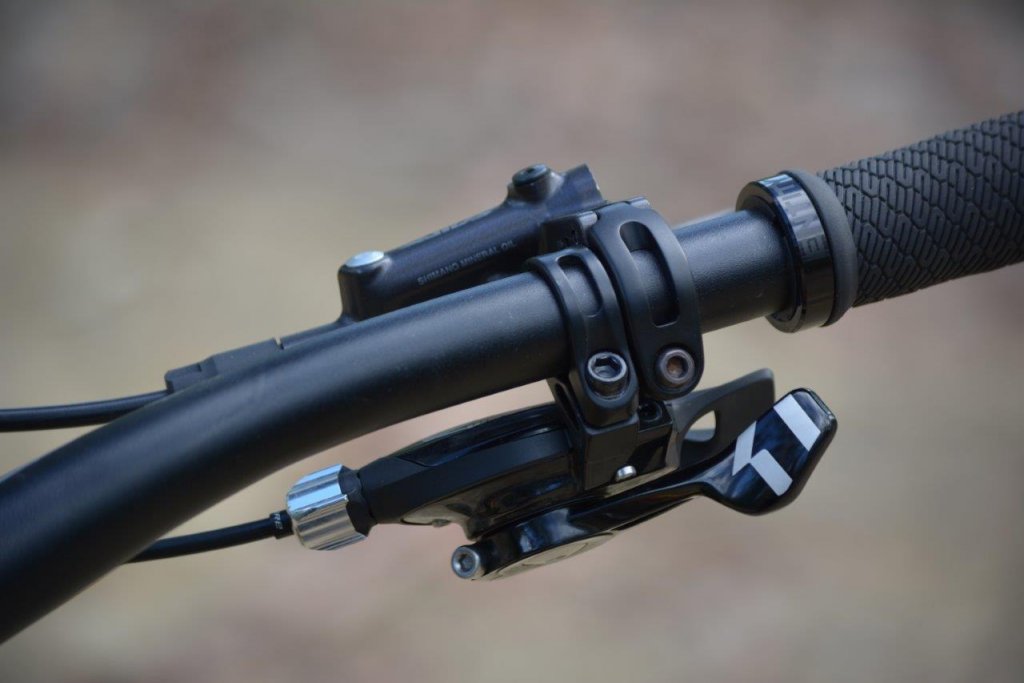 Slowing down and stopping is done via Shimano Saint BR M820's with metal pads on 203mm rotors. Straight out of the box these brakes had some initial bite but only improved as the ride went on. I'm not known as Shimano brake fan but the Saints felt decidedly better than any other Shimano brake I've used. They pulled me up without locking into big stops, modulated enough that I wasn't feeling the front wheel understeer and push over a turn and didn't heat up to make them fade, box ticked!
The drivetrain is mint. Surprisingly it isn't pairing Shimano brakes with Shimano shifting though or vice versa. The drivetrain is a SRAM X01 DH setup with 7 speed on an E13 LG1 36 tooth crankset. It's guided via a matching E13 LG1 chainguide on a pressfit E13 bottom bracket.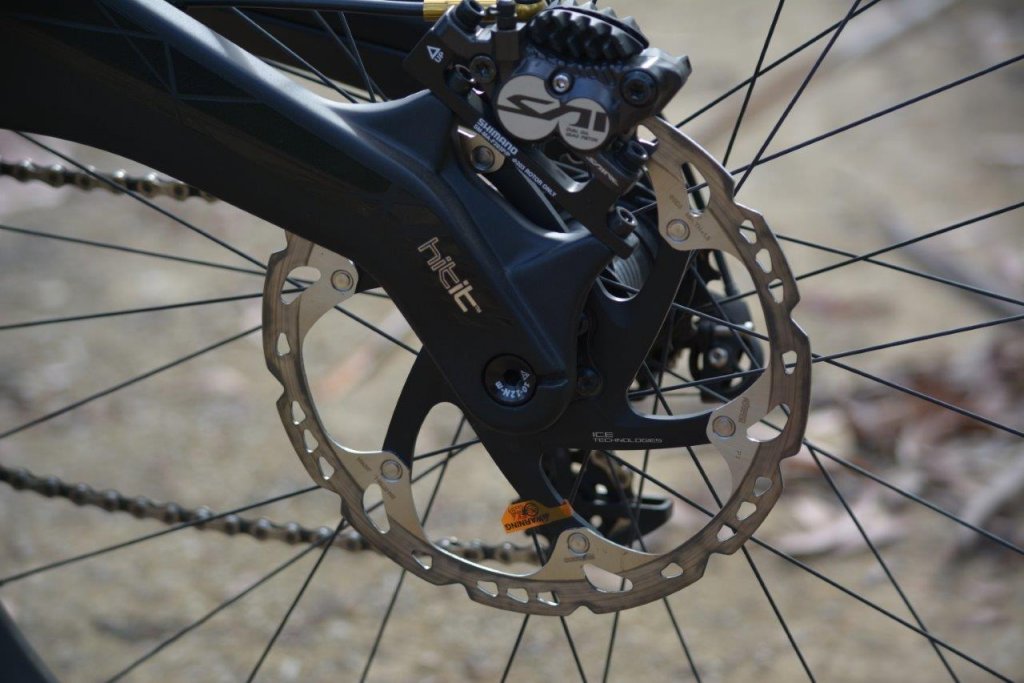 Now that I've pointed out the obvious bells and whistles, let's talk about the elephant in the room; what is the go with that rear linkage! It's referred to as the NAILD R3ACT 2PLAY design. A mouthful but when breaking it down, it makes sense. The Fox shock is attached to a yoke that goes around the seat tube and attaches to the almost high point of the swingarm. The most forward and lower part of the swingarm is then bolted to another small linkage that is attached to the frame near the bottom bracket but it also includes an unusual and interesting mount point via an almost entirely internal alloy stanchion on the swingarm. This my friends is where the eyebrows are raised and we're asked "Er, what does it do?" It's tricky to get a feel for this design just rolling around the car park but let me assure you, when you point this thing down a trail and you've strapped the goggles on, it all comes together in a very pleasant way! The extra stanchion creates an amazing pedalling platform that basically means you're not interrupted on small bumps as the load is shifted and shared. The big play on this suspension design can be seen on Polygon and Marin's Enduro bikes where the pedal platform is claimed to be almost other worldly by keeping the movement of the frame (bobbing as we downhillers call it) limited. In essence, it means you can pedal the thing in any gear when the wheels are on the ground and it'll feel consistent and you'll get that drive you're after to haul arse at a big jump or a sprint to the finish. It doesn't need a lot of maintenance I'm told and it's basically just greasing it periodically.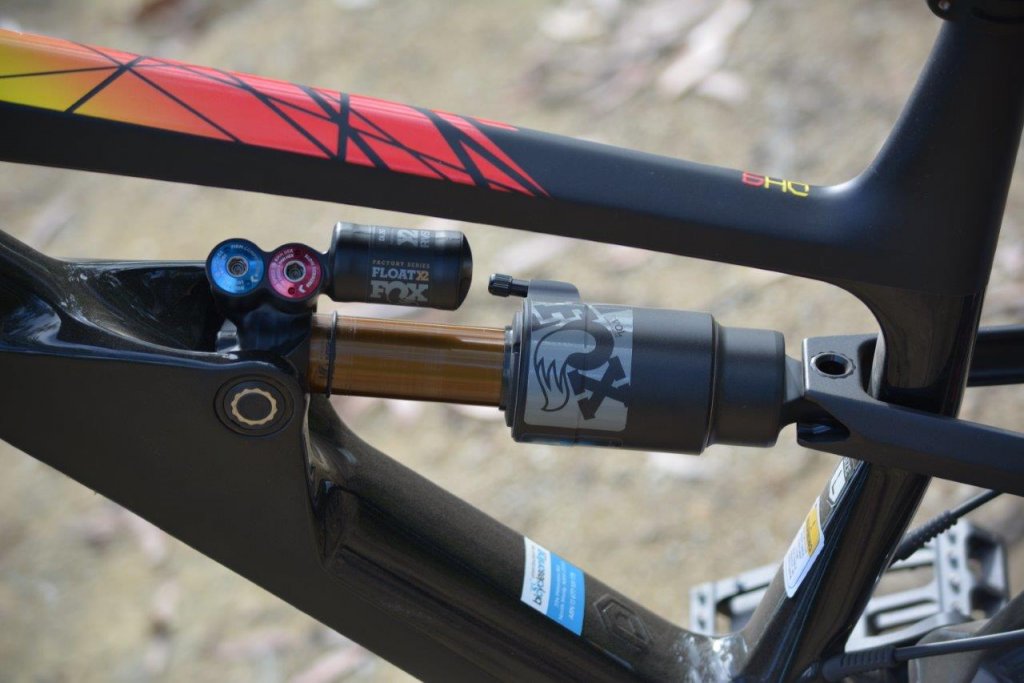 Now, I want to talk about the aesthetics of the bike and how it rides. This bike has obviously been born from a design that aims purely to perform. Its not the prettiest girl at the dance but let's face it, not many downhill bikes these days are considered good looking at the same time as being known as a stupidly fast bike. Let's not lose sight of the fact that downhill is aimed at being fun and risky. We're not all racer guys who want to win and be competitive at all costs but we definitely do want to feel confident going fast and going big. Add to that, we're all show off's and want to look awesome in our photos and videos so it kind of pains me to say that it seems many downhill folks are driven by how they look and not necessarily how fun they are to be around and how fun they are to ride with. The first few times I had some pals see the XQuarone, they had some opinions on how it looked but only a handful asked how it rides. For the one's that asked that question, I gladly told them something along the lines of "It absolutely throttles the neck of any bike sitting in the pits here". Hmph, that raised few eyebrows and I copped a few scoffs, people were pretty quick to call bullshit on my part but the guys who had sampled the Xquarone and who had followed me during my laps backed me up.
If you've read this far then you're either intrigued by this bike or you're a downhill rider wanting to know more. Again, its a top level bike fitted with top level parts and fantastically tuneable and responsive suspension. You know sorta kinda what you're looking for in a downhill bike and you have your preferred parts whether it is SRAM drivetrain and Rockshox suspension or Fox suspension and Shimano drivetrain etc etc. What you will want to know is how does this thing handle a downhill trail? Is this wild looking frame capable of standing up to the claim that it makes pedalling more effective and can get me a few seconds over a lap? Honest opinion? Yep, it hands down pedals way better than any linkage I've ridden and is so well balanced. It makes the ride feel less harsh leaving you more energy and mindset to put into improving your setup to make more gains and have more fun. The suspension is perfect, the braking is perfect, the shifting is perfect. You'd expect that from a new bike of course but the one most astounding thing I've found that this bike does so much better than anything else I've ridden is one thing that I've always wanted from a big bike..................the cornering grip is astounding. It is almost cheating with this much grip. Is it the frame design and how it works? Is it the balance of the linkage and how it talks in unison with your suspension? Is it straight up witchcraft? I'll leave that decision for another day but know this; the Polygon XQuarone DH9 will corner faster than you could imagine. Does it feel like the cornering capability takes away from anything else it can do? Nah, no way. It rides the lines of the trails I rode the same as it does on other downhill bikes I ride but it damn well near allows you to drag a bar through every turn and the inertia of firing you out of every turn is amazing, a really cool feeling!
A point I am trying to make without pushing a decision onto anyone is don't base your purchase entirely on looks. For sure you want to like the look of the bike you're rolling but if you're keen to get on something that works so well then always consider expanding your search. The Polygon Xquarone is a different design that most certainly conquers a lot of alleged top end designs with it's capability. Add it to your list if you're looking and throw a leg over one if you get the chance, even if you aren't buying one!
We're in the midst of being able to grab a great bike for a great price either from the good guys at your local store or from one of the amazing online retailers. We're so spoilt for choice and buying online is a great experience to which I recommend if you're shopping around. The Polygon frame is backed by a five year warranty plus the manufacturer's warranty on parts and in every dealing I've had with Bicycles Online, you're tendered to efficiently and proactively. The range is great also, you can get basically any type of bike and a ton of parts from an online store that jumps on the order real quick and gets the stocked item to you within days. It truly is a real breeze. Add to that, you can take advantage of the 14 day test ride thats available to make sure you've gotten he right size for your ride.