Dr. Beebenson, PhD HA, ST, Offset (hons)
"Never buy used carbon" they say. "Bollocks" I said.
I've been wanting to try a carbon hardtail for quite a long time now, but everything new either didn't tickle me or was just stupidly expensive, or had a weird mish-mash of "standards" fitted and I'm trying to standardise my fleet as much as possible. While I like a light bike (and while that was definitely part of the appeal of a carbon HT) I wasn't chasing anything ultra-lightweight (or fragile!) for racing - I just wanted something a bit lighter and more comfortable for flatter rides than my other bikes. Even still, this bike came together as something of an accident...
Originally I had just intended to rebuild another frame I'd previously decommissioned with a bunch of garage spares for bike-path cruising during COVID-19 lockdowns. I already had a fork, wheels, spare drivetrain, etc... just sitting there. Then I spotted a For Sale ad that piqued my interest -
@PJO
was advertising some used carbon rims. I wanted (but didn't want to pay brand-new prices for) a set of skinnier carbon rims, as I only wanted to run <2.3" tyres for better efficiency on the bike paths and smooth dirt trails around my home (I am not blessed with proper MTB trails at my doorstep sadly). I checked the rim spec, 30mm ext, 24mm int and lighter than alloy for the same size, but not so light I'd constantly have to worry about them. Perfect.
@PJO
was an absolute legend and had them in the post the same day I enquired about them - How's that for good service!
Pulled the red Hope hubs from from the old wheelset, and sent them and the freshly acquired rims off to
@The Duckmeister
for the build.
Then along comes
@Scotty675
and starts hinting broadly that he's thinking about selling a bike I've oogled every time he posts a picture of it.
"Ah, I don't reckon he'll actually sell it" my mind says - "Even if he does, he'll probably want too much for it, or only want to sell complete..." it continued.
And then it happened. "It's up! He's put it up
and the price is reasonable!
" (Very reasonable)
A furious scouring of Santa Cruz's Bike Archive spec sheets. My parts will fit, no new purchases required. The hubs I've sent out for the wheel build even match the colour of the anodised headset and BB he's including with the frame. Is this fate? It must be! A moments agonising over the geo maybe being too short. "Stuff it!" Heart beats head, and a PM is sent.
Then the wait. A few "Next in line if sale falls through..." posts appear on the for sale thread. "Did I miss it?" I wonder. "Was I too slow to send the PM and someone beat me to it?"
A reply! It's mine!
Rather oddly (given the state of the world at the moment) - All the pieces came together a lot faster than I expected. The frame arrived within a couple of days from Tassie to Melbourne (Thanks again
@Scotty675
), the matchy-matchy red brakeset I couldn't help myself but to splurge on arrived in under a week from the UK and I definitely hadn't anticipated that happening! Wheels had just been finished, but were still out the other side of town... Drat. Then a beacon of light appeared as Melbourne's COVID restrictions eased slightly. Buyer and builder's new 25km travel radius overlap by a mere few hundred metres. We're on! Wheels are collected and a quick single-speed build is thrown together. It rides!
And it rides nice!
Consider me a very happy chap right now.
So some of you may be wondering - what does the future of this bike hold? Well, riding it more somewhere with proper trails of course. But before that I will build it up with gears as it will be much more practical (especially given my current COVID lockdown fitness!), and I've already ordered a dropper post as well - because A) with the seat at my ride-height it's bloody hard to get on and off the bike, and B) it feels way less sketchy descending than I expected - so it will see use on some proper singletrack use in the (hopefully) not-too-distant future!
And because pics still say more than my loving narrative above, here's how it looked once the first build was completed: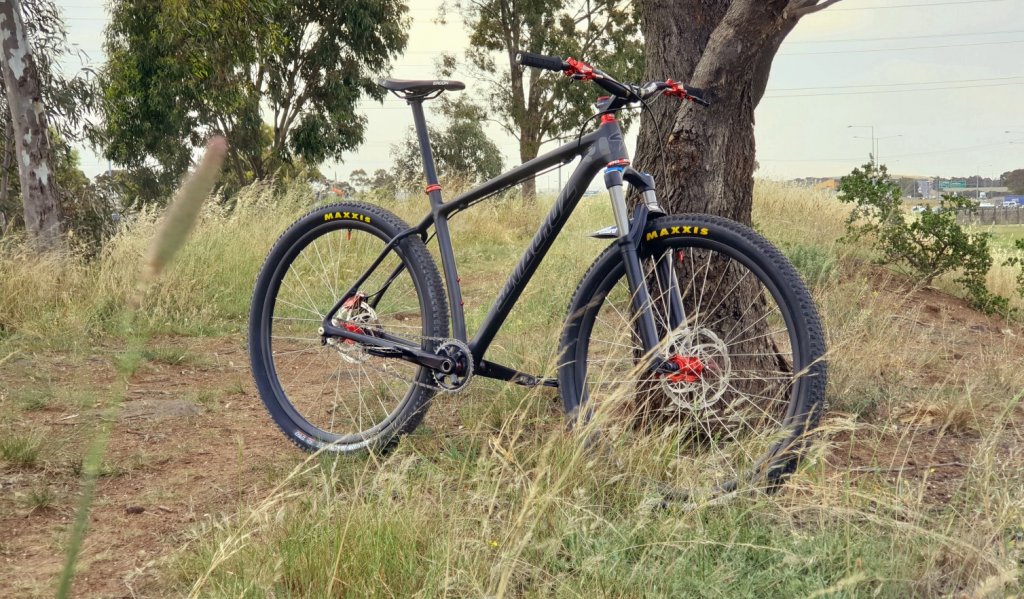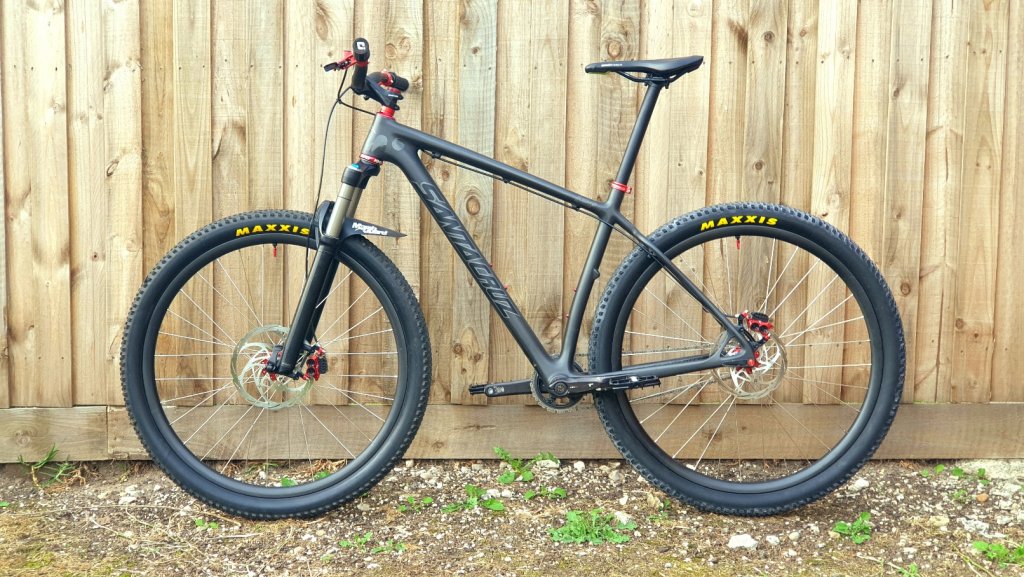 Frame
- Santa Cruz Highball C (V1 Carbon)
Rear shock
- Nope
Front shock/fork
- Fox Rhythm 34 120mm Boost
Handlebars
- Renthal Fatbar Carbon 31.8 40mm riser (trimmed to 750ish wide)
Stem
- Funn Stryge 80mm (underrated stem, cheap and stiff - doesn't feel like a typical noodly long stem))
Headset
- Chris King
Grips
- ODI Elite Pro
Saddle
- Ergon something?
Seatpost
- Brand X Ascent II
Brake system
- Hope Tech 3/E4 Red with Uberbike pads and cooling fins (because that's what I had spare, and I don't like the standard organic pads)
Rotors
- Formula Cura 203mm front, 180mm rear
Cranks
- Shimano XT M8120 with 34t chainring
Chain
- Shimano HG-601
Pedals
- Chromag Dagga
Front derailleur
- Despite the cable routing lug to suit on the frame, it's not gonna happen!
Rear derailleur
- Not yet, probably soon...
Rear shifter
- Not yet, probably soon...
Cassette/Cog
- Wolftooth Stainless Steel 19t SS cog
Front hub
- Hope Pro 4 110x15mm (Red)
Rear hub
- Hope Pro-4 142x12mm (Red)
Front rim
- Light Bicycle RM29C19 (30mm ext. width, 24mm int.)
Rear rim
- Light Bicycle RM29C19 (Same same)
Spokes
- DT Comps (Silver)
Nipples
- Yes
Front Tyre
- Maxxis Rekon Race 29x2.35
Rear Tyre
- Maxxis Rekon Race 29x2.25 (because the frame clearance is really tight due to the seat stay/yoke shape)
Tubes
- Nope. Just some bear tape and Stans sealant
Total weight
- Not too heavy, not too light - just right!
Last edited: