I've decided to teach myself some basic wheel building, have a home made truing stand and a Park Tool TM-1. Last week I put together a new front wheel - DT Swiss EX 511 on a 28h straightpull 350 boost hub, 2.0/1.8 Comp spokes and brass Squorx Prolock nipples.
After reading Gerd Shraner's somewhat dated and occasionally humorous Art of Wheelbuilding (on crows foot spoke patterns:
"Yet, young bike freaks, apprentices and mechanics seem to like this kind of spoking pattern. My advice: Leave them at it and let them continue to show their enjoyment and enthusiasm in this way. It's better to see them rolling spokes than rolling joints.")
and watching a few YT vids, I've managed to get the wheel together and fairly true.
I'm at the stage where I'm trying to get nice even final spoke tension, whilst simultaneously trying maintain radial and axial accuracy, and sort of feel that I'm at the point of diminishing returns where tweaking spoke tensions to get them as uniform as possible comes at the cost of trueness and vice versa.
So, I'm after some opinions from those more experienced: for a wheel build from all new parts, how true and evenly tensioned should you be able to get it? In other words, at what point do you say 'close enough' and stop messing with it?
For reference, here's the spoke tension spread based on the TM-1 readings (I'm using Excel - blue line is brake side):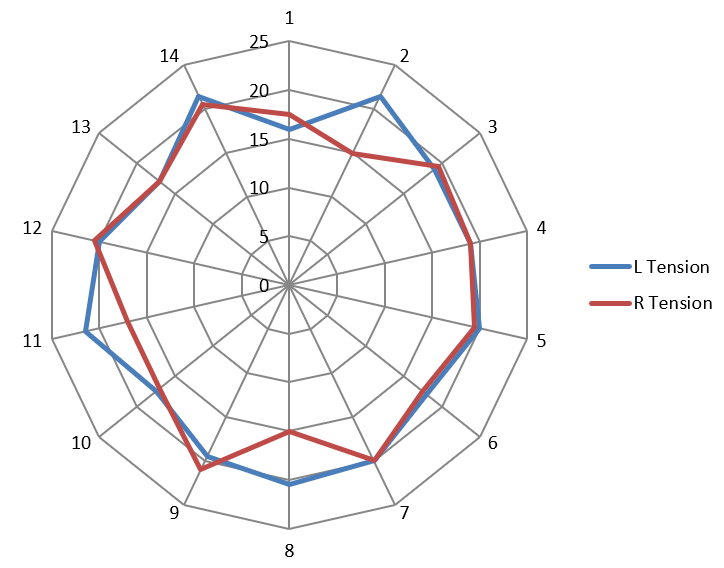 I'm targeting 1200N as maximum tension, and with the above I've got maybe <=0.2 mm axial and radial runout (don't have a dial gauge, only an eyeball). There seems to be a slight radial deformity of maybe 0.1mm in the rim at the weld that I've tried to iron out as best I can but I reach tension limits before I can get it fully round. Tension on each side is withing +/-18% of the average for that side. I could probably go slightly tighter as average tension is only around 900N - it is a front wheel though.
Any thoughts or suggestions from the Wheel-building Illuminati?