Dr. Beebenson, PhD HA, ST, Offset (hons)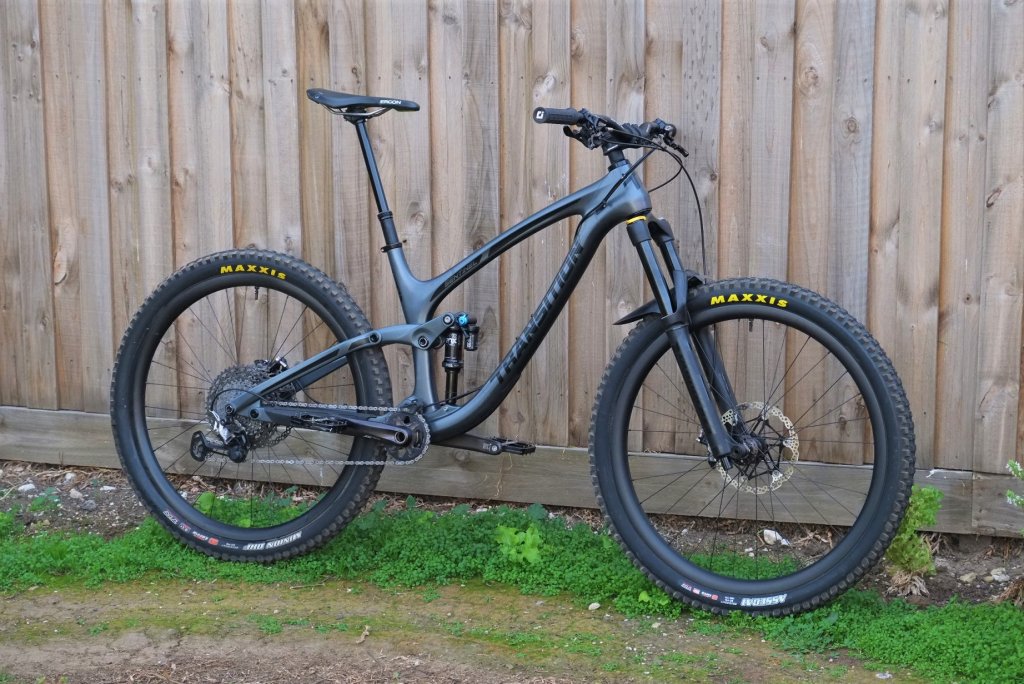 Frame
- 2019 Transition Sentinel, Size L
Front shock/fork
- Marzocchi Z1 Coil, 160mm travel, 44mm offset, Grip damper.
Handlebars
- Spank Spike 800 Vibracore 31.8mm Diameter, 30mm rise. (Cut to approx. 770mm, but +10mm or so in use due to running single-clamp grips)
Stem
- Diety Copperhead 50mm
Headset
- Works Components 1
°
angle headset (set to steepen, not slacken)
Grips
- ODI Elite Pro
Saddle
- Ergon SME3 with Titanium rails
Seatpost
- Vecnum Nivo 212mm, 4-position indexed (mechanical mechanism, air sprung)
Front brake
- Hope Tech V4 with 203mm rotor
Rear brake
- Hope Tech E4 with 203mm rotor
Cranks
- Shimano XT M8100 with 30T chainring
Chainguide
- One-Up
Chain
- Shimano XTR 12sp
Pedals
- Chromag Dagga
Rear shifter
- Shimano XT SL-M8100 12sp (bar clamp type)
Rear derailleur
- Shimano XTR RD-M9100 12sp
Cassette
- Shimano XTR M9100 12sp
Front hub
- Project 321 6-bolt Boost 32h
Rear hub
- Chris King 6-bolt Boost/Microspline 32h
Front rim
- 29" Nextie Premium Trail 40mm (36mm internal)
Rear rim
- 29" Nextie Premium Enduro 36mm (29mm internal)
Spokes
- DT Swiss Comp
Tyres
- Maxxis Assegai 3C 2.5" EXO+ front tyre, Maxxix DHF 2.5" Exo (currently)
Tubeless Sealant
- Stans Tubeless
Total weight
- Don't know, don't care. Feels light for what it is - but not "pingy" like a too light or stiff trail bike can be at times.
Extras
- Black adjuster screws and pivot pins on Hope brake levers, Hope seat clamp, WolfTooth Dropper Remote with Hope brake lever mount kit, Marsh Guard mudguard and "moustache", and Ride Wrap frame skin.
So, why did I add this bike to my garage? Well, I've been riding quite a lot lately. I'm never going to be an XC racer or super-fit, but I'm trying to ride twice a week on proper trails - even going for post-work night-rides during the week now the days are getting short. While I've been loving the fitness and mental health benefits of riding more frequently - safe to say that only having hardtails on offer has meant my body had been starting to get pretty fatigued. Not lack-of-fitness fatigued, but beaten up by riding a hardtail on blue and (mild) black trails for several hours twice a week. I'm not old, but let's be realistic - I'm not about to return to my 20's either (hence the "Going grey..." part of the thread title!) - so despite how reviews constantly extol the phrase "climbs like a hardtail" as a wonderful, virtuous claim in almost every article, I can quite safely say that I
don't
want a bike that climbs like a hardtail
all the time
. Sure the instant power transfer is nice, the lack of pedal-bob on the smooth great, but climbing a hardtail on corrugations, braking bumps, roots, rocks and steps is a total ball-ache (sometimes literally...
). Yeah, you can haul yourself off the seat over and over again, but then the legs are working even harder. So it was time to add the option of squish.
I'd been dreaming on getting a dual-susp for a while now, so have had months of pondering different geo and suspension design comparisons rolling around the back of my mind, but hadn't actually wanted to spend the money at this particular point in time. But the last couple of ride on the hardtail were particularly punishing, and in my mind it just became
time
.
I knew I was seeking a 29er for the smoother rollover on rocks (and to a lesser extent for better parts availability/options), a frame that could accomodate a
long
dropper post, and something that had (at least a) moderately progressive leverage curve and with a bit more focus on being "active" than the 5010s or Ripmos I have had prior. I have finally learnt my lesson from Ripmos past and realised I didn't want another bike with a super-long front-centre, or mega-slack head angle. They have their place, but that place is on tracks that are above my comfort zone and skill level.
[Geo nerd paragraph] What people may not have realised with the Waltlys I've had built, is as much they were to have a fun hardtail to ride - they were also geometry experiments to try and narrow down the sweet spot of what geo I like. I got the reach measurement roughly right on the first one (though it was better again in mullet mode), but the shortish 428mm chainstays made it tediously demanding to ride on flat/loose trails as the weight bias was heavily rearward so required quite an aggressive stance on even very mild trails. V2 was a swing and a miss trialing a shorter front end, but sadly it didn't feel right from the moment I first rode it so it was sold on... V3 was a chance to play with long (444mm) chainstays. They have their benefits, and it made for a beautifully balanced bike on descents, and even just moseying along mellow flat trails, but it wasn't a great climber. Fine on a road grind, but pretty unwilling to let me pop the front wheel up obstacles on even mildly techy climbs. I adjusted to it, and could do it as well as my feeble skills threshold would allow - but it never felt "fun" or "lively". So that sort of led to just wanting something in-between around 435mm, or a bit
vanilla
as
@Tubbsy
accurately described it. I'd been thinking of it as Goldilocks third bowl of porridge, haha, but you get the jist!
With a severe lack of stock available, I had anticipated a fair amount of difficulty finding something that suited my extremely detailed wishlist (only hinted at above), but the hunt was luckily quite short-lived. Most of my rides I head out with
@fjohn860
, and he has a 2018 Transition Smuggler. I'd had a quick bounce around a carpark on it in the past, but never ridden it properly. I knew the suspension and sizing felt good, but not much else. I went hunting through SuperSports' listings to see if anything was left in stock, but all to no avail in the size I wanted. Then I spotted the Sentinel... It was a complete bike so I e-mailed SuperSports and asked if it would be possible to buy just the frameset. They said it had to be done through a dealer, but they'd ask around. Summit Cycles Melbourne was good enough to come to the table and make it possible. But at this point, I still hadn't actually test-ridden one - and I've burnt myself buying badly sized bikes without a test-ride in the past - so before I laid down the deposit, I hit John up and we did a bike swap one evening (thanks again mate!
). Luckily, the Smuggler and Sentinel are nearly identical in cockpit dimensions, and have
very
similar suspension kinematics - so it was an excellent bike to check fit and feel with. It rode great, so the deal was done. I ordered on a Thursday, and Summit had it sent down to them and stripped down by Tuesday morning - pretty happy with that!
Picked it up this Thursday, frameskinned it Friday night, built it yesterday (Saturday), then took it for a first-spin and dial-in this morning.
In a somewhat uncommon move, I also used a 1
°
angle headset to steepen the bike's head angle. The intention with this bike is to have it setup as a long-legged burly trail bike. Put simply, I didn't want to be trying to pedal around a big enduro sled with geo that only comes alive at mach chicken. First impressions suggest this was a good move, and the balance both between front and rear wheels, and also the balance between climbing ability and descending prowess seems good. I'll still be fiddling with the rear shock for a while yet to get that nth degree of adjustment correct, but got it close enough to let off the brakes and have some fun on the descents today, and yeah damn - it goes alright! It's definitely
way
more supple over the rocks than anything I've ridden previously, and (for the those that know it) I went through the first rock-garden on Cressy probably faster than I ever have before and it still felt buttery. Obviously there is a bit of a trade-off with having all that suppleness and extra travel when it comes to climbing, but luckily the bike doesn't really wallow or
feel
piggy - so it gets along pretty well. I suspect I might make use of the middle shock position on long climbs for a bit more support, but yeah - pretty damn happy overall. First time I've managed to feel comfortable and confident on a new bike on the first ride, so I'm thinking I might've finally landed on something that can stay in the mix for a good long time.
PS: I didn't go all-in with the photos on this PYR, as I robbed basically everything from the Waltly (which will get reborn at a later date), bt there's more pics of the components here if you feel so inclined to have a sticky-beak.
Frame - Waltly Custom Titanium Hardtail Frame "Evo" 3 Front shock/fork - Marzocchi Z1 Coil, 160mm travel, 44mm offset, Grip damper. Handlebars - Spank Spike 800 Vibracore (cut to 760mm, but +10mm or so in use due to running single-clamp grips) Stem - Spank Split 48mm Headset - Cane Creek...
Last edited: