Sigh, it's almost winter here in Australia. The days get shorter, the shadows hang around longer but we're lucky enough that we can still ride in any conditions. Us mountain bikers turn that sometimes dull outlook into a positive and we go ride bikes at night! I've done a few reviews on Cleanskin lights and am stoked to say Cleanskin have expanded their range, have a fancy new website and best of all; you can get amazing gear from Cleanskin and have money left in your savings to add some new winter apparel!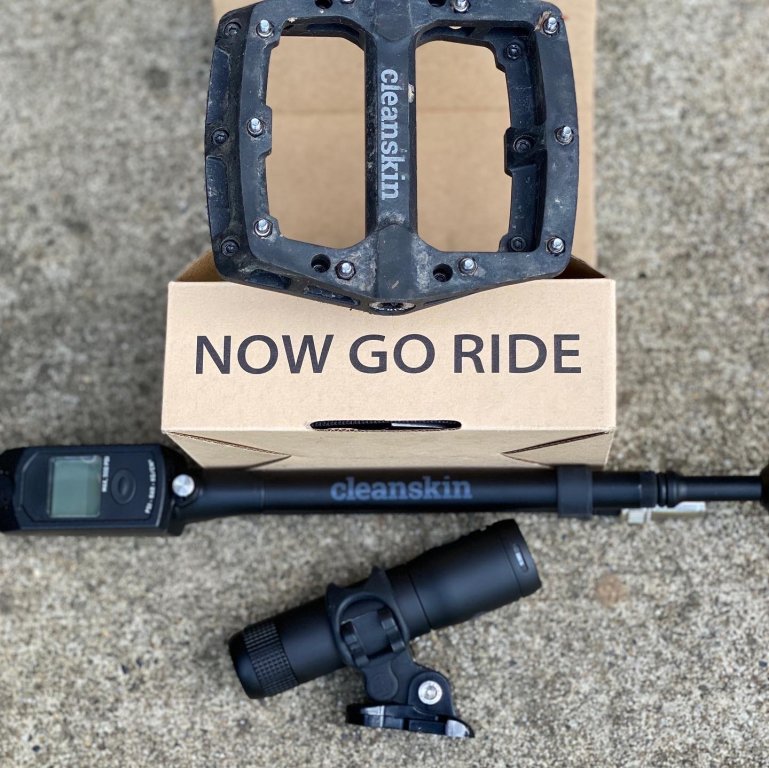 Head over to
cleanskinmtb.com
and check out what is on offer from this Australian owned company. You would have seen the reviews we did on the Duo and Solo LED lights and today I'm pumped to share the details on the C-Flat composite pedals, the digital shock pump and the Unite LED light that I've been running for a while.
Lets start with the pedals. They're a composite material, very light at 180 grams each pedal, steel Cr Mo axle, almost square 103mm x 105mm face with 20 replaceable pins, sealed bearings and come in a bunch of colours. Easy to install with an allen key on the backside of your cranks and big enough pedal face to suit even those guys riding with size 14's! That's a big tick. Another big tick? They're under $70! I've been running these on an al mountain hardtail and a super stiff XC bike. Flat pedals on an XC you ask? Yeah, do it! Like any flat pedal, your foot will wander a little on the climbs until you find that sweet spot but the grip on your shoe when it counts is equal to that of a $200 super thin alloy pedal. I look at flat pedals in two ways: You either pay a ton of cash for something you're gonna beat the shit out of or you pay a not-so large amount to buy something you're gonna beat the shit out of. I've never had an alloy pedal outlast a composite pedal and vice versa, they're flat pedals and they don't appreciate those big hits on the rocks whatever the material. The C-Flat Cleanskin pedals are a no fuss approach to keeping you on your bike with a cool design and super effective pricing.
While you're setting up your new pedals for the next ride, you'll want to check your suspension's air spring pressure. Treat yourself and do it with Cleanskin's new digital shock pump! It's $75, not $175, it's $75! With so many features that make it so simple to use, it's a must for your toolbox. Turn it on, select if you want to measure your air pressure in PSI, BAR or KG/CM units and screw it on your forks or shock. It'll show on the digital screen what pressure is currently in your suspension. Give the arm a few pumps and the reading will display what you want to see. The airline is attached to a swivel head so it'll avoid you twisting the hose and stressing the fittings. The pump also has an air bleeder button that when pressed allows you to release a little bit of air if you've gone too high. The shock pump can go as high as 300psi so it'll suit your forks, your rear shock and your seat post. This thing is a no brainer. In the Cleanskin theme it's so simple to use, it's damn accurate and it is made with proven materials. It's $75!
Now you've got your bike sorted, time to head out for that night ride. The Cleanskin Unite is a 1000 lumen LED light that has……..wait for it………..no cables and no external battery! I've only been using the Cleanskin Solo and Duo lights that both have an external rechargeable battery so the idea of putting a bright light on my helmet or handlebars with no cables seems almost futuristic. Yeah yeah, you've all ridden with an overpriced rechargeable light with no cables but lets face it, they're not even good enough to light up a trail for two meters in front of you. The Unite LED light bucks the trend though and it works bloody great! For a small unit weighing next to nothing, it can be mounted anywhere via the handlebar mount or on your trusty GoPro helmet mount. I only run one light and it's on my helmet mounted to the GoPro mount and I barely notice the weight of this light on my head and totally enjoy the lack of cables and need to store a battery elsewhere on my ride. It has a few settings for brightness with the brightest setting of 1000 lumens lasting over two hours on a fully charged battery. That's heaps! It's plenty bright enough to light up your local single track and would be a total beast as a commuter light. I haven't tried it but on the lowest setting, the webpage says it'll go for 32 hours so you could have this light to use on any outdoor adventure, camping, in the workshop etc etc. I've already rambled on at how good the Cleanskin pricing is but geez, this light is only $89.95! It comes with the GoPro mount, the battery, the light, the handlebar mount, the USB charging cable and a strap to chuck it around your wrist for those times you're using it as a torch. It's a Li-on battery and combined with the light, total weight is under 140 grams; barely noticeable right! How does it compare to the other lights in the Cleanskin range? It's not as bright as the Duo that is 2200 lumens and doesn't have the spread that the Solo 1000 lumen has but the point of the beam that lights up what your eyes see is great. Again, it has no cables and is one unit mounted that is barely a noticeable weight. I love the Cleanskin lights, especially the Duo 200 lumen but have totally fallen for the Unite for it's great lighting and simple sizing with that no fuss Cleanskin approach. Over the weeks that I've been testing this light out, I've been joined by other riders using my other Cleanskin lights and can honestly say that any one of them is your guaranteed good time on a night ride.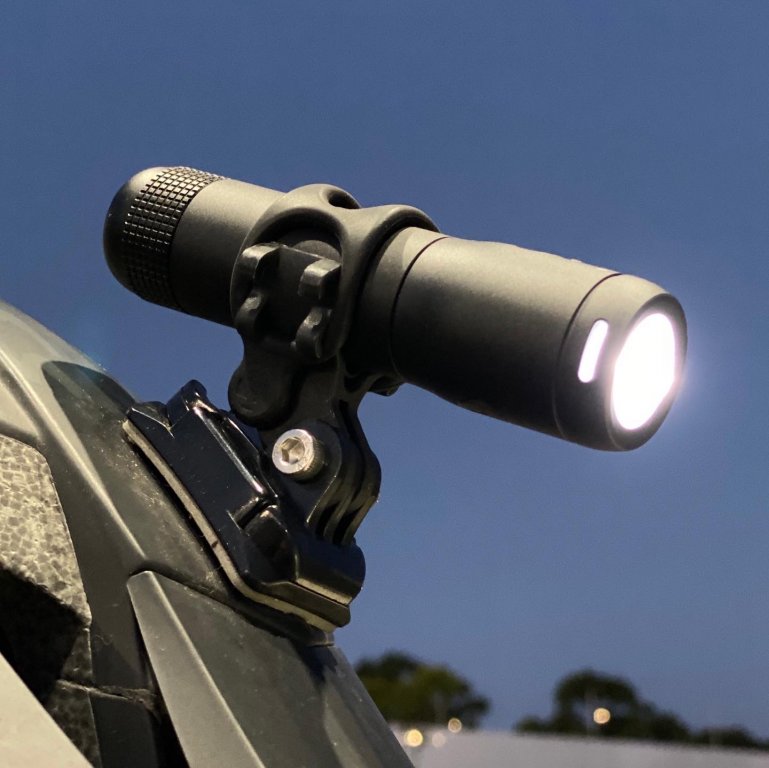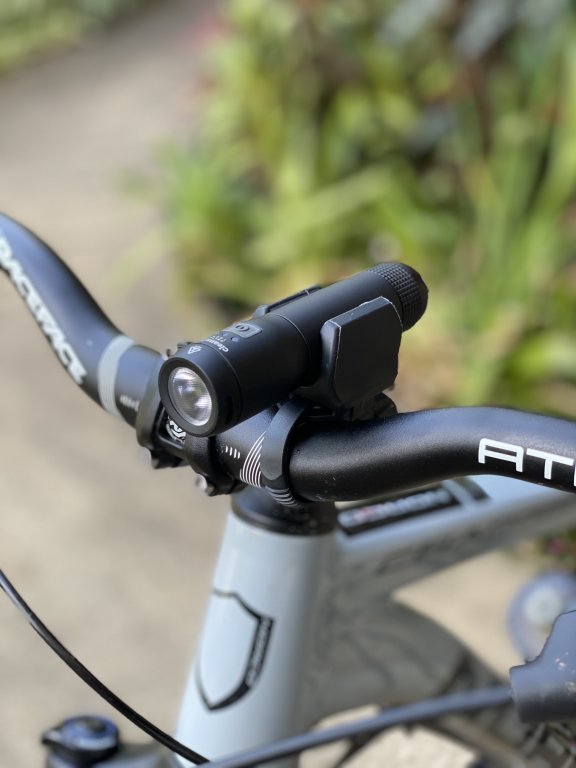 Cleanskin have made a very good impression on me. I haven't used any of their products that have disappointed me and all of it is in my kit. I cannot believe how good the pricing is on this great quality gear and love to push the point that it's so affordable for a great product to be relied upon. There is plenty of choice for pedals; there are a lot of options for shock pumps and lights? Yeah, there's a billion choices out there but if you look through the Cleanskin site, find a local stockist of their parts or buy online through
MTB Direct
and see how much you can save and get a great product? You're onto a winner with Cleanskin and as they say, NOW GO RIDE!