Dr. Beebenson, PhD HA, ST, Offset (hons)
So, going back a couple of months I decided I wanted to simplify my riding. I've been lucky enough to own some very high-end carbon trail and enduro bikes, have ridden a few mates alloy and carbon dual-suspension bikes from different brands, and while I'm not against having a dually - there's something special in my mind about riding a hardtail. I love the immediacy of every pedal stroke, and the lightness and playfulness of them. However - the hardtail I owned at the time (an Octane One Prone 29er in size L) was an alloy frame - and a very sturdy frame at that. It had good geometry though fractionally small for me, and was a very harsh ride - even as far as alloy hardtails go. I've also ridden a couple of other alloy hardtails (which were plusher than mine, but still slightly more jarring than steel/Ti) and have had a couple of very brief spins on a couple of steel hardtails. So I started thinking about getting a steel hardtail to get a bit more small bump and chatter compliance on the trails. Around that time Marino bikes were making a splash on the custom scene, and that got me thinking about custom geometry bikes. Unfortunately I had little success when it came to getting responses from Marino - so the idea of going custom "died on the vine" for a while. I looked at many a manufacturer's frame, but nothing quite matched what I wanted.
I'd read about Waltly in the past, but it wasn't until now I had reason to dig a little deeper. I got my Google-fu on, and spent a lot of time trying to find reviews or forum posts or whatnot about Waltly. There wasn't many - but they were all positive - so I decided to take the plunge...
I expected communications to be difficult, but to be honest - it wasn't really that bad. Admittedly, the first drawing I got back was pretty generic (but that's partly to do with the limited detail on their initial estimate form) - but it didn't take long to correct the geometry to what I'd asked for. Probably the strangest thing about communications was all the technical specifications and geometry details are easily communicated, but the conversational chat or trying to describe minor frame details are where things can get a little lost in translation (For example: I hit a brick wall trying to check if the cable-guide would allow a zip-tie to slide underneath, or if they would only work with the plastic C-clips that clip on). My advice for anyone thinking of taking the plunge, is find (or take) example pictures of every little detail you need to communicate, then once you get your geometry and frame tubing design sorted just hand-draw any hardware placement amendments (like cable guide placement) on prints of the drawings they send you, scan them and e-mail them back. This'll make the process as quick as possible. But most importantly - think long and hard about
exactly
what geometry you want before you get the ball rolling. Chopping and changing geo repeatedly would seriously slow the process down (not to mention waste their time a fair bit).
Anyway - the process went really smoothly for me, and it only took about 12 days from initial contact to design approval. That might sound like a long time, but during that time we got a frame and (for another bike) fork designed, including custom curved tubes, one geometry redesign (I changed my mind on a couple of details), altered drive-side chainstay from plate-type yoke to full tube design, rearranged and added extra cable guides, etc, etc, to finally end up with this:
I setup my fork axle-to-crown measurement in the diagram to be between the measurements of a 140 and 150mm travel of my chosen fork, so I would have some head angle-adjustability if desired using different fork travel rather than having to use angle-headsets.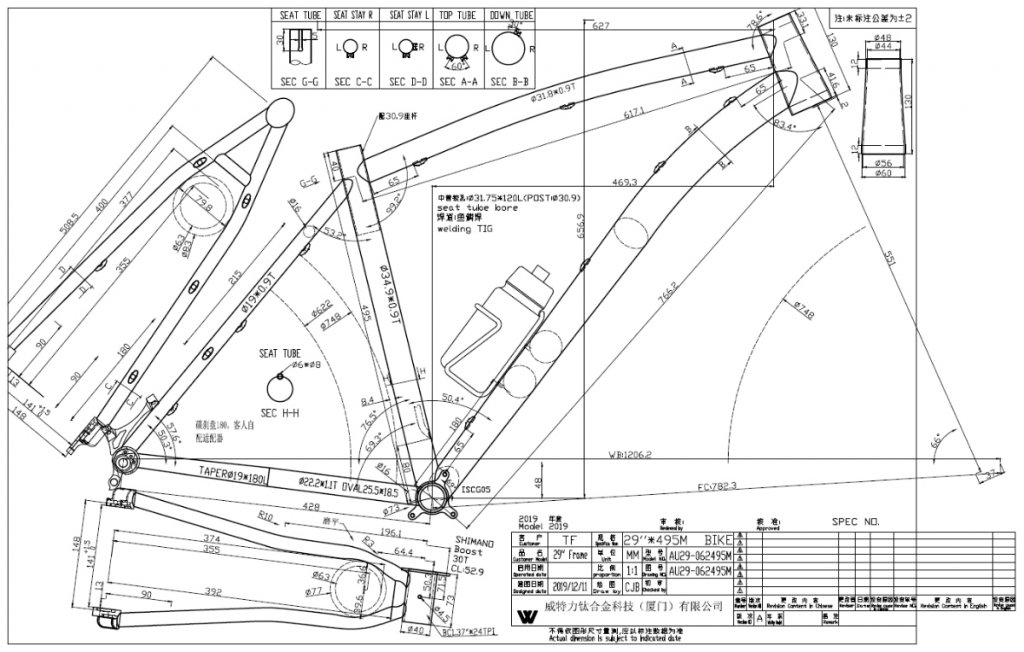 The frame was then roughly 5 weeks in the build, and roughly a week in freight - pretty good given it was just after the annual Christmas/New Years post chaos!
I also ordered a spare axle and hanger, as the hanger seems to be proprietary so I thought it best to have a spare just in case. (The other black pieces are a clip-together axle spacer that came installed in the frame to prevent any damage in transit)
I'm guessing a few of you are probably wondering about the quality of the welds. Well, suffice to say they're good. Very bloody good!
Left-to-right is: Non-driveside BB area and dropper cable port, Top tube and seat stay junction, headtube and top and down tube junction, and driveside BB area and ISCG-05 adapter.
So with the frame received, it was time to build! Specifications are as listed below:
Frame
- Waltly Custom Titanium Hardtail Frame
Front shock/fork
- Fox 36, 140mm travel, 44mm offset, Grip 2 damper.
Handlebars
- Spank Spike 800 Vibracore (cut to 760mm)
Stem
- Spank Split 48mm
Headset
- Cane Creek 'Hellbender' 70 series
Grips
- Deity Deathgrips
Saddle
- Ergon SME3
Seatpost
- Vecnum Nivo 212mm
Front brake
- Hope Tech E4 with 203mm rotor
Rear brake
- Hope Tech E4 with 183mm rotor
Cranks
- Shimano XT M8100
Chainguide
- One-Up
Chain
- Shimano XTR 12sp
Pedals
- Blackspire Sub 420
Rear shifter
- Shimano XT SL-M8100 12sp (bar clamp type)
Rear derailleur
- Shimano XT RD-M8100 12sp
Cassette
- Shimano XTR M9100 12sp
Front hub
- Project 321 Boost
Rear hub
- Project 321 Boost (Microspline, 216POE, Quiet pawls)
Front rim
- 29" Nextie Premium Trail 40mm (36mm internal)
Rear rim
- 29" Nextie Premium Enduro 36mm (29mm internal)
Spokes
- DT Swiss Comp
Tyres
- Maxxis DHF 3C 2.6" (Front), Minion Aggressor 2.5" DD (Rear)
Tubes
- Stans Tubeless
Total weight
- T.B.A
Extras
- Hopps Carbon fork adjuster dials, black adjuster screws on Hope brake levers, Hope seat clamp, WolfTooth Dropper Remote with Hope brake lever mount kit, Marsh Guard mudguard and "moustache", and hand moulded Sugru chainstay protection.
Took it for it's maiden journey today, and - somewhat to my surprise if I'm honest - it feels like I'd hoped. Fit is great (almost like it was custom-made for me!), and it's nice and light. The ride quality is super, super supple. Even with the 2.35" rear tyre pumped fairly firm bumps up to about 15mm are absorbed nicely (even if seated), and sharper edges bigger than that are still dulled nicely. It's still a hardtail, but not jarring - and that gives you me so much more confidence to pop the bike off the ground and play around. Overall it feels like a "smooth" pedaller, rather than a "snappy" instanteous engagement - but if you were designing your own that could be tweaked with some changes to tubing thickness/profile selection if you liked (bear in mind I'm also about 93kg riding weight, so may induce a little more flex than lighter riders!). Pedalling still feels more direct than a dual-susp bike, so it's a nice compromise between my previous harsh alloy hardtail and slighly dull feeling of carbon dual-susp bikes.
Grabbed some pics while I was out (Out of riding condition apparently, haha - it was nice to stop for a couple of breaks!)
Anyway, I'm pretty happy with how it all played out, and given the most significant change I want to make is move the stem up roughly 5mm I'm plenty happy with how it rode too! Seat tube looks mental steep, but is "only" roughly 77 degree and fits like a glove. Cheers for reading.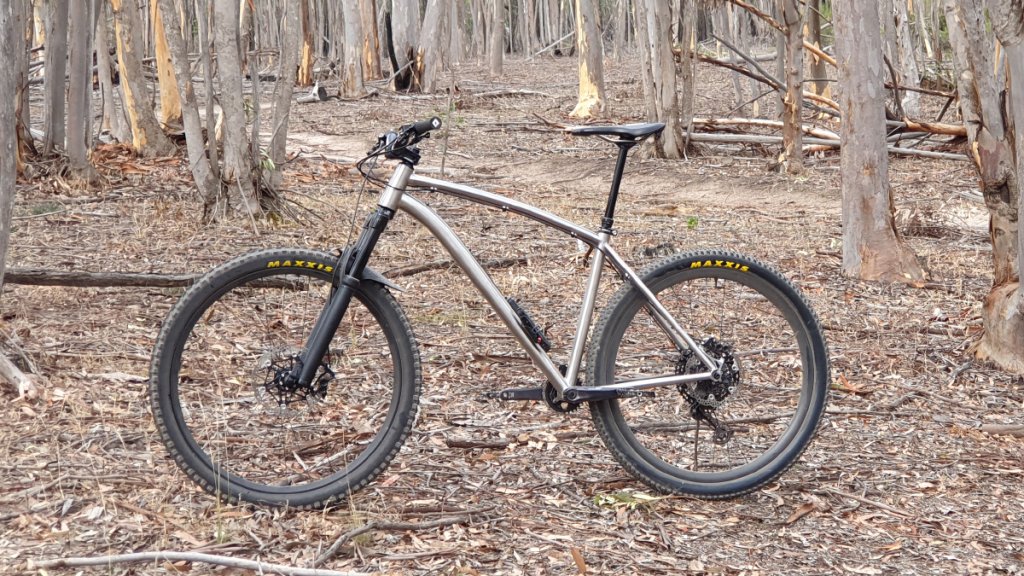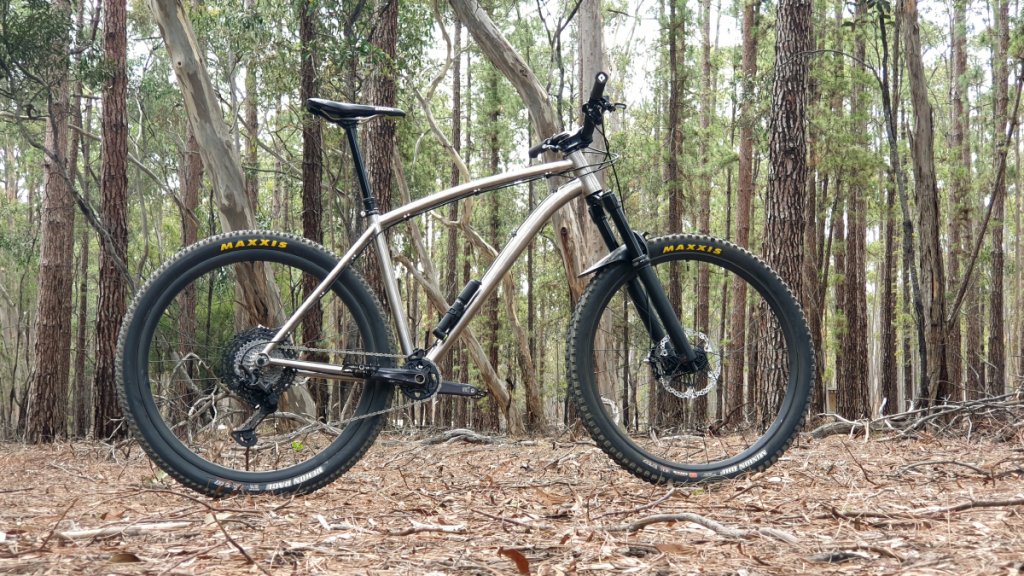 Last edited: