Rotorburn - Australia's Largest Mountain Bike Community
Forum software by XenForo
Member Zaf has posted his review of the Slash.
So I received delivery of a Trek Slash in July last year in anticipation for my journey to New Zealand in November, and been putting it through its paces for a little while now. It's currently out of action because of snapped main pivot bolt awaiting spare parts before it's back up and running. A few of the parts have yet to be ridden, awaiting that final change, mainly the new suspension package and the dropper.
Road bikes on a Mountain Bike website!! have we lost the plot?? Yes, it seems. As life moves on, circumstances change. When getting up at 4am to get your mountain biking fix still doesn't leave you enough time to get back to your household zoo for witching hour, an ominous cloud of spandex creeps into view. A word of warning, this review is blended with plenty of notes of my experience as a road rookie. Hopefully helpful to anyone looking at giving it a go.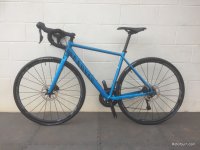 ​
Today we have my first road bike purchase, the Canyon Endurace AL 7.0 Disc (previously the 6.0 when purchased). The selection process of which was quite drawn out, I'd borrowed a couple road bikes off some friends which helped me decide what...
14 years is a long time in the computer world. The fact that Rotorburn (previously Farkin) has been around that long makes me feel quite old. At the risk of getting all nostalgic it's been a long time for us who are still here *sniff*.

Huge shout out to our advertisers, if it weren't for their support this site would have packed up a long time ago. SuperSports and GripSport in particular have been with us for over 10 years!!! If you ever see Rodney (SS) or John (GS) make sure you shout them a drink...

Another shout out goes to our moderators that have done a fantastic job keeping the place clean for all these years. It takes a great deal of patience and time to be a moderator, always the unsung heroes of the Internet forum. Without...